As an Amazon Associate FreshCoffeeHouse.com earns from qualifying purchases.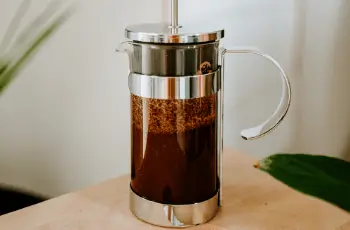 The pleasure of tasting your perfect coffee is just minutes away each time your reach for a French press. Renowned around the globe as the best coffee maker this…
read more
Everything You Need to Know About a French Press
First patented in Italy around the late 1920s, the French press is a simple, easy to use, coffeemaker. A big reason for its popularity is the fact that it doesn't require electricity.
It consists of a glass or stainless-steel carafe with a handle, a mesh stainless steel cylindrical filter, and a steel lid with a simple movable plunger.
A French press is used by placing coffee grounds at the bottom of the carafe, steeping them with hot water, and then slowly pressing down on the plunger. The plunger catches coffee grinds so they do not end up in the final brew.
It takes roughly four to five minutes to make a cup of coffee using this brewing method.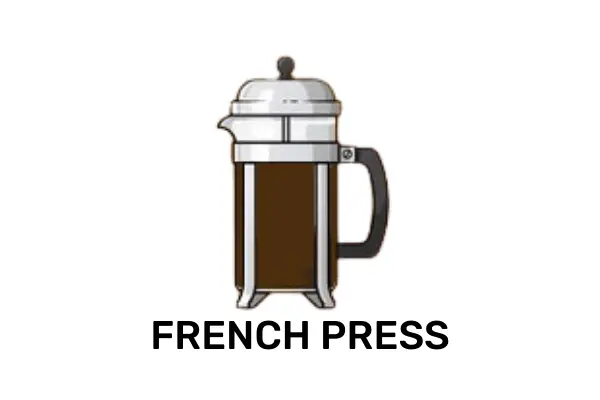 Looking for a New French Press?
To make delicious manually brewed coffee, first, you need a French press. I use this Bayka, and I recommend it for you as well because it has all the qualities of a fantastic coffee maker as well as a number of different options you can choose from to suit your coffee needs.
If you'd rather browse around to see your options, I put together a list of all the best French press coffee makers available on the market for you to check out.


Size options: 21oz, 34oz, 50oz



Cool touch exterior



4 level filtration system



Dishwasher safe



Insulated
What Coffee Beans Should You Use in a French Press?
If you already have a French press or found one that you like, the next step is to choose the right coffee beans. I personally love to brew Bulletproof Mentalist coffee in my French press. It's perfect for a morning wake-up call or an after-lunch pick-me-up. These beans have a dark cocoa and vanilla aroma that open up to a rich, full-bodied coffee with cherry sweetness.
When made in a French press this coffee is bold, flavorful, and smooth. What makes it unique is that it's not as oily as most other dark roasts. Bulletproof offers a perfect mix of flavor and kick you need to try in your French press.
Bulletproof: The Mentalist Medium-Dark Roast Coffee
Beans sourced from Brazil, Guatemala, and Columbia
100% Arabica coffee beans
Flavor notes: Almond and caramel
Gluten-free
How to Make French Press Coffee?
Now that you have the equipment and the beans, it's time to learn how to make the perfect French press coffee.
If this is your first-time making coffee with a French press then you're in luck! I've been using this simple method for almost a decade and I love everything about it. The manual coffee-making process makes me feel in control of my coffee and the taste of my final brew.
Step 1
The first step in making the best French press coffee is boiling the right amount of water. You're going to need more water than just what you expect to drink.
I always boil 1.5 cups of water for every 1 cup of coffee I want to brew. Since water will make up 99% of your coffee make sure you are boiling filtered or bottled water.
Let the water sit for 30 seconds after boiling.
Step 2
While the water is heating up, turn to your coffee grinder and shred 2 tablespoons of fresh coffee beans for every cup of coffee you want to make.  The grind should be coarse.
If the grind is too coarse it will make the coffee taste weak.
If the grind is too fine, it will make the coffee taste bitter.
Refer to my coffee grind size guide for more information.
I recommend using a burr coffee grinder to get an even grind across your batch.
Step 3
Use 2 parts water and 1 part coffee when starting to brew.
Don't pour all the water into the carafe.
Usually, that means around 2 tablespoons of coffee and 1 cup of water. You want to pour the coffee into the French press first, followed by the water.
When using a French press, the best coffee to water ratio is 2:1
50 grams (1.8oz) of ground coffee per 1 liter (34fluidoz) of water
Step 4
Stir the coffee gently and let the French press rest for 30 seconds. This process is known as blooming.
Blooming is important for a good-tasting cup of coffee when using a French press. This process helps in removing CO2 from the coffee grounds. In simple terms, it just gives us a smoother and more even extraction going forward.
Step 5
Pour the rest of the hot water into the coffee maker and cover it with the lid. It's important not to press down on the plunger just yet.
The coffee needs to steep for 4 minutes.
Step 6
After four minutes begin to gently press the plunger down.
If you feel the filter drop to the bottom immediately it's because your grind is too coarse. On the other hand, if you are finding it hard to press the filter down it means your grind is too fine.
It shouldn't take more than the weight of your hand to push the plunger all the way down. Plunge only once and leave the filter at the bottom while pouring your coffee.
Find the detailed instructions on how to make the perfect French press coffee here!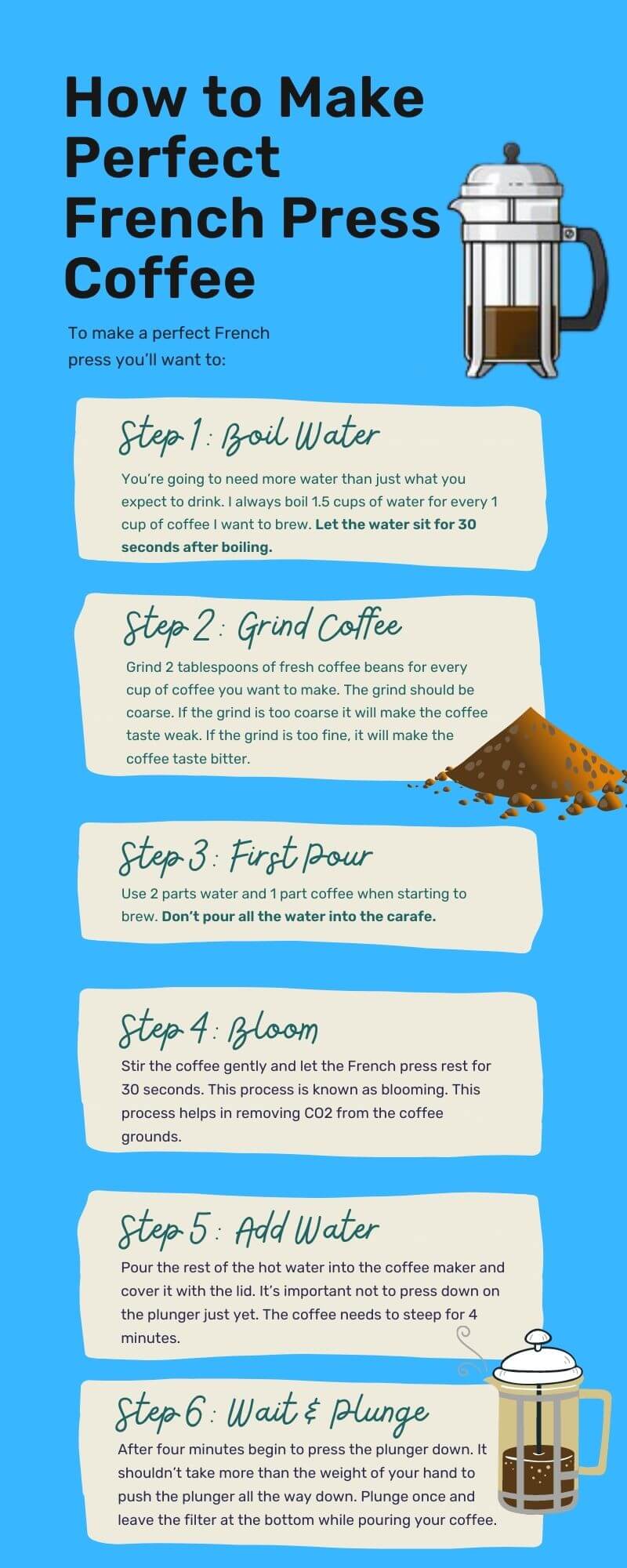 How Does the French Press Compare?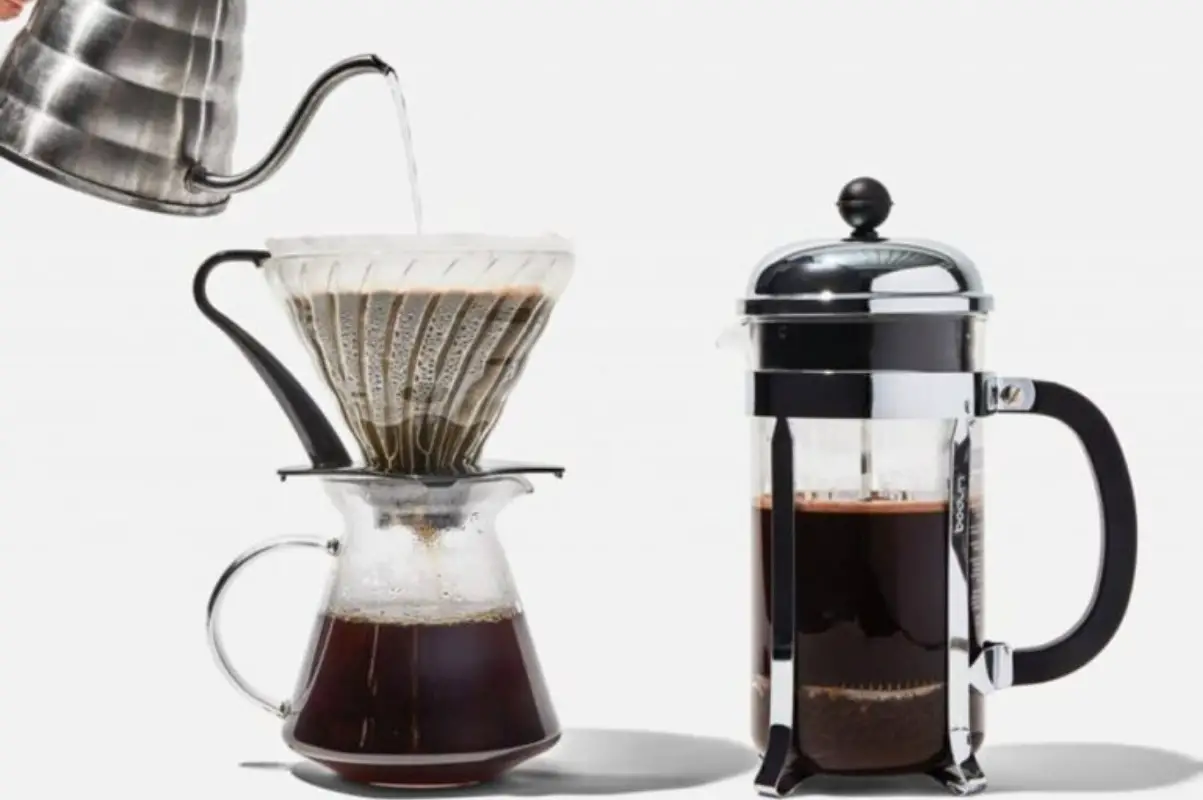 See how the manual coffee brewing techniques give you a chance to experiment with new horizons in a world usually filled with repetitive automation.
read more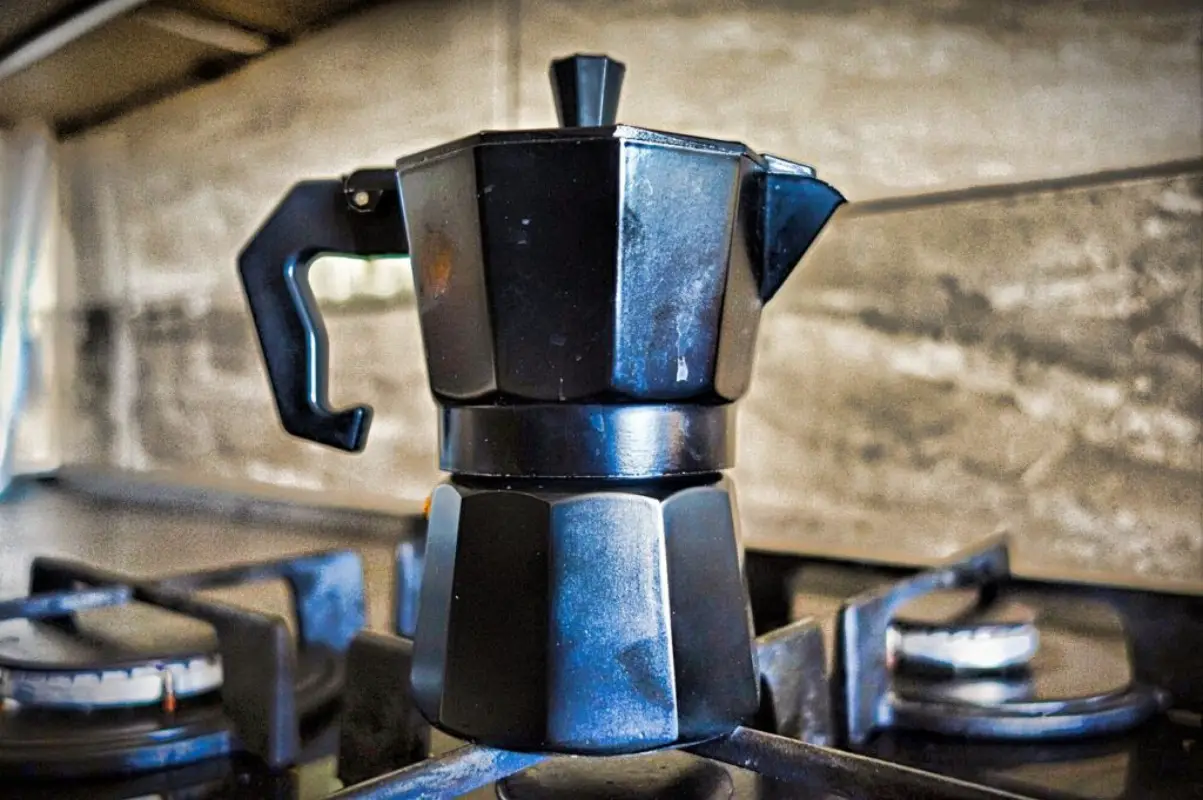 Favorites amongst individuals who enjoy a rich flavor to their coffee: The French press and the Moka Pot. Let's discuss the similarities and differences between these two staples in…
read more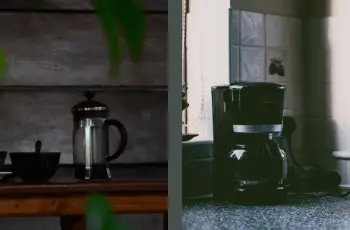 It wasn't long ago when only the professionals knew how to make a truly unique cup of coffee. Now with all the equipment being readily available, anyone can learn how to make a cup of joe fit for royalty.
read more