As an Amazon Associate FreshCoffeeHouse.com earns from qualifying purchases.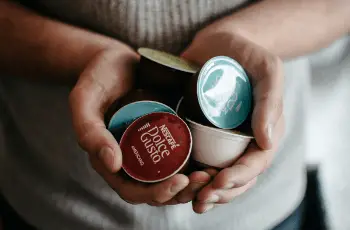 I've spent the last few months experimenting with different pods and capsules looking for something special, and I believe I found it. If you're searching for a new pod…
read more
Everything You Need to Know About Single-Serve Coffee Machines
Keurig, Nespresso, and Tassimo are all recognizable brand names in the single-serve coffee machine business. As you probably have guessed, they make one cup of coffee at a time. It can be anywhere from 8oz to 14oz per serving.
They often work by pushing hot water through cups, pods, or capsules, which are filled with coffee beans or formula. Once mixed with hot water, the formula takes on the flavor of the specific pod.
What single-serve coffee machines tend to sacrifice in quality, they certainly make up in convenience and consistency. Coffee lovers choose this brewing option because it's fast, efficient, and doesn't require any maintenance, clean-up, or effort. There are currently over 400 different flavors of coffee pods for you to try.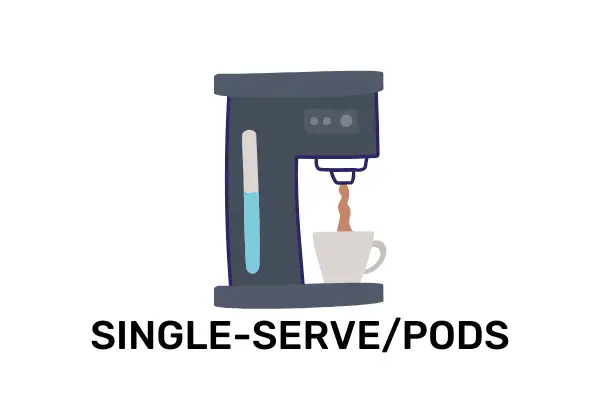 What is the Best Single-Serve Coffee Machine?
The simplicity of brewing your morning cup of joe with a push of a button is the most attractive reason for owning one of these coffee makers, but it doesn't have to be the only reason.
Since this is an appliance you will use every day, you want to find one that suits your kitchen and fulfills your needs. I personally love the K-Elite. In my eyes, it's the best pod coffee machine on the market today for a couple of reasons. It makes hot and cold drinks. It has a large water reservoir, and the quality of its brew is second to none. You can make coffee from pods, refillable K-cups which use manually ground coffee, tea, and iced coffee. Can your coffee machine do all that?
If you want to know more about the K-Elite or other Keurigs, I compared all the Keurig coffee makers in a separate article if you're interested.


Brew: 6oz, 8oz, 10oz, 12oz cups of coffee



Water Tank: 75oz



Strong Brew/Cold Brew options



Power-saving 2 hour shut off



Colors: Brushed gold, brushed silver, brushed slate
What are the Pods or Cups for a Single-Serve Coffee Machine?
If you have a single-serve coffee machine or found one that you want to get, the next step is to pair it with the best pods available. It's time to find your new morning cup of coffee, your lunch-time pick-me-up, or even an after-dinner special. I have just the thing in mind.
If you're looking for the best pods for a Keurig, you should try The Orignal Donut Shop K-Cup! The brew is fantastic. Its rich and balanced flavors get me ready for the day while its heavenly aroma shakes me out of my sleep in the morning. After months of testing different pods and capsules, this is my definite winner. I would suggest the Donut Shop to everyone using a Keurig.
The Original Donut Shop, Medium Roast
Original, Dark Roast, or Decaf

No artificial ingredients

Certified Kosher

Recyclable pods