If you're wondering what frozen drinks Starbucks has to offer, we've got you covered.
Not only does Starbucks have the best iced coffee, but they also have an incredible variety of frozen drinks to choose from.
In this article, we will go over every Starbucks frozen drink on the menu.
Let's get started!
Complete List of All Starbucks Frozen Drinks
Here you can find all frozen drink options available at Starbucks. Read more about each beverage below.
Sugar Cookie Almond Milk Frappuccino
Toasted White Chocolate Mocha Frappuccino
Peppermint White Chocolate Mocha Frappuccino
Caramel Brule Frappuccino
Peppermint Mocha Frappuccino
Pumpkin Spice Frappuccino
Apple Crisp Frappuccino
Mocha Cookie Crumble Frappuccino
Chestnut Praline Frappuccino
Caramel Ribbon Crunch Frappuccino
Espresso Frappuccino
Caff Vanilla Frappuccino
Caramel Frappuccino
Coffee Frappuccino
Java Chip Frappuccino
White Chocolate Mocha Frappuccino
Strawberry Crème Frappuccino
Starbucks Chai Crème Frappuccino
Double Chocolaty Chip Crème Frappuccino
Matcha Crème Frappuccino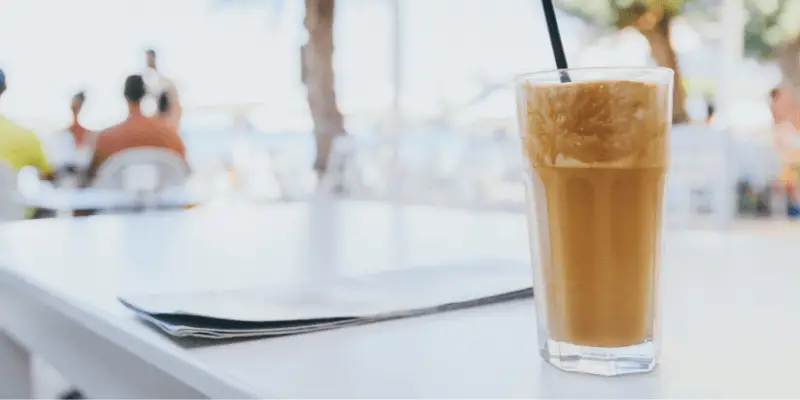 Starbucks Frozen Drinks
1. Sugar Cookie Almond Milk Frappuccino
After the Halloween season has come and gone, Starbucks has added a new non-dairy holiday drink to their menu. The Sugar Cookie Almond Milk Frappuccino is a great treat for the holidays.
It contains a sugar cookie syrup mixed with blonde espresso roast, almond milk, and red and green sprinkles.
You can also get an Irish cream cold brew, which is a flavored iced coffee topped with cocoa powder and vanilla-flavored sweet cream foam.
2. Toasted White Chocolate Mocha Frappuccino
The Toasted White Chocolate Mocha is one of my all-time favorite drinks. It is a rich, caramelized white chocolate drink made with espresso, milk, and whipped cream.
It is topped with whipped cream and a sprinkle of holiday sugar and tastes even better when shared with someone.
Besides being delicious, this drink is high in sugar, containing 44 grams per serving.
3. Peppermint White Chocolate Mocha Frappuccino
The Peppermint White Chocolate Mocha is an indulgent coffee drink served at Starbucks.
Made with peppermint-flavored syrup and whipped cream, this drink contains about 10 grams of caffeine per serving.
It is a tasty and festive wintertime treat and can be prepared for only about $8. It is a good choice for a cold afternoon pick-me-up. But beware of caffeine content: it is high in calories.
4. Caramel Brulée Frappuccino
Caramel Brulée Frappuccino is the epitome of sweet decadence.
A blend of milk and ice is blended to create a rich, creamy beverage. Whipped cream and a crispy caramelized sugar top complete this drink.
To make this flavor even better, try adding a slice of toasted brioche to the cup. You'll thank me later.
5. Peppermint Mocha Frappuccino
Starbucks has just announced a date for the return of its classic Peppermint Mocha Frappuccino. The holiday drink was discontinued last year but was brought back to Starbucks on November 2, 2013.
Unlike other hot beverages, the Peppermint Mocha is not made with artificial flavors, but rather with real coffee beans that have been freshly ground.
You can find all the ingredients you need in your refrigerator or use the coffee you already have.
6. Pumpkin Spice Frappuccino
The fall season is in full swing and one of the most popular drinks of the season is a Pumpkin Spice Frappuccino.
This drink is perfect for the colder days of fall and is available all year round. If you are looking for a tasty drink that you can make at home without the added calories, this is the drink for you.
You can use any type of milk to create this delicious beverage. Try substitute the regular milk for the almond or coconut milk for a bit of a different flavor.
You can also add a few drops of vanilla extract to the mixture to make it even more flavorful.
7. Apple Crisp Frappuccino
The Apple Crisp Frappuccino has layers of apples, caramel apples, and brown sugar.
It is made with espresso, milk, and a spiced apple drizzle. It is the perfect fall treat for any time of year.
This drink is so unique and flavorful, you may want to order one just for yourself.
This recipe is also available as a hot beverage. For a cold version, add a bit of cinnamon to the syrup.
8. Mocha Cookie Crumble Frappuccino
A Mocha Cookie Crumble Frappuccino is similar to a mocha, but with chocolate chips instead of chocolate syrup.
This frothy drink is delicious, and it also has some great nutritional information. It contains only 353 calories, 6 grams of fat, and 2 grams of fiber.
If you're not a big coffee fan, you might want to skip this one and go for a smaller size.
9. Chestnut Praline Frappuccino
In celebration of the holidays, Starbucks has added another drink to its lineup: the Chestnut Praline Frappuccino.
While the Peppermint Mocha and Caramel Brulee are too sweet, the Chestnut & Praline Latte is just right for the holiday season.
This drink combines the sweetness of a cup of coffee with a touch of spice. The creamy, rich drink is garnished with a crunchy praline crumble.
10. Caramel Ribbon Crunch Frappuccino
Starbucks' new Caramel Ribbon Crunch Frappuccino's combine rich buttery caramel syrup with Frappuccino roast coffee, milk, and ice.
The top layer of this calorie-filled drink features whipped cream and a drizzle of dark caramel sauce.
On top of all that, the beverage is drizzled with a caramel-flavored syrup and topped with crunchy, sweet caramel sugar. This decadent drink is perfect for those who love chocolate.
11. Espresso Frappuccino
The Espresso Frappuccino is a specialty coffee drink at Starbucks that's made with a shot of espresso, ice, milk, and caramel or cream foam.
This drink is typically served with whipped cream and is considered a sweet treat. It's not as sweet as it sounds and has a rich, chocolaty flavor.
Although the espresso in an Espresso-Frappuccino is only about 95 mg of caffeine, it tastes better than the average drip.
12. Caffè Vanilla Frappuccino
Starbucks Caffè Vanilla Frappuccino is a blend of espresso, milk, and ice.
It is usually topped with whipped cream and a shot of vanilla. It is ideal to enjoy as a Beverage.
The caffeine in the coffee helps you to stay awake and focused. This recipe is simple enough for anyone to make. If you want a more unique flavor, try a different flavor combination.
13. Caramel Frappuccino
Starbucks Caramel Frappuccino is the perfect treat to start your day with a sweet kick.
This drink contains espresso, vanilla ice cream, and whipped cream for that extra treat. The creamy, sugary drink is the perfect sweet-and-sour combination.
Pair it with the White Chocolate Florentine Cookies for an even more decadent treat. You'll wonder how you lived without one before!
14. Coffee Frappuccino
Starbucks Coffee Frappuccino is a blended iced coffee beverage. It is a mixture of espresso, milk, and flavored syrups.
It is served chilled and is usually topped with whipped cream. It can also be purchased in grocery stores and convenience stores available in bottled form.
While a Frappuccino is a specialty drink at Starbucks, there are plenty of other flavors to choose from.
15. Java Chip Frappuccino
A Java Chip Frappuccino is a blended coffee drink with chocolate and mocha flavorings.
This icy beverage is a Starbucks top seller and is made with a high-speed blender. The ingredients for a Java Chip Frappuccino are ice, milk, chocolate syrup, and coffee.
If you want a low-calorie version, choose one without the whipped cream.
16. White Chocolate Mocha Frappuccino
If you love the rich flavors of Starbucks' classic beverage, the White Chocolate Mocha Frappuccino is for you!
To make this drink, simply add milk and ice to a blender, and stir to blend. Top it off with whipped cream, if desired.
This is a fast and easy way to enjoy this decadent treat. However, if you want to watch your calorie intake, you can substitute low-calorie milk in place of regular milk.
17. Strawberry Crème Frappuccino
The Strawberry Crème Frappuccino is a delicious, blended drink with ice, strawberry puree, and whole milk.
It is topped with whipped cream and vanilla. It is one of the most popular drinks available at Starbucks and is sure to please everyone.
18. Starbucks Chai Crème Frappuccino
The Starbucks Chai Crème Frappuccino is a seasonal beverage that includes a blend of chai tea and ice, with a touch of cinnamon.
This drink can be ordered as an iced or frozen treat and is also available as a hot beverage.
To make the drink, you will need crushed ice, a bottle of concentrated chai tea, and a handheld milk frother. Once blended, garnish with a cinnamon stick, star anise, or cinnamon, and enjoy.
19. Double Chocolaty Chip Crème Frappuccino
The Double Chocolate Chip Crème Frappuccino is an extremely popular Starbucks drink.
It's made with a rich mocha-flavored sauce, chocolate chips, and milk. To top it off, you can add whipped cream and drizzle with mocha.
If you love chocolate and coffee, you'll love this drink! It's also available in decaf, but don't worry, the regular version is just as tasty!
20. Matcha Crème Frappuccino
A Starbucks Matcha Crème Frappuccino is an amazing drink that is made with a special green tea powder that is finely ground and combined with either water or milk.
The Matcha powder is used in the Frappuccino as it is easy to blend and does not dissolve in water as sugar does.
The whipped cream and the vanilla syrup are added to create a rich and creamy texture.
Summary
At the end of the day, ordering frozen drinks at Starbucks is straightforward.
As you can see, the variations are vast, and the drinks all include between 100% and 180% of your daily caffeine intake.
There's sure to be a drink out there for everyone, no matter their preference or time of day!
I've always seen coffee as a way of bringing people together. Everywhere I go people seem to enjoy a fresh cup of coffee and that's what drives my passion. There's always a new brew to master, and there's always a new face to enjoy it with. Hitch a ride with me on a coffee-fueled adventure to find a perfect cup.