Who says iced coffee drinks are only for hot days? If made well, iced drinks are perfect for any time of day from wintery mornings to sweltering evenings and there is one place that always comes to mind whenever coffee is mentioned – Starbucks.
List of Starbucks Iced Coffee Drinks
Explore our complete list of Starbucks iced coffee drinks. Find out more about each option by scrolling further down below.
Iced Espresso
Iced Caffè Americano
Iced Shaken Espresso
Iced Brown Sugar Oatmilk Shaken Espresso
Iced Chocolate Almondmilk Shaken Espresso
Iced Coffee
Iced Caramel Macchiato
Iced Caffè Mocha
Iced White Chocolate Mocha
Iced Caffè Latte
Iced Cinnamon Dolce Latte
Iced Blonde Vanilla Latte
Iced Flat White
Iced Honey Almondmilk Flat White
Cold Brew Coffee (Regular and Nitro)
Vanilla Sweet Cream Cold Brew (Regular and Nitro)
Honey Almondmilk Cold Brew (Regular and Nitro)
Salted Caramel Cream Cold Brew (Regular and Nitro)
Pumpkin Cream Cold Brew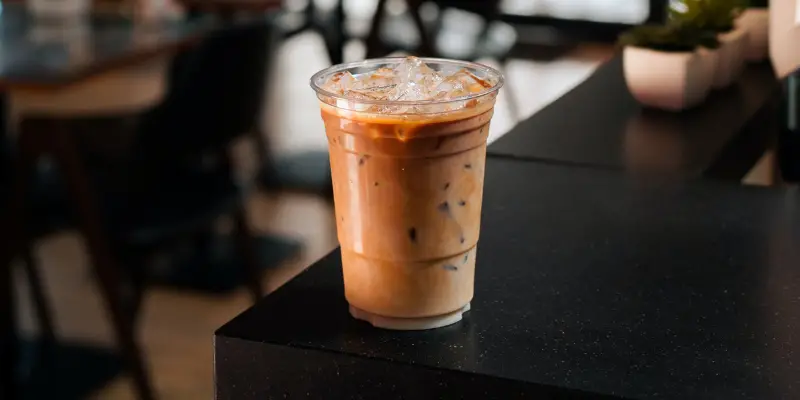 Starbucks Iced Coffee Drinks
1. Iced Espresso
Small in size but big in flavor! There are few things a good Iced Espresso is not able to solve.
If you find that your morning is starting off rough, this drink is certainly for you!
The signature taste of the Starbucks Espresso blend is poured over ice and it creates a new sensation that truly brings out the natural caramel-like sweetness of the coffee without compromising the kick of caffeine.
2. Iced Caffè Americano
Not too fond of having a shot of espresso because it can seem a little over the top? No problem – that is why the Iced Caffè Americano is an option.
With the same espresso that is used to create their drinks, Starbucks adds in cold water to not only mellow out the strong kick into something that can be sipped comfortably throughout the day, the combination of espresso and water also creates a delicious coffee crema that you can sip to start tantalizing your taste buds.
3. Iced Shaken Espresso
Not fond of just an Americano because it seems as if there is not enough of fullness in the drink? Give this one a try!
The Iced Shaken Espresso has milk added to it (for those looking for a vegan option, almond milk would be an excellent substitute!) and shaken with the espresso.
Rather than a high-calorie Frappuccino, this drink comes in at only 100 calories for a Grande!
4. Iced Brown Sugar Oatmilk Shaken Espresso
For those who want a plant-based option – the Iced Brown Sugar Oatmilk Shaken Espresso is for you!
This drink is made with the Starbucks Blonde espresso, a lighter and more palatable option for those who are wanting to try coffee for the first time.
And to top it off, the oat milk is paired with brown sugar and cinnamon, creating a nice holiday-like feeling for you to carry with you for the rest of the day.
5. Iced Chocolate Almondmilk Shaken Espresso
If cinnamon is not something you prefer, the Iced Chocolate Almondmilk Shaken Espresso may be up your alley.
The chocolate pairs beautifully with the Blonde espresso, creating a mocha-like essence in your coffee.
Try this with a topping of mocha drizzle to really bring out the chocolate in this drink.
6. Iced Coffee
For those who prefer little to no fuss, this simple Iced Coffee is the perfect drink for you!
With their signature coffee chilled and poured over ice, this delicious cup is ready for you within a few minutes.
If you would like, you can always add in some vanilla syrup to give it a little bit of a kick to pair with the delicious bitterness of coffee.
7. Iced Caramel Macchiato
Unlike lattes, a macchiato has less milk and the flavor is more robust.
The Iced Caramel Macchiato is paired with vanilla syrup and milk but because the milk is not the main ingredient, the espresso really comes through before you are left with a creamy finish.
If you prefer, ask the barista to skip out on the vanilla syrup and to add extra caramel drizzle instead so that you really get a hit of caramel!
8. Iced Caffè Mocha

For those that want some sweetness in their coffee but a sweetness that will not overpower their drink, the Iced Caffè Mocha is a fantastic option.
Mocha naturally veers towards bitter than sweet on the scale but there is still enough of a touch that will not have people wincing.
Mixed in with milk and ice, this espresso drink is topped off with sweetened whipped cream. If you prefer to have it less sweet, just ask your barista for light whipped cream or skip out on it entirely.
9. I

ced White Chocolate Mocha

The Iced White Chocolate Mocha is great for those who want to try iced coffee for the first time!

White chocolate is sweeter than its counterpart, milk, semisweet, and dark and it creates a very friendly and palatable flavor when mixed with milk and espresso.

For those who choose to have it with sweetened whipped cream, be sure to mix it in as you receive your drink so that the creaminess of the cream really blends in with the coffee.
10. Iced Caffè Latte
Simple. Easy. Delicious. If you are ever pressed for time but still want some coffee, this is an ideal option!
Iced Caffè Latte is made with dark espresso and mixed with milk before being poured over ice.
With a ratio that has more milk than coffee, this is a great mellow drink for an afternoon catch-up!
11. Iced Cinnamon Dolce Latte
This sounds so complicated but it really is not!
Again with an espresso base, the barista adds in some cinnamon dolce-flavored syrup to the drink to give it a little bit of spiced warmth to hit against the cold drink.
To make the Iced Cinnamon Dolce Latte even more indulgent, there is even some sweet whipped cream added on top that you can stir in to create a creamy, lush coffee that will be your pal for the rest of the day.
12. Iced Blonde Vanilla Latte
If you are looking for a drink that tastes delicious but does not have the calories that usually come with fun drinks, try the Iced Blonde Vanilla Latte.
Made with Starbucks Blonde Espresso beans, this drink is very subtly sweetened with vanilla syrup and because it is chilled with ice, the sweetness really comes through without needing to add more.
A Grande without any substitution comes in at only 190 calories!
13. Iced Flat White
Made with ristretto (a stronger version of espresso) and milk, the Iced Flat White is perfect for those who want that kick of caffeine but to have it come as a gradually hit.
For those who find that milk is either too rich or those wanting a vegan option, try it with oat milk for a nuttier undertone!
14. Iced Honey Almondmilk Flat White

Similar to the drink above, this drink is a mixture of ristretto mixed with almond milk.
Instead of having just milk and espresso, however, the barista adds in a little bit of honey to the Iced Honey Almondmilk Flat White to really create a sweet touch without overpowering the delicious notes of the Starbucks Blonde Espresso Roast.
15. Cold Brew Coffee (Regular and Nitro)
What is cold brew exactly?
Well, cold brewing is when the coffee is steeped in cold water for several hours (in the case of Starbucks, they cold steep for 20 hours) and this creates a super strong flavor of coffee that would not be possible with the use of heat!
If you want to really have a smooth coffee in the morning, try a Nitro Cold Brew!
16. Vanilla Sweet Cream Cold Brew (Regular and Nitro)
For those that want something creamy, the Vanilla Sweet Cream Cold Brew is right up your alley.
With the added vanilla sweet cream, this drink has all the flavor without the baggage.
In fact, a Grande only comes up to 70 calories and that is before any customization!
Be sure to give the Nitro brew a try as well to see how the natural buzz of the nitrogen brings out different coffee notes from the cold brew.
17. Honey Almondmilk Cold Brew (Regular and Nitro)
The base of the Honey Almondmilk Cold Brew is made the same way as other cold brews but with some added finishes such as honey and almond milk.
The Nitro version of this particular cold brew really creates a smoothness that will give the drink a mouthfeel that is similar to that of beer but without the alcohol and hangover.
What more could you ask for?
18. Salted Caramel Cream Cold Brew (Regular and Nitro)
Caramel – whoever decided to add that into coffee is a genius.
Starbucks takes it to a whole other level by adding it to their Salted Caramel Cream Cold Brew, bringing in a delicious sweetness that really plays in harmony with their signature cold brew blend.
For those wanting to jazz up their day further, the Nitro brew version of this creates a delicious foam on top that really tickles your taste buds to prepare for the smooth cold brew below. 
19. Pumpkin Cream Cold Brew
Finally, if you're in the mood for a seasonal favorite with a new twist, try the Pumpkin Cream Cold Brew. 
It's a classic Starbucks cold brew mixed with vanilla syrup with pumpkin cream cold foam.
If you've never tried this special before, I suggest giving it a shot.
Summary
That's a wrap on all of the iced coffee drinks Starbucks has to offer. You can always mix and match your own flavors and syrups, but these are the options you will find on the menu.
I've always seen coffee as a way of bringing people together. Everywhere I go people seem to enjoy a fresh cup of coffee and that's what drives my passion. There's always a new brew to master, and there's always a new face to enjoy it with. Hitch a ride with me on a coffee-fueled adventure to find a perfect cup.