A delicious topping used in lieu of milk or whipped cream at your favorite coffee shop, Starbuck cold foam is simply a must-try!
Cold foam is made to order in-house, by hand, meaning you can experiment with different types of milk and flavors as your new drink topping.
I put together this article to show you all the types of cold foam available at Starbucks.
I'll also show you step-by-step instructions on how to add cold foam to your drink via the Starbucks Mobile App.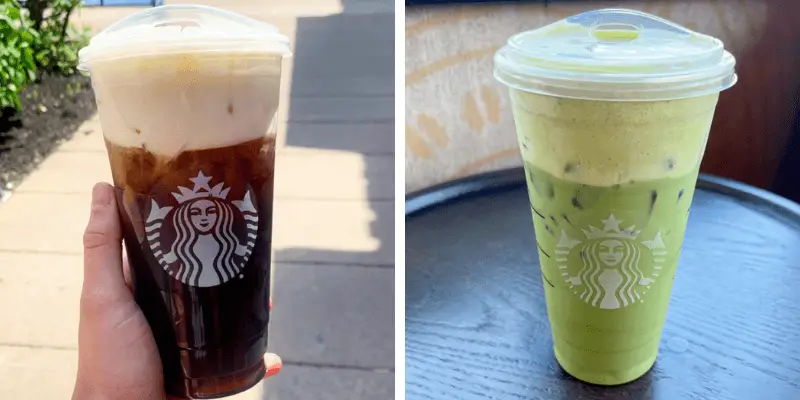 Different Types and Flavors of Starbucks Cold Foam
Starbucks offers five different types of Cold Foam.
Cold Foam
Vanilla Sweet Cream Cold Foam
Salted Caramel Cream Cold Foam
Pumpkin Cream Cold Foam
Matcha Cold Foam
Unfortunately, Pumpkin Cream Cold Foam is seasonal and is only available during pumpkin spice season.
Matcha Cold Foam is made by adding a scoop of matcha powder to the milk while making traditional Cold Foam and can only be ordered in person.
How to Add Starbucks Cold Foam to your Order Using the Mobile App?
Starbucks has made it easy to add cold foam to any dink via their mobile app. Just find your drink of choice and follow these steps.
To order cold foam to your drink on your mobile app:
1. Switch over to the "Order" menu.
2. Choose your drink of choice.
3. Select "Customize" under the "What's Included" list.
4. Scroll down to "Toppings" and select "Add Cold Foam".
5. Choose what type of Cold Foam you want to add!
6. Select "Done Customzing"
It's really that simple.
If you're ordering in person, you have a wider variety of options when choosing cold foam.
Starbucks never made matcha cold foam available on the app just yet.
Unfortunately, some cold foam options are seasonal such as the pumpkin cold foam, meaning you won't find it on the app year-round.

How to Make Starbucks Cold Foam at Home?
Starbucks baristas can whip up an order of cold foam on the stop in about 30 seconds. So, why shouldn't you try to make it at home?
Basic cold foam is really quick and simple to make!
For one coffee, you will need:
¼ cup of your milk of choice
1 teaspoon simple syrup
A milk frother or a French press
1 dash of your syrup of choice (optional for flavor)
Step 1
Add milk and simple syrup to a bowl or a French press.
Step 2 (Optional)
Add a dash of your syrup of choice for flavor (vanilla, salted caramel, pumpkin, powdered matcha).
Step 3
Froth the milk for 15 to 20 seconds until it becomes thick.
Step 4
Pour the cold foam over your favorite drink!
Summary
That's everything you need to know about Starbucks cold foam!
Hopefully, you found something that suits your taste buds. Better yet I hope you're going to experiment with one of these fun and new toppings.
Cold foam is often reserved for cold drinks, but there's no rule saying you can't mix it with a hot mocha or your favorite cup of joe.
No matter how you decide to try it, make sure you show it off on social media for everyone to see!
I've always seen coffee as a way of bringing people together. Everywhere I go people seem to enjoy a fresh cup of coffee and that's what drives my passion. There's always a new brew to master, and there's always a new face to enjoy it with. Hitch a ride with me on a coffee-fueled adventure to find a perfect cup.