As an Amazon Associate FreshCoffeeHouse.com earns from qualifying purchases.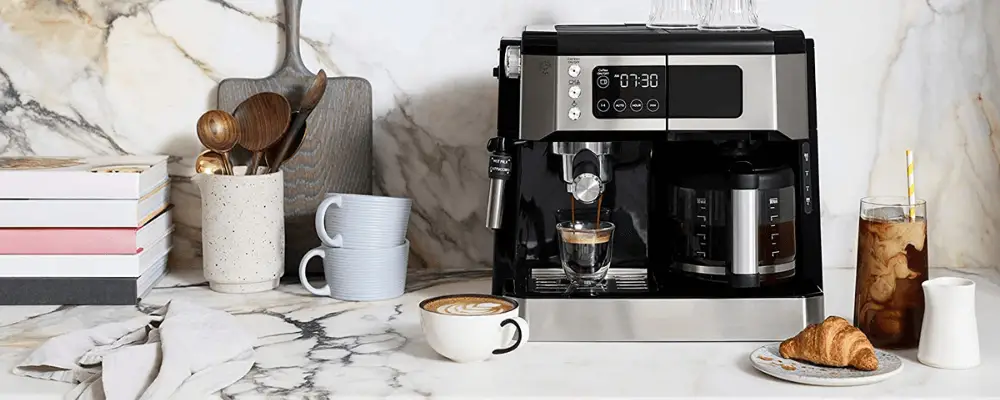 You're probably looking around for a new coffee maker or a new toy for your kitchen and would like to know which coffee machine brands are the best and which to avoid.
Since a coffee maker is something most of us use daily, it's a good idea to investigate your options before choosing the best one for your home and family.
I put together a helpful guide for anyone wondering about the differences between popular coffee machine brands, so you can know what makes a De'Longhi different from a Cuisinart coffee maker.
The Best Coffee Machine Brands
Since brewing, serving, and drinking coffee has been my passion for over a decade, I've come to know a thing or two about different coffee makers and their quality.
The best coffee machine brand for overall brew quality and modern comfort is Gaggia. The most outstanding choice for espresso enthusiasts is De'Longhi. The best practical coffee machine brand is Mr. Coffee because it offers the biggest variety of affordable coffee makers and accessories.
Here, I put together a list of all the best brands of coffee makers, from best to worst, based on my experiences.
Scroll a little further down to learn more about each brand, what to expect from the appliance, some of its features, as well as a score between one and five for its overall purposefulness.
List of the Best Coffee Machine Brands
Keep in mind I judged each brand based on its brew, variety of coffee appliances, longevity, quality of design, and ease of use. I'm a strong believer that you don't need to overpay for good coffee.
So, if we're being charged ten times the price of a regular coffee machine, then our coffee should be ten times better, right? Otherwise, is it really worth the price tag?
Here is the list of the best coffee machine brands:
Gaggia
De'Longhi
Mr. Coffee
Breville
Keurig
Mueller Austria
BUNN
Hamilton Beach
Number 1: Gaggia
Best Brand for Automatic Espresso
One of the most famous luxury coffee machine brands on this list is Gaggia. They specialize in fully automated espresso and espresso-based drinks.
Gaggia coffee machines are made in Italy, the birthplace of espresso.
If money is not an issue and you love espresso and other espresso-based drinks and want them made automatically then Gaggias is your best bet.
The coffee community will argue that nothing beats hand-pressed espresso, but the quality of this brew is positively outstanding.
Price Range: $330-1,900
Best Known For Automatic Espresso
Fully Automated Luxury Coffee Machine
Authentic and Rich Brew
Multiple Programmable Brewing Options:
Drink Type
Size
Temperature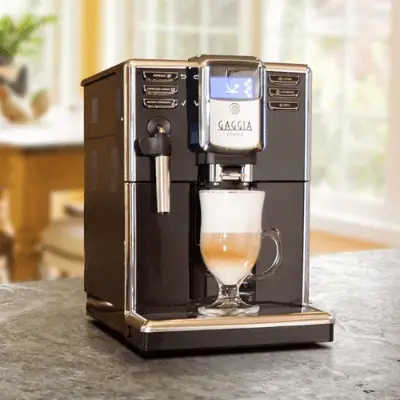 A little less of an everyman appliance and a little more of a luxurious coffee toy, the Gaggia stands above the rest in quality but fails in practicality.
After considering the consistent product these coffee machines produce, their longevity, and their decor appeal, I believe they are worth the price tag, but not everyone will agree.
Number 2: De'Longhi
Best Brand for Daily Espresso Drinkers
Regarded as one of the best coffee machine brands available on the market, De'Longhi has multiple coffee appliances which most brands can't compete with.
De'Longhi still makes several affordable coffee machines with physical buttons and simple menus, but more recently they've been focused on creating coffee machines of the future.
Their newest models can be classified as all-in-one coffee makers which can brew both hot and cold coffee beverages of different strength, size, and flavor.
This company is known for its best-selling espresso machines, both personal and commercial models. They are designed in Italy and manufactured in China.
Price Range: $125-3,000
Best Known For Espresso
Both Personal and Commercial Use
Advanced Model Features:
Grid and Brew
Iced Coffee
Auto Brew
Fast Heating
Fast Brewing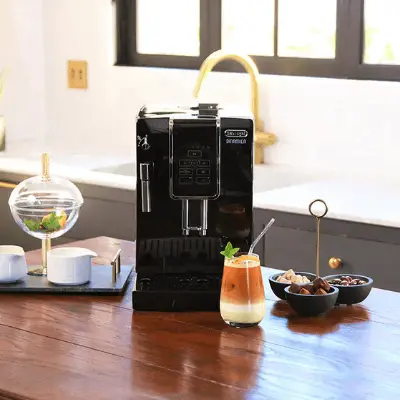 For its versatility and overall brew quality, De'Longhi can be considered as the creme de la creme of coffee machine brands.
The Dinamica model would look fantastic on any kitchen countertop, but it's not a practical coffee machine. Instead, it's more of a coffee toy.
Sure it's ideal for individuals living alone who make one cup of coffee at a time, but for that price, I would hope the coffee gives you superpowers.
Number 3: Mr. Coffee
Best Brand of Affordable Coffee Makers for Family Households
Mr. Coffee is a familiar staple of the coffee community. They produce affordable and quality coffee machines, single-serve coffee makers, manual coffee makers, and a whole variety of coffee appliances such as mug warmers, scales, pitchers, and filters all made in China
The number one thing that always stands out about Mr. Cofffee's appliances is their ease of use.
Although the quality of this coffee is not as outstanding as some of the top brands on this list, these coffee machines are ideal for families who don't mind sacrificing quality for practicality.
Price Range: $16-$230
Best Known for Drip Coffee
Available in Multiple Colors
Compact Size
Paper or Reusable Filers
Advanced Menu Options:
Pause and Pour Feature

Auto Brew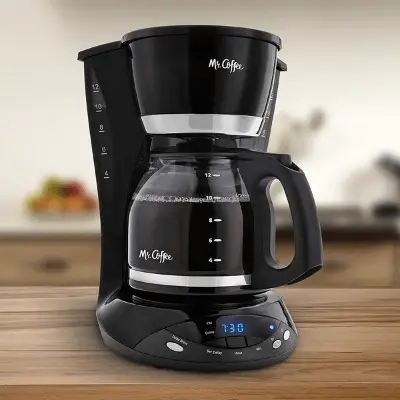 If you're looking for the fundamental coffee machine that makes each house a home, you found it.
Each Mr. Coffee comes with modern bells and whistles such as a pause-and-pour feature to sneak a cup before the whole pot is finished, options for reusable filters to save you money, and anti-drip spouts to keep your countertops clean.
With its easy-to-use practicality and compact designs, Mr. Coffee is an ideal choice for families who rather brew a whole pot of delicious coffee instead of making one mug at a time.
If drip coffee is your go-to, take a look at our page dedicated to drip coffee!
Number 4: Breville
Best Brand for Espresso Enthusiasts
Chances are if you have a Breville at home, it's not a coffee machine. It's more likely a toaster or a juicer than a coffee maker.
Although this company manufactures a variety of kitchen appliances in Australia, it is known for some of the best espresso machines on the market.
Most Breville equipment has a familiar stainless steel design with an easy-to-use menu. What makes these coffee machines stand out is the built-in grinder they are equipped with.
Known as grind-and-brew, these coffee makers automate to coffee brewing process from start to finish.
Price Range: $150-$2,500
Best Known For Espresso
Built-in Burr Grinder
Colors: Black/Silver
Advanced Manu Options:
Grind Size
Auto Brew
Water Temperature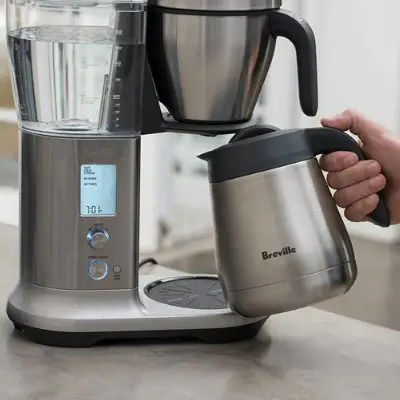 They look fantastic on your kitchen countertop, and you certainly feel like pro-barista when using a Breville Espresso machine, but I'm not convinced these coffee machines are worth their price tag.
Don't get me wrong, if you're a proud owner of one of these bad boys and can say they make coffee just as good as any other coffee maker, I'd agree with you. But, that's kind of my point, why dish out all that extra cash on a coffee machine with fancy technology when the final brew is the same as one from a coffee maker that costs a fraction of the price?
Number 5: Keurig
Best Brand for Brewing One Cup of Coffee at a Time
If you're familiar with single-serve coffee then you know all about the Keurig coffee machine family. As one of the most recognizable brand names in the coffee community, Keurig always delivers on its promise of quality and convenience.
These machines are easier to operate than any other coffee maker on the market. Place a K-cup in the Keurig and press brew! The instructions are that simple.
Another thing to keep in mind when considering a new coffee machine is the consistent coffee single-serve coffee makers produce.
Since there are no variables, like coffee grind-size, water temperature, or bean freshness involved, each cup of coffee made with a Keuring should taste as good as the last one!
Price Range: $70-190
Best Known For Single-Serve
Over 400 Flavors of K-Cups
Multiple Colors Available
Advanced Manu Options:
Cup Sizes 4oz-12oz
Strong Brew
Cold Brew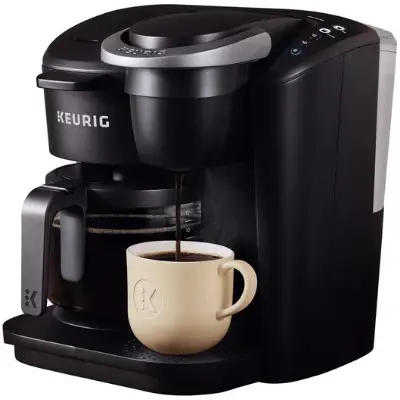 A Keurig is a convenient coffee machine, ideal for individuals with busy mornings.
Now, with over 400 different flavors of K-cups available, it would take years to try all of the flavors Keurig has to offer.
If you want to know more about them, take a look at this page dedicated specifically to all things Keurig.
Number 6: Mueller Austria
Best Brand for Long-Lasting Coffee Machines
What can be considered a lesser-known coffee brand, Mueller Austria makes some of the highest quality coffee appliances at unmatched prices.
These coffee makers are perfect for people who would rather substitute fancy menu options for good old quality design and brew.
Both the single-serve and drip coffee machine are made from some of the highest quality materials and very well might be the only coffee appliances you buy for a long time.
Price Range: $30-96
Best Known For Drip Coffee
Stainless Steel/Black Designs
Long-Lasting Durability
Compact Size
Permanent Filter
Advanced Menu Options: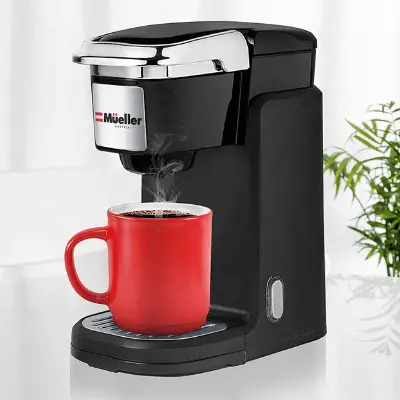 As stated before, the unique difference between a Mueller coffee machine and those similar from Hamilton Beach or Mr. Coffee is the quality of the materials of the design.
The brew from these coffee makers is clean, bold, and flavorful. Exactly what all coffee enthusiasts look for in a cup of joe, especially in the morning.
Whether you believe me or you choose to find other reviews online, once you try this coffee maker, you'll know why Mueller Austria continues to be one of the top coffee machine brands on the market.
Number 7: BUNN
Best Brand of Fast Coffee Brewers
BUNN might not be as familiar as some of the other brands on this list but it's still one of the best coffee machine brands on the market.
In fact, most of these coffee machines can be found in coffee houses, truck stops, and gas stations rather than a kitchen countertop.
Nevertheless, BUNN coffee machines can't be overlooked when talking about the best coffee machine brands. The unique quality of these coffee makers is the speed at which they brew a full pot of coffee.
Each one of these coffee makers brews a full carafe of delicious coffee in half the time it takes the next leading brand.
Price Range: $100-200
Best Known For Commercial Drip Coffee
Black/Stainless steel
Bold Flavor
Fast Brewing
Extremely User Friendly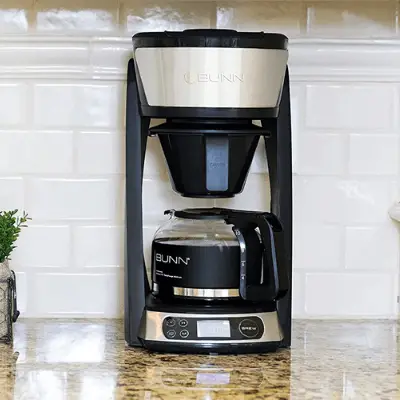 BUNN coffee machines are perfect for families that have busy mornings but also enjoy a rich and flavorful homemade brew. Having a full pot of coffee made in 3 minutes is ideal for individuals always on the go.
What these coffee machines lack in fancy menu options they make up in a quality brew. Expect this drink to be bolder and sharper than the same brewed with a common coffee maker.
They are designed and manufactured in the USA.
Number 8: Hamilton Beach
Best Brand for Alternating Between Pods and Drip Coffee
Hamilton Beach is a recognizable brand, not just amongst coffee gear but amongst kitchen appliances in general. They offer sturdy, long-lasting good quality coffee makers ideal for people who like versatility from their appliances.
Whoever designed their coffee machines was thinking about the user experience thought the whole process. That's why they offer unique single cup features as well as full carafe options.
Do these coffee makers make cafe-quality coffee? Well, no, but do they make the same type of coffee as all the other affordable coffee makers do? You betcha.
Price Range: $35-100
Best Known For Drip Coffee
Brew Strenght Selector
Advanced Model Options:
Two-Way Brewing(Single-Serve and Ful Pot)
Two-Way Brewing(Ground Coffee and Pods)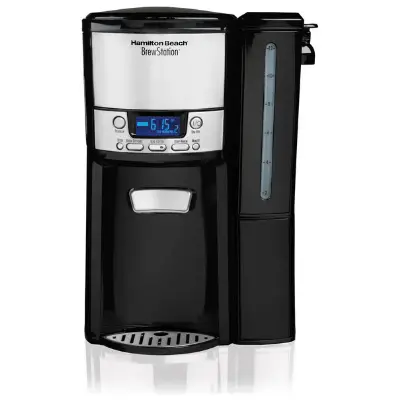 If you're looking for a difference between the coffee quality between Hamilton Beach, Mr. Coffee, or Cusineart, that's going to be tough to describe. They all make a similar brew. Perhaps because they are all imported from China.
What makes Hamilton Beach unique is the design features of its coffee makers. The innovative technology between the advanced models of these coffee machines lets you brew one cup of coffee instead of a whole pot every time you want a coffee.
Summary
Now you know all the best coffee machine brands on the market. Keep in mind that each brand is unique and offers a different type of coffee experience, from drip coffee to espresso, from home to commercial use.
My goal was to help you understand the differences between the main players in the coffee industry. As I often say, before you buy your next coffee maker, think about how often you plan on using it, and then consider how much a cup of coffee at a local cafe costs.
Your coffee machine shouldn't have to cost you an arm and a leg but neither shouldn't it be the cheapest appliance in your kitchen. Find the one that suits your household best and consider choosing quality over convenience.
I've always seen coffee as a way of bringing people together. Everywhere I go people seem to enjoy a fresh cup of coffee and that's what drives my passion. There's always a new brew to master, and there's always a new face to enjoy it with. Hitch a ride with me on a coffee-fueled adventure to find a perfect cup.