Most people go to Starbucks for a cup of delicious strong coffee but they tend to end up staying for the tasty pastries desserts!
Over the last few years, I've gotten familiar with the different types of desserts, snacks, baked goods they offer.
So, I put together a complete list of all the desserts you can expect to pair with your coffee at Starbucks. This comprehensive list contains more than just muffins, scones, and cookies so let's get started.
All Starbucks Desserts and Pastries
These are all the desserts available at Starbucks. If you want to know more about each option look further back down below.
Scone (Blueberry, Pumpkin, Vanilla)
Double Chocolate Brownie
Chocolate Chip Cookie
Marshmallow Bar (Oat Bar, Oat Fudge Bar
Chocolate Croissant
Pecan Tart
Salted Caramel Tart (or square) with Pecans
Morning Bun
Coffee Cake (Classic, Cinnamon)
Cheese Danish
Pops (Fox Cake, Unicorn Cake, Birthday Cake, Chocolate)
Loaf (Iced Lemon, Pumpkin, Banana Nut)
Muffins (Blueberry, Pumpkin Cream Cheese, Chocolate Chunk)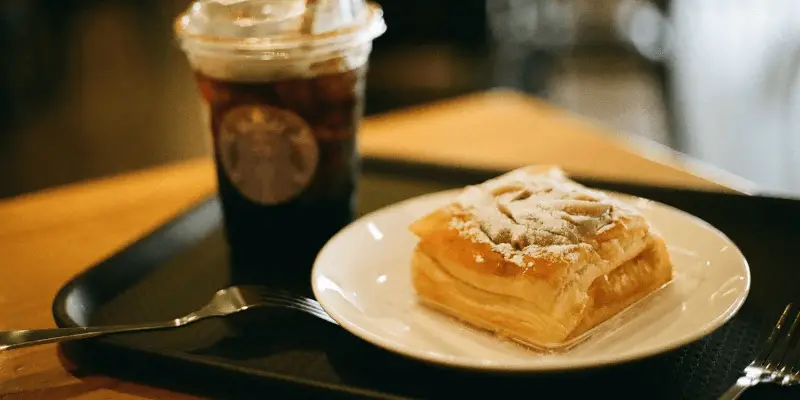 Starbucks Desserts
1. Scone (Blueberry, Pumpkin, Vanilla)
Once you taste the Starbucks Scones, you probably will not find any other scones that can level up to them.
The scone comes in several flavors that we have mentioned. These flavors come from natural extracts, which makes the scones healthy.
In addition, each of these scones is handmade.
2. Double Chocolate Brownie
If you hear about a Double Chocolate Brownie, you might assume that the brownie is extra-large.
Although the brownie is sizable, it contains more calories than most of the Starbucks desserts.
The Double Chocolate Brownie contains 480 calories, giving a lot of energy to take you through the day.
Lastly, this dessert contains the highest quality of cocoa and chocolate that Starbucks imports.
3. Chocolate Chip Cookie
If you want a quick snack, you can grab the Chocolate Chip Cookie. These are perfect for satisfying a sweet tooth.
The chocolate chips are embedded in the cookie dough, and you can taste the sweetness when you bite into the cookie.
4. Marshmallow Bar (Oat Bar, Oat Fudge Bar)
If you are looking for something crunchy and tasty, go for the Marshmallow Bar.  Enjoy this crispy and chewy rice dessert any time of day.
In contrast, the dessert also contains a soft and creamy marshmallow that sweetens the marshmallow bar.
5. Chocolate Croissant
Love chocolate and sweet bread? Then you need to try a Chocolate Croissant.
Just like every other croissant that Starbucks offers, the butter dough is flaky and light. What enhances the taste is the chocolate batons placed in the middle.
Unlike the regular croissants, the chocolate croissant is square-shaped.
6. Pecan Tart
Want an enjoyable and straightforward pastry? Go for the pecan tart.
The Starbucks' Pecan Tart is filled with honey, caramel, and pecan tarts that will leave you wanting more.
The Pecan Tart comes in a sizable portion that only requires three or four bites.
That is why it can also serve as a quick snack. The crust is buttery and crunchy but doesn't leave the oily feeling on your hand.
7. Salted Caramel Tart (or square) with Pecans
If you hear any dessert ingredient that combines salt and caramel, know that you will love the final product. Just trust me on that!
Although the Salted Caramel Tart with pecans contains salt, you can barely taste it. The outside is made of a crunchy pretzel that is less buttery. Also, the inside is filled with pecans and caramel.
8. Morning Bun
The Morning Bun is a perfect snack that will give you the energy to start your day. It's a spicy, buttery, and flaky pastry.
The bun is swirled around in Sumatran cinnamon to enhance the taste.
9. Coffee Cake (Classic, Cinnamon)
It is one of the famous cakes that people have loved from way back. Starbucks purposely made the Coffee Cake pair it with any Starbucks hot coffee and cold coffee drinks.
The sugary, crunchy topping comes in the two flavors named above. The inside of the cake is moist and soft, which makes it super satisfying.
10. Cheese Danish
The Cheese Danish is one of the Starbucks classics. You will love this dessert, especially when warmed up in the microwave.
Get prepared to taste the Neufchatel Cheese which is a simple ingredient but complements the whole dessert.
The Danish cheese is also made with flaky croissant dough.
11. Pops (Fox Cake, Unicorn Cake, Birthday Cake, Chocolate)
Starbucks offers Cake Pops that look like lollipops that are made of cake. Cake pops are made of vanilla cake and then dipped into flavored icing.
Cake pops comes in several flavors that are mentioned above. They also come in different shapes and icing colors.
Have a birthday coming up soon? Order a cake pop, which will serve as the perfect snack for both kids and adults.
12. Loaf (Iced Lemon, Pumpkin, Banana Nut)
You can incorporate the Starbucks Loaves into your breakfast to give you the extra taste and sugar. Each loaf comes in a different flavor that I've have mentioned.
You can taste the actual flavor of a specific loaf. They are moist and buttery, and delicious.
13. Muffins (Blueberry, Pumpkin Cream Cheese, Chocolate Chunk)
The Starbucks muffin sizes are perfect for carrying to work or school as a snack. You can pair your favorite coffee with one of the muffins as your breakfast.
Muffins can get boring, but the variety of the flavors that Starbucks offers makes them exciting.
Although some of these muffins have salt and sugar flavors, you will love the perfect balanced taste in your mouth.
Summary
The purpose of my article was to give you an idea of your options when it comes to Starbucks desserts and pastry options.
You can simply walk into one of the various Starbucks stores or order one from your nearest drive-through.
Now, you also have an option of getting online, purchasing a dessert, and waiting for them to deliver at your office or home.
The other reason why people love Starbucks is that their stores are conveniently placed to make it easier for everyone to access their services.
I've always seen coffee as a way of bringing people together. Everywhere I go people seem to enjoy a fresh cup of coffee and that's what drives my passion. There's always a new brew to master, and there's always a new face to enjoy it with. Hitch a ride with me on a coffee-fueled adventure to find a perfect cup.