As an Amazon Associate FreshCoffeeHouse.com earns from qualifying purchases.
One major reason that's kept people from owning their own espresso coffee maker is the unreasonable price tag. Some machines can cost upwards of $2,000. That's a huge price to pay for a latte or cappuccino. So, I put together this list of fantastic and affordable espresso machines.
These espresso machines will undoubtedly cut down your visits to coffee shops and increase your coffee horizons. Regardless, whether you enjoy a simple shot of espresso or like to relax with a delightful cappuccino you'll want a coffee machine that suits your needs.
How Did I Choose Which Espresso Machines to Show You?
There's a number one reason for having an affordable espresso machine at home is the ability to make cafe-quality coffee right in your own kitchen.
Since coffee is the most common topic of conversation around my table I've gotten to know a thing or two about different coffee makers. My friends and I try these machines and judge them on the design, user experience, and obviously the quality of the brew they produce.
I'm not here to show you $1000 espresso machines. Instead, I made this list of affordable espresso machines you should consider for your home/kitchen.
The Best Espresso Machines
While most coffee makers tend to be generic and dull, espresso machines continue to stand-out in the coffee community. This Gevi is a fantastic espresso maker and is my top choice for beginners and experts alike.


Water tank: 40oz(1.2L)



Adjustable milk frothing wand



2 thermostats for water and milk



20 bar pump



Easy to use



Takes 45 seconds to warm up
To get the most from your espresso you'll want to pair it with a good coffee bean. I personally like to pull my shots from Pellini No.82 Vivace. If you need more inspiration take a look at my espresso coffee bean hit list!
Brand
Details

Gevi
Water tank: 40oz.
Takes 45 seconds to warm up.
Check Price

EspressoWorks
Water tank: 42oz.
Adjustable milk frothing wand.

Check Price

Brewsly
Water tank: 37oz.
2 thermostats for water and milk.
Check Price

Mr. Coffee
Water tank: 54oz.
Automatic milk frother.
Check Price

Capresso
Water tank: 42oz.
Single or double brewing.
Check Price


Water tank: 40oz(1.2L)



Adjustable milk frothing wand



2 thermostats for water and milk



20 bar pump



Easy to use



Takes 45 seconds to warm up
This coffee maker has everything you need in an espresso machine! It's easy to maintain, simple to operate, and makes outstanding quality espresso. If you're looking for an affordable espresso machine for your kitchen countertop, you've found it. 
I love the design of this model. Gevi has really hit the nail on its head with this gem. The large water tank is removable and can be filled under a tap or water reservoir. The unit is black and stainless steel, making it sleek and stylish while also being easy to clean.
What separates this coffee maker from the rest is the super-fast heating system. Espresso is made with really hot water therefore most machines need time to heat up before they can be used. This supercharged unit heats up so fast you won't even realize you had to wait for your espresso.
If you're on the market for an espresso machine but don't want to dish out an absurd amount of money to make a latte at home, this affordable espresso machine is your best bet.


Water tank: 42oz



Adjustable milk frothing wand



15 bar pump



Single or double brewing



Colors: Red, white, silver



Takes 45 seconds to warm up
If you're someone who plans on making an espresso on a daily basis, this is the coffee machine for you. There aren't enough good things I can say about this EspressoWorks unit. The clever heating tray on top of the machine heats up your demitasse, the milk frother works perfectly, and the quality of the espresso is brilliant.
This model is built with a heating system that allows you to make espresso in just 45 seconds, that's really fast! It comes with a plug-in blade grinder, 2 demitasse cups, and all the utensils you need to make espresso, cappuccinos, or lattes.
The only downside of this coffee machine is the bulky design. That's why I'd prefer the Gevi over this model, but that's just me. If you need an affordable espresso machine, this one has all the bells and whistles of a professional-grade unit at a reasonable price.


Water tank: 37oz



Milk frothing wand



2 thermostats for water and milk



15 bar pump



Stainless steel
As you can see from this stainless steel design, this espresso coffee maker will fit in with any kitchen decor perfectly. Speaking of fit, the compact design of the unit makes it a little more appealing than its bulky counterparts.
Don't let the little size fool you, this espresso machine is mighty. It pulls an outstanding shot of coffee which you can expect to be smooth, rich, and creamy. This is as good as it gets. This coffee maker is easy to use, easy to clean, and really easy on the eyes. What makes it unique is the compact size of the design.


Water tank: 54oz



Automatic milk frother



Single or double brewing



15-bar pump



Colors: Red, white, silver
This beautiful semi-automatic espresso machine is perfect for an avid latte, mocha, or cappuccino lover. Not only does it have a large water tank but it comes with an automatic milk frother.
I honestly enjoyed the cup of coffee this espresso machine made with little supervision. I thought the drink might be missing something but I was wrong. The milk distribution allows the coffee to be personalized as if hand-made.
Although I tend to like manual coffee brewing methods over automated ones, in this case, I found a perfect mix of both. If you're looking for a flavourful espresso or latte but don't always have the time to brew one from start to finish, then trust this affordable espresso machine.


Water tank: 42oz



Milk frothing wand



Single or double brewing



15 bar pump



Black & stainless steel
At first glance, this might not be the most appealing espresso machine on the list but it sure is the most affordable one. It comes with all the features of the previous models like milk steam wands, coffee cup heating plates, and an easy-to-clean stainless steel exterior.
This is a simple coffee maker that makes fantastic espresso. No-fuss or frills just great coffee. It's easy to get caught up in the fancy gadgets some appliances offer. With those gadgets comes a higher price tag. Let's avoid all that with this choice.
The reason I included this Capresson on my list of affordable espresso machines is that you won't find a better quality unit at this low price range. Even though it's a little bulky, it's ideal for people who love espresso but don't want to dish out hundreds if not thousands of dollars to enjoy a coffee at home.
Espresso for Beginners
Now that you've figured out which espresso machine suits you best the next step is to find the perfect coffee beans! I recommend the Pellini Vivace, it's as close as you will get to experiencing true European-style cafe shop espresso at home. They are my number 1 must-try coffee beans ideal for espresso.
Espresso and coffee are often regarded as the same thing. Although both are made from the same coffee beans each drink has a unique brewing method which results in different flavors, textures, and caffeine content. If you're not familiar with the differences between espresso and coffee you can find them here!
Optional Equipment for Making Good Espresso
Here are a few things most coffee enthusiasts like to use when making espresso at home. Not everyone will need a scale or a timer, but they do help, especially when you're first starting out.
Water
Coffee machines need water. To keep things simple, a shot of espresso is made with one ounce of water, and a double shot is made with two ounces. I suggest using filtered water for the best results.
A glass cup
A clear cup will make it easier to see the different layers and colors of an espresso. Once you've mastered the brewing technique you can pull shots right into a demitasse.
A digital scale
A scale isn't mandatory, but most baristas like to use one. Otherwise, how would you know which variables to adjust?
A timer
We will need to time the extraction of our espresso. It's important to have a timer ready when pulling a shot. 
How To Make a Perfect Shot of Espresso
Since you've found your espresso machine and the best coffee beans for espresso, it's time to learn how to make the legendary shot!
Learning new coffee brewing techniques can be tricky, that's why I've put together this simple step-by-step guide on how to make espresso at home.
It's a comprehensive guide and a little too long to fit on here, so I just left the link for the instructions above. I did want to share some of the basics with you as well.
Tips for the Making Best Espresso
Refer to these quick steps on your way to brewing a perfect shot of espresso.
Shred your coffee beans to a fine grind.
Place the grounds into the portafilter.
Tamper the coffee into a tight, smooth puck.
Warm-up to the espresso machine and your glass.
Connect the portafilter into the espresso machine.
Extract a shot for roughly 20-30 seconds.
By following this guide, you're on your way to becoming a pro-barista and brewing the perfect shot of espresso every time.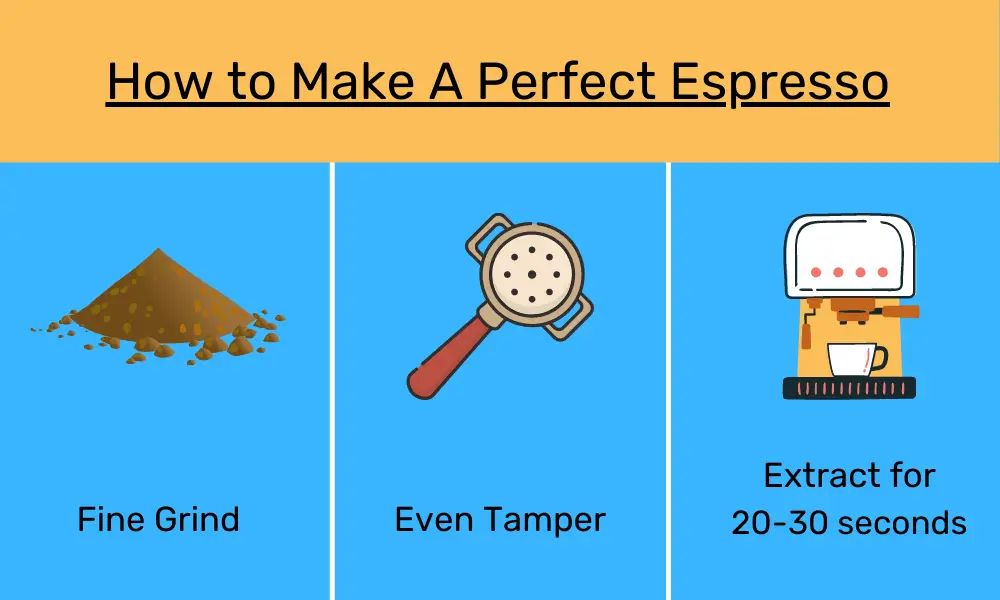 Related Questions
What is the Average Price for an Espresso Machine?
Most common espresso machines cost between $100 and $300, these are home-use espresso machines for casual coffee drinkers.
Professional grade, cafe-quality espresso machines cost between $500 and $1,200. These coffee makers are luxurious appliances that can be used at home and in a business setting.
Commercial espresso machines used in coffee shops are sold for anywhere from $5,000 to $50,000.
Can You Make Espresso from Regular Coffee?
The simple answer is yes, you can make espresso from regular coffee beans. You don't need to purchase a specific type of beans to enjoy this type of coffee.
I suggest trying Pellini Vivace because it's as close as you can get to the authentic cafe-style espresso at home. If you're looking for more coffee beans to try in your espresso machine take a look at my coffee bean hitlist.
I've always seen coffee as a way of bringing people together. Everywhere I go people seem to enjoy a fresh cup of coffee and that's what drives my passion. There's always a new brew to master, and there's always a new face to enjoy it with. Hitch a ride with me on a coffee-fueled adventure to find a perfect cup.