Did you try an Americano from Starbucks and now are looking for more? Perhaps you want to broaden your coffee horizons and try something new. 
Here is what you need to know about the coffee and a list of all the Americano drinks at Starbucks.
An Americano is a means of drinking espresso without any of the strength of a straight shot.
Americanos are thought to have gained popularity throughout World War II, whenever American soldiers stationed in Europe desired a beverage that tasted like brewed coffee. So Europeans took to diluting the regular shots of espresso with hot water.
List of Starbucks Americano  Drinks
Here is a list of all the Starbucks Americano drinks. Find out more about each drink below.
Iced Caffè Americano
Creme Caramel Iced Americano
Iced Hazelnut Americano
Americano Con Crema
Blonde Vanilla Latte
Iced Caramel Macchiato
Caffè Americano Misto
Vanilla Americano
Chestnut Americano
Iced Americano Blanco
Caramel Macchiato
Cinnamon Dolce Latte
Iced Starbucks Blonde Vanilla Latte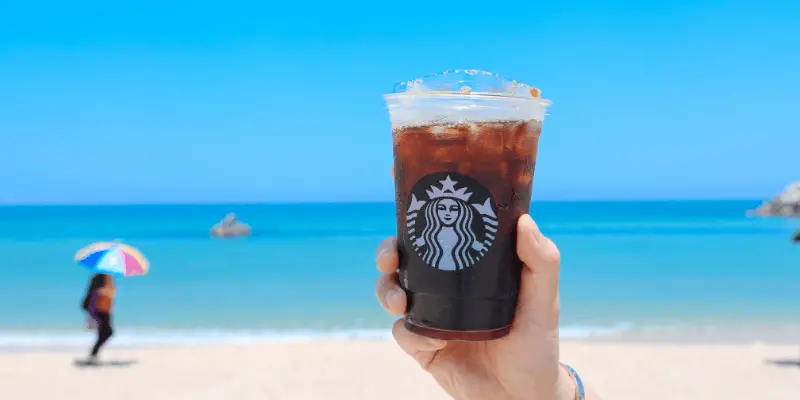 Starbucks Americano Drinks:
1. Iced Caffè Americano
Espresso shots with a light layer of crema are topped using cold water and served over ice.
As a result, you'll have a deliciously rich cup with depth and complexity. Tell your barista to try this with an extra shot if you want an extra boost.
An Iced Caffè Americano is the perfect coffee for individuals who enjoy a bold coffee flavor on a hot summer day.
Prepare this Drink at Home:
Prepare 2 espresso shots.
If you're not using an espresso machine, you could brew espresso-like coffee with a stovetop Moka pot.
Bring water to a boil and pour it into a coffee mug filled with ice cubes.
Fill roughly 3 quarters of the mug.
Pour two shots of espresso into the coffee mug gradually.
2. Creme Caramel Iced Americano
Add Caramel Syrup with six ounces of cold water with 2 ounces half &half with 2 shots chilled espresso and ice.
Prepare this Drink at Home:
Blend chilled expresso.
Add water into it half and half.
Take a tall glass and take the ice in the glass.
Stir well.
You can add a cup of brewed coffee as a substitution.
3. Iced Hazelnut Americano
It's simple to make this Iced Hazelnut Coffee recipe. Make it using any of your favorite Starbucks espressos, then combine and serve with water and a shot of hazelnut syrup for a wonderful and refreshing iced coffee alternative.
Prepare this Drink at Home:
In a large glass, combine ice and hazelnut syrup.
Brew 4 ounces of espresso.
Add it to the glass.
Finish with a splash of milk.
Stir in the hazelnut syrup until it has been completely blended, then serve.
4. Americano Con Crema
With orange syrup, foamy milk, and a dusting of Demerara sugar, the original Americano is elevated.
First, prepare the orange syrup. Sugar, water, and orange peel in a small saucepan for five minutes, or till sugar has dissolved, stirring occasionally. Remove from the heat and set aside to cool. Strain the liquid into a container.
Prepare the Americano with Crema next. Inside a blender, froth the milk for 2 minutes on high, and then set aside for a minute or two.
Prepare this Drink at Home:
Stir together the espresso, orange syrup, plus 2 oz of hot water in a mug.
Add a few servings of milk froth to the drink, sprinkle with sugar when preferred, and serve.
5. Blonde Vanilla Latte
The Starbucks Blonde Vanilla Latte combines fluffy frothed milk and delectable vanilla syrup with a shot of espresso for a silky, sweet, and energizing beverage.
With only three components, you can prepare a great café-style vanilla latte at home. Inside a mug, pour 1 shot of Starbucks Blonde Espresso Roast from Nespresso.
If you're not using a Nespresso unit, a stove-top Moka pot, as well as Starbucks Espresso Roast, could be used to produce a Vanilla Latte for a strong espresso-like coffee.
Prepare this Drink at Home:
Using your favorite method, froth milk.
Gently whisk in the Starbucks Vanilla Syrup to the mug of espresso.
Put the frothed milk into the mug slowly until it becomes nearly full.
6. Iced Caramel Macchiato
Our abundant, full-bodied espresso gets mixed with milk, vanilla-flavored syrup, and ice, then drizzled with caramel for just a sweet finish.
The perfectly cold creamy and sweet Iced Caramel Macchiato is a must-try for all coffee lovers with a sweet tooth.
For a pleasantly refreshing beginning to your day, combine milk, rich espresso, as well as vanilla syrup, then top with caramel.
Prepare this Drink at Home:
In a glass, pour the vanilla syrup.
Pour in 2 percent chilled milk.
Fill glass with ice to a depth of 12 inches below the rim.
Pour in the espresso shots from Starbucks.
Finish with a drizzle of caramel sauce.
7. Caffè Americano Misto
For a genuine, handcrafted espresso beverage, stack bold Starbucks Espresso shots with hot water and afterward steamed milk.
The Caffè Americano Misto is a smoother version of the original drink. Ideal for people who like to sip coffee for pleasure instead of a morning pick-me-up.
8. Vanilla Americano
Water is added to espresso to make an Americano. With the addition of some vanilla syrup, you get a delightful  Vanilla Americano.
The vanilla syrup adds a hint of flavor to the original coffee, it doesn't overpower its flavor. Expect the same cup of joe but with a tad sweeter twist.
9. Chestnut Americano
Chestnut is just one of many flavored syrups you can alter your coffee with at Starbucks. I suggest trying it with an Americano first.
The subtle flavor of an Americano pairs ideally with the earthy taste of the chestnut syrup. A coffee perfect for the holidays and spending time around a fire.
10. Iced Americano Blanco
Want to indulge in a sweeter version of the Americano? You need to give this version a try.
On the next hot summer day order an Iced Americano Blanco to be delighted with a rich, creamy, cool, coffee drink. Its flavors are a mix of coffee, white chocolate, and mocha sauce.
11. Caramel Macchiato
Freshly heated milk mixed with vanilla-flavored syrup laced with espresso as well as finished with a delicious caramel drizzle.
Calling all caramel lovers! Who needs a cake for dessert when you can drink this soothing, creamy, and sweet Caramel Macchiato. A must-try on the Starbucks menu.
12. Cinnamon Dolce Latte
Toss our classic espresso with fresh heated milk as well as cinnamon dolce syrup flavor, then serve with whipped cream that is sweetened along with a topping of cinnamon dolce.
Read more about the Cinnamon Dolce Latte Here!
13. Iced Starbucks Blonde Vanilla Latte
The Iced Blonde Vanilla Latte is a traditional espresso beverage served over ice, with classic vanilla syrup combined perfectly with strong espresso plus creamy milk.
Whenever you need a pick-me-up which also helps to cool you down, enjoy one on a hot and sunny afternoon.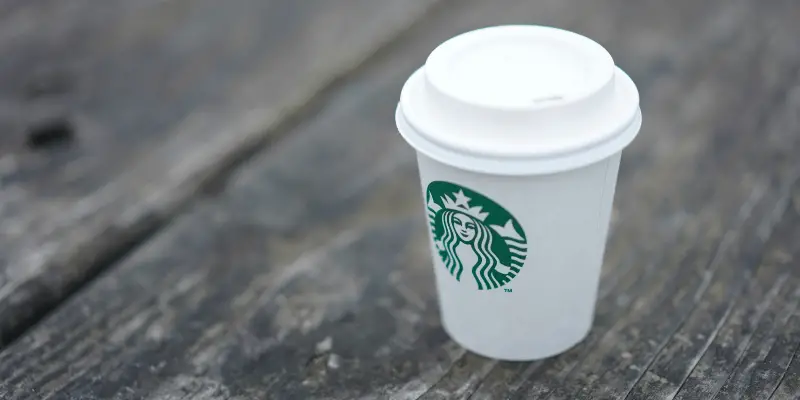 Summary
An Americano is a caffeinated drink created with espresso as well as hot water. It's just espresso that's been diluted with water to resemble brewed coffee from a machine.
It's not necessary to use a specific amount of water to term it an americano. A solitary or double shot of espresso could be used to make an americano.
Espresso-to-water ratio in an Americano
Caffe Americano's average ratio is 2:1. Two portions of hot water to a section espresso is the ratio. This ratio gives the beverage a dark and bitter flavor, similar to a lightened version of espresso.
I've always seen coffee as a way of bringing people together. Everywhere I go people seem to enjoy a fresh cup of coffee and that's what drives my passion. There's always a new brew to master, and there's always a new face to enjoy it with. Hitch a ride with me on a coffee-fueled adventure to find a perfect cup.