I tried a few banana-flavored drinks from Starbucks and want to give you a run down of your options in case you love bananas as much as I do.
Starbucks banana drinks can be served either hot or cold as they can be ordered in different forms such as creamy Frappuccino's, sweet and refreshing smoothies, or traditional lattes.
Next time you're in the mood for something different, or just want a hint of banana in your coffee, refer to our list.
List of Starbucks Banana Drinks
These are all the banana-flavored drinks you can order at Starbucks. If you want to know more about each drink look further down below.
Banana Split Frappuccino
Banana Cream Pie Frappuccino
Chocolate Covered Banana Frappuccino
Bananas Foster Frappuccino
Banana Chocolate Chip Frappuccino
Banana Nut Frappuccino
Chunky Monkey Frappuccino
Chocolate Power Shake Frappuccino
Nutter Butter Frappuccino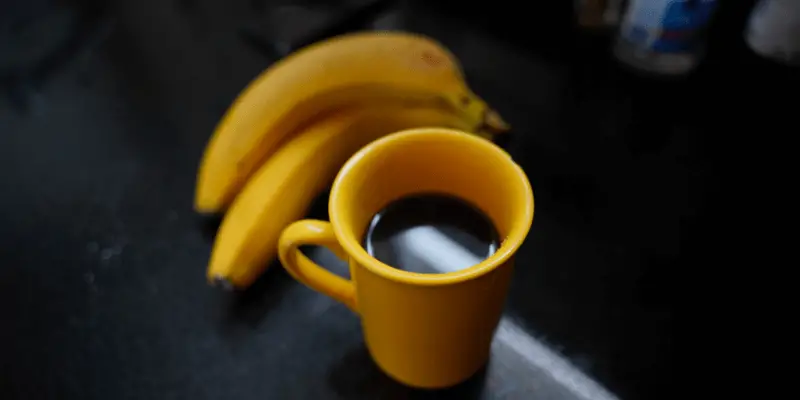 Starbucks Banana Drinks
1. Banana Split Frappuccino
A Banana Split Frappuccino is a smoothie made with strawberries and cream Frappuccino, a banana, vanilla bean powder, java chips, whipped cream, and caramel drizzle.
This dessert-style Frappuccino is rich, creamy, and filling. I suggest trying the tasty treat on your next lunchtime break!
Ask Barista For:
A strawberry and crème Frappuccino with Vanilla Bean powder and Java Chips. Make sure to ask for a whole banana to be blended in with the drink as well. Finish it off with whipped cream and mocha or caramel drizzle.
2. Banana Cream Pie Frappuccino
It's no surprise that Starbucks has some fantastic creations. The Banana Cream Pie Frappuccino is one of them!
This banana cream pie Frappuccino tastes like banana, heavy cream, and vanilla ice cream; it's an excellent treat for the summer!
For banana cream pie lovers, this Frappuccino is the perfect drink to enjoy!
Ask Barista For:
A Vanilla Bean Crème Frappuccino made with a whole banana, Vanilla Syrup (1 pump grande, 1.5 pumps venti), and Hazelnut Syrup (1 pump grande, 1.5 pumps venti). Top with whipped cream if you desire.
3. Chocolate Covered Banana Frappuccino
Next is a banana-chocolate cross-over you are guaranteed to enjoy.
Expect to find chocolate chips swirling around your smoothie as you down this creamy and delicious Chocolate Covered Banana Frappuccino.
Ask Barista For:
A Vanilla Bean Frappuccino with a little less vanilla bean powder (1 scoop tall, 2 scoops grande, 3 scoops venti) and a whole banana and java chips. Line the cup with chocolate drizzle if you want extra chocolate and top with whipped cream and mocha drizzle.
4. Bananas Foster Frappuccino
The Bananas Foster Frappuccino combines your favorite flavors with vanilla and caramel.
The bananas used by Starbucks are usually quite ripe making them easy to mash up and mix with milk, sugar, and ice cubes before blending all of them with the coffee mixture.
Ask Barista For:
A Vanilla Bean Frappuccino mixed with a whole banana, caramel syrup (2 pumps for grande, 3 for venti). Remember to line the cup with caramel drizzle and top with whipped cream and caramel drizzle for the best results.
5. Banana Chocolate Chip Frappuccino
Many banana chip lovers will enjoy this banana treat.
The Banana Chocolate Chip Frappuccino is a perfect after-dinner dessert.
This drink is simple to make and very tasty. Many people who enjoy banana drinks get banana chocolate chip Frappuccino's to satisfy their cravings.
Ask Barista For:
A Vanilla Bean Frappuccino with a whole banana blended in and add java chips (1 scoop for a tall, 2 for grande, 3 for venti). Finish off with chocolate or regular whipped cream!
6. Banana Nut Frappuccino
The Banana Nut Frappuccino is a banana-flavored iced coffee blended with ice and milk.
This drink recipe contains about 300 calories per serving, depending on how it's made, making for a filling snack!
This banana-nut treat from Starbucks also has banana puree in addition to banana extract, giving it a distinct banana taste.
Ask Barista For:
A Hazelnut Frappuccino with a whole banana blended in.
7. Chunky Monkey Frappuccino
Doesn't it seem like everything Starbucks touches turns to gold? Well, the company's latest concoction is no exception.
If you're looking for an extra boost of caffeine (and banana flavor), then look no further than this treat that has everyone talking.
People are loving the new Chunky Monkey Frappuccino, and now they can't get enough of it.
The banana-flavored beverage is made up of banana puree, whole milk, ice, mocha drizzle, and whipped cream. It's an indulgent treat that tastes just like soft banana serve.
Ask Barista For:
A venit Crème based Frappuccino with a whole banana blended in, 2 scoops of vanilla bean powder, 2 pumps of mocha syrup, 2 pumps of hazelnut syrup, and 2 pumps of toffee nut syrup. Finish off with a light caramel drizzle and light mocha drizzle.
8. Chocolate Power Shake Frappuccino
Packed with banana, cocoa, and other goodies such as protein powder, this chocolate power shake Frappuccino is the go-to drink for gym-goers and joggers alike.
If you need a little extra energy to fuel your muscles, but want to avoid overindulging in caffeine, try the Chocolate power Shake Frappuccino on your next trip to your favorite coffee shop.
Ask Barista For:
A venti Java Chip Frappuccino made with soy milk and a whole banana blended in. Ask for 1 scoop of whey protein powder and you're set!
9. Nutter Butter Frappuccino
The banana Nutter Butter Frappuccino is a banana, cinnamon, and caramel flavored smoothie.
It has a creamy texture which is what makes it so unique yet delicious.
Additionally, this drink is straightforward to make because you can make it at home so that it will be perfect for banana lovers!
Ask Barista For:
A Hazelnut Frappuccino with a whole banana blended in, toffee nut syrup (2 pumps grande, 3 venti), and cinnamon dolce syrup (2 pumps grande, 3 venti). Top off with whipped cream.
Summary
That's a complete list of all the Starbucks banana drinks you can order!
Next time you want a little extra potassium in your coffee refer back to our list and find the right drink for you.
I personally enjoy the mixture of caramel and banana. Since everyone is different, I suggest you try as many of these options as you can to find your ideal combination.
If you think I missed any drink or need me to change something on my list, feel free to contact me and let me know.
I've always seen coffee as a way of bringing people together. Everywhere I go people seem to enjoy a fresh cup of coffee and that's what drives my passion. There's always a new brew to master, and there's always a new face to enjoy it with. Hitch a ride with me on a coffee-fueled adventure to find a perfect cup.