If you love coconut milk as much as I do, you will be happy to know that Starbucks offers a wide variety of coconut-flavored drinks. Not just coffee, but refreshers and blended beverages as well. 
I find that Starbucks always had great options for individuals who enjoy plant-based alternatives to milk, but they have really gone above and beyond with their coconut milk drinks!
Taste all the options on this list before you make up your mind about a favorite. 
Starbucks Coconut Drinks
Here is a list of Starbucks coconut drinks. They are made with coconut milk and coconut syrup. Scroll down to learn more about each drink.
Coconutmilk Cascara Latte
Coconutmilk Mocha Macchiato
Coconutmilk Vanilla Bean Frappuccino
Vanilla Bean Coconutmilk Latte
Caramel Coconut Crème Pie Frappuccino
Pina Colada Tea
Star Drink
Dragon Drink
Pink Drink
Violet Drink
Iced Golden Ginger Drink
Iced Pineapple Matcha Drink
Iced Guava Passionfruit Drink
Coconut Lime Refresher
Dragonfruit Frappuccino
Pina Colada Frappuccino
Orange Drink
Berry Vanilla Smoothie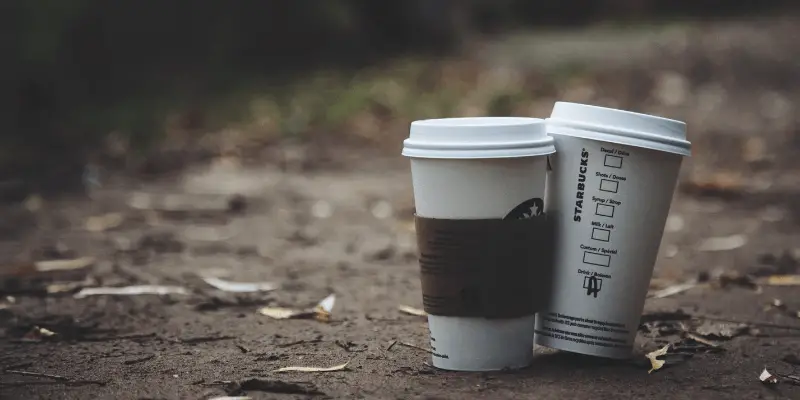 Starbucks

Coconut Drinks
1. Coconutmilk Cascara Latte
The Coconutmilk Cascara Latte comes with shredded coconut flakes, brewed espresso shots, and foam made from steamed coconut milk.
The flavor is sweetened lightly with vanilla syrup, giving it a bright golden color rather than plain brown espresso shots or any amount of caramel or mocha.
2. Coconutmilk Mocha Macchiato
The Coconutmilk Mocha Macchiato contains espresso shots made using the classic cafe mocha recipe, but with coconut milk instead of regular milk.
The syrup used in this drink is the chocolate sauce, consisting of cocoa, sugar, and vanilla extract.
The final touch for this drink comes in steamed coconut milk, which gives it a sweet coconut flavor.
3. Coconutmilk Vanilla Bean Frappuccino
A blend of white mocha sauce mixed with toffee nut syrup, vanilla beans, and vanilla bean powder gives this frappe its delectable flavor, along with dark caramel drizzle and whipped cream topping.
The coconut milk adds a sweet and smooth taste without any bitter aftertaste.
The Vanilla Bean Coconutmilk Frappuccino is an excellent option for people who enjoy the taste of vanilla but are looking for something non-caffeinated.
Ask Barista for:
A Vanilla Bean Frappuccino made with coconut milk.
4. Vanilla Bean Coconutmilk Latte
The Vanilla Bean Coconutmilk Latte has vanilla syrup stirred into steamed coconut milk and espresso shots made from Sumatra beans to add a bold taste.
It also contains caramel sauce and dark mocha sauce, which adds rich flavors to this drink. They include complex tastes such as molasses, brown sugar, chocolate, burnt sugar, earthy coffee bean notes, and spicy red pepper flavors for extra sweetness.
The Vanilla Bean Coconutmilk Latte is the same as a regular latte except that it uses coconut milk mixed with steamed milk instead of dairy milk.
5. Caramel Coconut Crème Pie Frappuccino
The Caramel Coconut Crème Pie Frappuccino combines mocha sauce, toffee nut syrup, Caramel Crème Frappuccino with light cream, and coconut milk.
It has a rich flavor from the dark chocolate sauce mixed with sweetened coffee and a creamy mouthfeel from the blended cream.
6. Pina Colada Tea
The Pina Colada Tea Infusion mixes passion fruit black tea, orange mango juice concentrate, pineapple pieces, and coconut milk.
It contains no artificial flavors or juices and instead uses real fruit concentrates for a 100 percent natural beverage that tastes like a tropical cocktail.
7. Star Drink
A twist on an old favorite of Starbucks customers is the Star Drink which is made with coconut milk instead of regular dairy milk.
The flavors use caramel syrup and multigrain mocha sauce for a drink that tastes like a combination of hot cereal and oatmeal mixed with creamy coconut and chocolate syrup.
8. Dragon Drink
The Dragon Drink combines sweetened cream, espresso shots, and mango juice to make a fruity beverage that tastes like the Starbucks Mango Dragonfruit Refresher but with added caffeine from the espresso shots.
There are also hints of ginger in this drink which give it an earthy yet spicy flavor.
9. Pink Drink
The Pink Drink tastes like a strawberry smoothie due to strawberries and cream combined with coconut milk.
The drink also contains cinnamon dolce syrup and peach-flavored white mocha sauce, giving it a mild spiciness that complements the sweetness from the fruit flavors.
10. Violet Drink
The Violet Drink uses freshly brewed lavender latte and soy milk, and vanilla syrup for a beverage mixture with a sweet flavor.
Lavender is one of Starbucks' most popular ingredients, so this coffee shop has incorporated it into several drinks, including the lavender scone and blended coffee drinks such as this one.
11. Iced Golden Ginger Drink
The Iced Golden Ginger Drink is made with ginger ale, which gives it an intense spiciness that balances out the sweetness from the coconut milk.
There are also shots of espresso added to this drink for a caffeine punch combined with sweet caramel syrup and dark mocha sauce.
12. Iced Pineapple Matcha Drink
Strawberry juice concentrate combined with pineapple pieces adds tropical flavors to this drink, while matcha powder provides a green and earthy taste.
In order to make this beverage creamier, coconut milk is used instead of regular dairy milk, giving it a milder flavor than other Starbucks drinks that incorporate soy into their recipes.
13. Iced Guava Passionfruit Drink
The Iced Guava Passionfruit Drink is made with passion fruit syrup, guava juice concentrate, and coconut milk, giving it a tart yet sweet flavor.
The coffee shop also uses freshly brewed iced passion tea in this beverage for more tropical flavors that complement the intensity of the pineapple juice.
14. Coconut Lime Refresher
Coconut syrup and lime juice concentrate combine with passionfruit juice to create a Coconut Lime Refresher that tastes like coconut cream pie.
The Coconut Lime Refresher has water and ice and refined coconut milk for a beverage with a creamy texture without the dairy.
Ask Barista for:
A Cool Lime Refresher made with coconut milk instead of water.
15. Dragonfruit Frappuccino
This beverage is made by combining dragonfruit puree, crème base, raspberry syrup, strawberry puree, whipped cream, and freeze-dried strawberries.
The combination of flavors gives Dragonfruit Frappuccino an intense sweetness from the fruit juices with tartness coming from the raspberries, while the crushed freeze-dried strawberries provide texture in each sip.
Ask Barista for:
Coconut milk to the first line, Mango Refresher to the second line, 2 scoops of dragon fruit, and a Crème base.
16. Pina Colada Frappuccino
The Pina Colada Frappuccino contains pineapple juice, coconut milk, and a white chocolate mocha sauce which gives it a creaminess that complements the flavors from the fruit.
There are also coffee grounds in this beverage with espresso shots for a more potent caffeine punch with hints of sweet caramel syrup to add another level of flavor.
Ask Barista for:
A Crème Frappuccino with coconut milk to the first line with Pineapple infusion tea to the second line. Add extra ice and an extra pump of crème base.
17. Orange Drink
The Orange Drink is made with orange juice concentrate, coconut milk, and iced tea instead of the usual lemonade seen in other beverage versions.
It has less acidity than some different versions due to using just one shot of modified food starch along with guar gum. It gives it a sweeter flavor while also making it creamier and lighter.
Ask Barista for:
Orange mango juice with vanilla bean powder and coconut milk.
18. Berry Vanilla Smoothie
The Berry Vanilla Smoothie is made using mixed berries, vanilla syrup, blackberries, and coconut milk.
It also contains vanilla bean powder, which is like the beans used in preparing cold brew coffee.
Sugar is used instead of other sweeteners such as stevia or monk fruit extract to complete the beverage's berry theme.
The combination of flavors gives this drink a tart sweetness with floral hints from the vanilla bean pieces. 
Ask Barista for:
Coconut milk to the second line with crème base, 2 scoops of berries, 3 scoops of vanilla bean powder, 1 banana, and a tall scoop of ice all blended together.
Summary
There you have it! Every coconut-flavored and coconut milk drink you can order from Starbucks. There is plenty to choose from, so next time you're at your favorite coffee shop check out the list and grab a cup.
Is there something missing from my list? Would you change any of the items you see here? Feel free to contact me to let me know what you think.
I've always seen coffee as a way of bringing people together. Everywhere I go people seem to enjoy a fresh cup of coffee and that's what drives my passion. There's always a new brew to master, and there's always a new face to enjoy it with. Hitch a ride with me on a coffee-fueled adventure to find a perfect cup.