Wondering if you can visit your favorite coffee shop while fasting? Starbucks sells a large range of low-calorie drinks perfect for enjoying while fasting. 
You should avoid extra sugar, milk, cream, syrups, or any other flavor-enhancing additives while fasting, but that doesn't mean you have to stop drinking your morning or lunchtime pick-me-up.
I put together a list of all the Starbucks drinks you can choose from while fasting.
Complete List of the Best Starbucks Drinks White Fasting
Here are all the drinks Starbucks offers that are ideal for any individual fasting or planning to fast. Read more about each option below.
Caffè Americano (Hot or Iced)
Black Coffee (Regular and Dark Roast)
Espresso (Hot or Iced)
Cold Brew Coffee & Nitro Cold Brew
Iced Black Tea
Iced Green Tea
Iced Passion Tango Tea
Earl Grey Tea
Royal English Breakfast Tea
Emperor's Cloud and Mist
Jade Citrus Mint Brewed Tea
Mint Majesty
Peach Tranquility
Chai Tea
Fasting-Friendly Flavor Alternatives
You want to avoid using sugar, honey, and syrup to sweeten your coffee while fasting. Luckily, there is a way to sweeten your coffee with sugar-free sweeteners. 
Check the condiment stand of your local Starbucks for:
STEVIA
SWEET' 'N LOW
SPLENDA
All these sweeteners have 0 calories!
Starbucks also offers 2 sugar-free syrup flavors.
If you want to add a little flavor to your black coffee or Americano, ask the barista for a shot of flavored syrup. Just make sure to ask for the sugar-free version!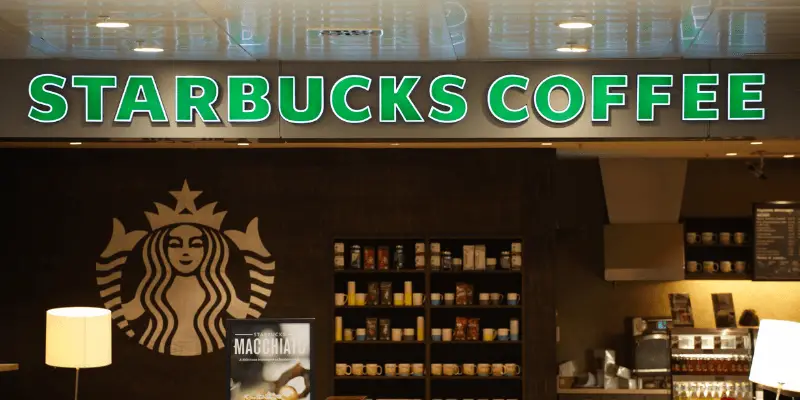 1. Caffè Americano (Hot or Iced): 10 Calories
Starbucks Americanos are crafted with espresso shots and water–and that's all.
Ordering an Americano hot or iced will give you a rich, strong cup of coffee that is a perfect start to your day.
As with their standard brewed coffees, Starbucks also allows for complete customization of their Americanos with additional flavor shots and milk additives available.
However, due to the rich espresso flavor of this drink, it is easy and refreshing to enjoy all on its own.
2. Espresso (Hot or Iced): 10 Calories
Starbucks sells their world-renowned Espresso plain, without any water or milk to dilute it. This option is perfect for those who like to sip and savor.
If you prefer your shots hot, they will come in a four-ounce cup with room at the top.
Generally, Starbucks sells espresso shots in pairs of two, but you are free to order as many or as few as you prefer.
If Iced Espresso sounds best, your shots will be pulled over a cup of ice and topped off with a few extra cubes to create a crisp and refreshing beverage, all without any sugar in sight.
3. Cold Brew Coffee & Nitro Cold Brew: 5 Calories
Starbucks has two primary options for those looking for a cupful of cold, powerful energy: Cold Brew nitro cold brew.
Unlike their iced coffee, Starbucks' cold brew is steeped for twenty hours before it is sold.
Nitro Cold Brew is infused with nitrogen, which allows the caffeine in the cold brew to hit the bloodstream faster and harder.
Nitro brew is served chilled but without ice to keep the cadence of the nitrogen infusion, whereas standard cold brew comes with ice.
4. Black Coffee (Regular and Dark Roast): 5 Calories
Like their americanos, Starbucks brews flavorful, rich coffee that still tastes delicious and bold without any additional customizations.
Starbucks offers a range of brews, from lighter, more acidic roasts to darker, more robust roasts that almost taste like dark cocoa.
Whichever roast you prefer will set you up for a productive morning, all without any added sugar or calories.
5. Iced Black Tea: 0 Calories
The Iced Black Tea Starbucks sells as their cooled version is the same mix as their Royal English Breakfast Blend.
First, they steep the tea bags before cutting the strong concentrate with water and ice, creating a cold, crisp, and sugar-free brew.
Starbucks traditionally sells their iced teas without sugar, meaning you won't need to worry about specifying that you'd like it unsweetened.
6. Iced Green Tea: 0 Calories
Starbucks' green tea is brewed the same as their black, and interestingly, their Iced Green Tea is again the same brew as one of their hot green teas–the Emperor's Cloud & Mist.
Additionally, you can customize how much you'd like your tea cut with water, as the standard recipe calls for half of their tea concentrate and half cold water before being shaken with ice.
Requesting less water will create a stronger, more caffeinated brew, perfect for an early riser.
7. Iced Passion Tango Tea: 0 Calories
Passion Tango is the only herbal iced tea Starbucks sells, and its flavors are pleasantly flowery and subtle.
This is a great drink to try if you'd like something cold and sugar-free, but don't need the caffeine or calories.
As with the other two iced teas, you can completely customize the strength of your brew and even the amount of ice you'd like, making Starbucks' entire range of iced teas highly versatile.
8. Earl Grey Tea: 0 Calories
Starbucks' black Earl Grey tea is used in a variety of drinks, but it tastes amazing in its truest form with just hot water.
Starbucks used traditional tea bags for their hot teas, adding 1-2 to the cup before topping it with hot filtered water.
Additionally, you can request to have extra tea bags in your drink or less, if desired. This tea is a popular classic, perfect for cloudy days or early starts.
9. Royal English Breakfast Tea: 0 Calories
This version of black tea is perfect for those looking for a stronger, more robust black tea flavor.
As previously mentioned, Starbucks uses this brew in their iced black tea, meaning that if you'd like to try swapping out a cold cup for a hot one, Royal English Breakfast is the way to go.
Like their other unsweetened teas, this blend is perfect for enjoying strong flavors without any sugar or calories.
10. Emperor's Cloud Mist: 0 Calories
Starbucks offers this smoky blend of caffeinated green tea in both hot and iced forms.
The flavors are gentle and aromatic, with a boost of caffeine and heat to get any day going in the right direction.
Emperor's Cloud Mist tastes amazing on its own, and as with their other teas, you can request extra tea bags or even a little ice in the cup to lower the temperature.
11. Jade Citrus Mint Brewed Tea: 0 Calories
This green tea differs slightly from the traditional tart taste of green tea with its addition of mint and soft notes of citrus.
Jade Citrus Mint is a perfect brew to try if you're feeling a little under the weather or need a pleasant drink that offers caffeine and a soothing aroma.
This tea blend tastes great paired with other blends, most notably Peach Tranquility.
12. Mint Majesty: 0 Calories
Starbucks sells two hot herbal teas, and Mint Majesty is their minty, herbal version of caffeinated green tea.
The gentle notes of spearmint and peppermint taste amazing all year round, but especially so around the winter holidays and on snowy evenings.
13. Peach Tranquility: 0 Calories
This herbal blend is fruity and gentle, an amazing choice for those who may not enjoy strong tea flavors or traditional green and black tastes.
Starbucks sells a drink made with Peach Tranquility and their Jade Citrus Mint blend, a drink that was created by customers.
Pairing this blend with Mint Majesty is another tasty and soothing blend to try this year.
14. Chai Tea: 0 Calories
Starbucks serves a spicy Chai Tea, a wonderfully bold and unique twist on the traditional taste of black tea.
This tea blend has strong notes of cinnamon and cloves, making it a fall favorite. Starbucks' chai contains caffeine like their other black teas, and its pleasantly robust flavors add zero calories or sugar.
Summary
These are all the Starbucks drinks ideal for individuals who are fasting. 
Next time you need a morning kick of caffeine or a lunchtime pick-me-up, refer back to our list and pick out one of these low-calorie options.
Starbucks always delivers when it comes to healthy lifestyle options, and they didn't disappoint their fasting client base.
What do you think of our list? If you want to add a suggestion or think we missed something, let us know in the comments section.
I've always seen coffee as a way of bringing people together. Everywhere I go people seem to enjoy a fresh cup of coffee and that's what drives my passion. There's always a new brew to master, and there's always a new face to enjoy it with. Hitch a ride with me on a coffee-fueled adventure to find a perfect cup.