If you've found yourself with an affinity for the juicy guava fruit and delicious iced tea, Starbucks has got you covered!
Of the many variations Starbucks has spun on iced tea drinks, perhaps one of the most interesting of the bunch has been the use of guava juice.
While the delicious original Starbucks Iced Tea hardly seems like a drink that would need altering, the coffee powerhouse has put a very unique twist on the beloved beverage with its line of guava-flavored drinks.
Let's dig into each flavor one by one to learn a little more about what makes these drinks must-tastes for the iced tea lover.
Complete List of Starbucks Guava Drinks
Here are all the guava-flavored drinks you can order at Starbucks. Read more about each option further down below.
Iced Guava Passionfruit Drink

Iced Guava White Tea

Iced Guava White Lemonade

Iced Guava Black Tea

Iced Guava Black Tea Lemonade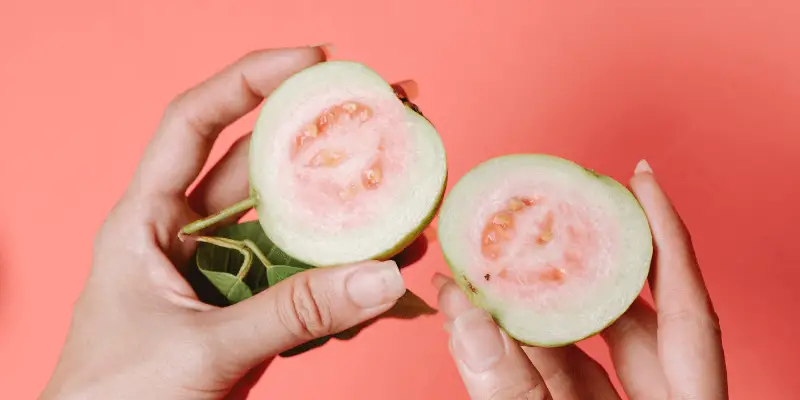 Starbucks Guava Drinks
1. Iced Guava Passionfruit Drink
You're sure to feel like you're in the tropics soaking up the sun when sipping on an Iced Guava Passionfruit Drink.
Guava juice is blended with passionfruit and hand-shaken to utter perfection, giving it an extra kick of flavor featuring ginger and pineapple notes.
The addition of coconut milk makes for a creamy texture perfect to cap off a warm winter evening or to enjoy while binging your favorite series.
2. Iced Guava White Tea
This is a bold and delicious iced tea that's perfect for any day of the week guaranteed.
The Iced Guava White Tea is a real treat made with a guava-flavored fruit juice blend, Teavana Iced White Tea (a mix between green and white teas), and sweetened using pure liquid cane sugar.
If you're in search of a refreshing boost in your day that packs a tangy punch, look no further.
3. Iced Guava White Tea Lemonade
A fun and fruity twist on iced tea kissed with the sweet taste of cane sugar!
This flavorful tea and lemonade delight combine guava juice, iced white tea & lemonade mixed in an extra-strong shaker filled to the brim with goodness.
With the perfect balance between sweet and tart flavors, if you've been searching for an iced tea with a wild side you've met your match with an Iced Guava White Tea Lemonade.
4. Iced Guava Black Tea
We couldn't begin to wind down our guava guide without mentioning Starbucks' Iced Guava Black Tea.
This tea is quite similar to the Iced Guava White Tea also featuring guava juice and liquid cane sugar, while bolder and richer on the pallet.
You'll find no-frills or wasted effort here, if you're looking to hunt down a robust and flavor-packed iced tea do yourself a favor and give this drink a shot!
This drink takes the simple, yet effective approach while never missing a beat along the way.
5. Iced Guava Black Tea Lemonade
The Iced Guava Black Tea Lemonade is a surprisingly refreshing iced tea that can be a great companion to start your day with.
It combines the smoothness of iced black tea and blends it seamlessly with lemonade resulting in a full-fledged fiesta for your taste buds that is sure to have you telling your friends all about it.
The drink remains balanced through to the last sip and will leave you wanting more, long after you've finished!
The lemonade really shines here while the black tea seals the deal with a smooth and flavorful finish.
Final Words
So, next time you're looking for a guava drink at Starbucks, you know where to look for your options.
Starbucks is always experimenting with new flavors so, it's only a matter of time until this list grows longer.
Get your hands on one of these guava drinks at your favorite coffee shop and let me know what you think of it.
I've always seen coffee as a way of bringing people together. Everywhere I go people seem to enjoy a fresh cup of coffee and that's what drives my passion. There's always a new brew to master, and there's always a new face to enjoy it with. Hitch a ride with me on a coffee-fueled adventure to find a perfect cup.