If peaches are your favorite fruit or flavor, you've come to the right place. I love coffee as much as any caffeine enthusiasts, but sometimes when I'm at Starbucks I crave something a little different. From time to time, I've been known to reach for a peach-flavored drink.
Starbucks has a wide range of peach drinks many people don't know about
Did you know they can increase your libido? Peaches also protect your bones, keep your heart pumping like an engine and help with anxiety.
It should also go without saying that drinks with this tempting fruit are refreshingly delicious.
Complete List of Starbucks Peach Drinks
Here are all the peach and peach-flavored drinks available at Starbucks. Read more about each option further down below.
Peach Tranquility
Honey Citrus Mint Tea
Iced Peach Green Tea
Iced Peach Green Tea Lemonade
Teavana Sparkling Peach Nectarine Green Tea
Le Peach Frappuccino
Peach Apple Lemonade
Peach Cobbler Frappuccino
Peaches and Cream Frappuccino
Sunset Refresher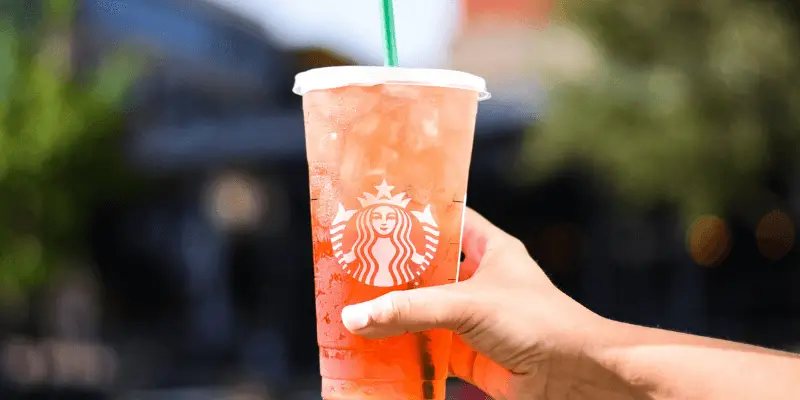 Starbucks Peach Drinks
1. Peach Tranquility
Peach Tranquility is a union of peach with delicious, candied pineapple, and apple bits, to which chamomile flowers and lemon verbena branches are added, producing a delicious and invigorating drink that will get you very active.
2. Honey Citrus Mint Tea
At Starbucks creativity is always in evidence and at the service of customers. For that reason, they have created this Honey Citrus Mint Tea, with a unique preparation.
Steamed lemonade is sweetened with rich honey and lemon oil complemented with rosehip skins, peach pieces, pineapple, apple and chamomile flowers, and other elements, originating a delicious drink that will get you back on your feet.
3. Iced Peach Green Tea
Peach is a must in this extraordinary combination of flavors, where the flavors and benefits of green tea, cherries, apple, verbena, lemon, mint, pumpkin, sweet potato, and an invigorating fruit juice are exploited, an excitingly refreshing ice cream.
Try an Iced Peach Green Tea the next time you're looking for something a little different than coffee.
4. Iced Peach Green Tea Lemonade
Iced Peach Green Tea Lemonade is an extremely refreshing iced tea, combining the fabulous blend of fruit juice with unique peach flavors, Teavana iced green tea, lemon oil, and lemonade. Shaken not stirred for your pleasure.
I've never met anyone who didn't like this lemonade.
5. Teavana Sparkling Peach Nectarine Green Tea
A stunning sparkling drink, where the peach flavor is the main protagonist, prepared with carbonated water, licorice roots, citric acid, lemongrass, apple pieces, hibiscus, and rose hips. Teavana Sparkling Peach Nectarine Green Tea has a great taste and is a very nutritional drink for a bright day.
6. Le Peach Frappuccino
This insinuating drink is originated from Starbucks' work ethic. It reflects the joy of work and constant creativity, it has two versions, with coffee and without coffee, the combination of vanilla with peach flavor impacts whoever tries it.
Its name, Le Peach Frappuccino, comes from the mixture of whipped cream with hazelnut and peach syrup along with the sinuous touch of vanilla and a cinnamon topping.
Ask Barista For:
A Vanilla Bean Frappuccino with a small squirt of whipped cream with the whole milk base. Then add hazelnut syrup (½ pump tall, 1 grande, 1 venti), peach syrup (1 pump tall, 1 ½ grande, 2 venti), and vanilla syrup (½ pump tall, 1 grande, 1 venti). Complete with crème base, top with whipped cream and cinnamon
7. Peach Apple Lemonade
Peach Apple Lemonade is a combination of peach and apple presented in an exotic manner.  Adding lemon juice generates a crisp and refreshing drink that has no caffeine.
It's safe for kids and very healthy and beneficial for them as well.
Ask Barista For:
Lemonade to the first line and Apple juice to the second line with peach syrup (3 pumps tall, 5 grande, 7 venti).
8. Peach Cobbler Frappuccino
Without a doubt, Starbucks drinks are causing more and more sensation.
In the Peach Cobbler, the qualities of peach are comforting. They activate you, they urge you to live, when you start drinking it you won't want to stop.
Its combination with cinnamon increases its nutritional power, and as always it's topped with whipped cream.
Ask Barista For:
A Vanilla Bean Frappuccino with 2 pumps of peach syrup (3 for a grande, 4 for venti) and 1 pump of cinnamon dolce syrup (1.5 for grande, 2 for venti). Make sure you blend in whipped cream and top with more whip and cinnamon dolce topping.
9. Peaches and Cream Frappuccino
Who doesn't love peaches and cream? The taste of this combination has no better description than sensual and irresistible.
This Frappuccino is highlighted with a touch of vanilla that ends up crowning its signature flavor.
Ask Barista For:
A Vanilla Bean Frappuccino with peach syrup (1 pump for a tall, 2 for a grande, 3 for a venti).
10. Sunset Refresher
This Sunset Refresher is the unique offering of the Starbucks Secret Menu. It is best for all those who want strawberry, mango, and peach at the same time in a single drink.
These three are the main ingredients of this fizzy drink. As the name implies, one of the best fruity beverages to enjoy during a sunset.
Ask Barista For:
A Strawberry acai to the first line with water to the third line. Then add mango syrup (1 pump tall, 1½ grande, 2 venti) and peach syrup (1 pump tall, 1½ grande, 2 venti). Fizzed then poured over ice.
Note: If your Starbucks location no longer has a Fizzio machine, this beverage can be enjoyed without fizz as well!
Summary
That's it! those are all of the peach and peach-flavored drinks Starbucks has to offer.
The next time you're in the mood for something different from traditional coffee or tea, consider referring back to our list and picking one of these delicious options.
Feel free to tell me if there is anything I missed or should include on the list!
I've always seen coffee as a way of bringing people together. Everywhere I go people seem to enjoy a fresh cup of coffee and that's what drives my passion. There's always a new brew to master, and there's always a new face to enjoy it with. Hitch a ride with me on a coffee-fueled adventure to find a perfect cup.