At Starbucks, you have a wide option of raspberry drinks to choose from. Starbucks Raspberry drinks combine the tasty, rich raspberry syrup with cream and coffee.
Below we've listed some drinks you can order at Starbucks, such as raspberry iced tea, Caramel Macchiato, milk tea, and more. Read on if you are the kind that loves raspberry and coffee.
List of Starbucks Raspberry Drinks
Here is a list of all the Starbucks raspberry drinks. Find out more about each drink below.
Raspberry Iced Tea
Raspberry Mocha Eggnog
Raspberry Lime Refresher
Raspberry Milk Tea
Raspberry Caramel Macchiato
Iced Raspberry Latte
Raspberry Chocolate Dream
Pink Raspberry Passion
Chocolate Covered Raspberry Frappuccino
Raspberry Cheesecake Latte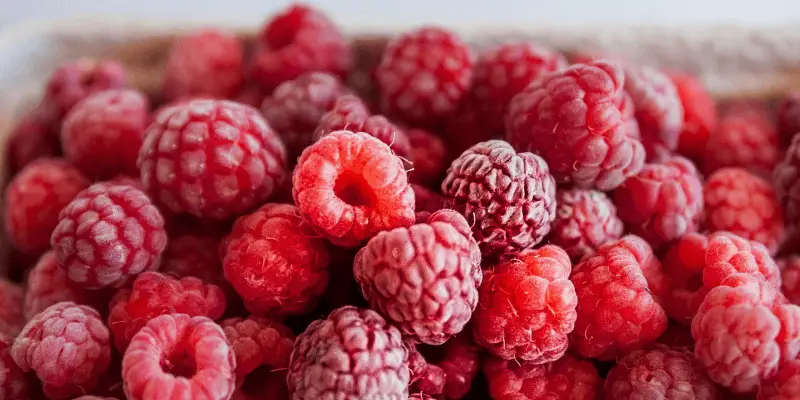 Starbucks Raspberry Drinks
1. Raspberry Iced Tea
This is a perfect choice of drink when longing for fresh summer fruits. It's a refreshing drink, especially on hot days.
Starbucks Raspberry Iced Tea contain low calories and is light on your stomach. It's a great option if you don't want to add extra pounds. The drink is not only refreshing on an extremely hot day, but it's incredibly delicious.
2. Raspberry Mocha Eggnog
Although these drinks seem to have an odd combination, the flavors present in the raspberry concoction, mocha, and eggnog blend perfectly well. Besides, it has a fascinating red and white appearance that's hard to resist.
The Raspberry Mocha Eggnog is an ideal holiday beverage. You will enjoy the white chocolate sweetness mixed with a sour taste from the raspberry and the mouth-watering holiday eggnog taste.
3. Raspberry Lime Refresher
Are you looking for a light beverage that can help you enter the summer season in style, Starbuck's Raspberry Lime Refresher is an excellent choice.
It's made of rich lemonade, lime, and raspberry flavors. But during extremely hot days, you can go for a drink blended with an icy treat. All you need to do is place your order, and let the barista blow your mind.
4. Raspberry Milk Tea
Milk tea can have various flavors, and you must be aware of this, especially if you have ever drunk Boba Tea or Bubble tea. The latter was initially a Taiwanese tea drink, but today it's a combination of milk, tapioca, fruits, and other jelly additions.
Although you may not find tapioca pearls at your local Starbucks, their Raspberry Milk Tea is delicious as it has great flavors, not to mention its beautiful appearance.
5. Raspberry Caramel Macchiato
This drink is hard to resist judging from its color. And it's not surprising if it turns to be your favorite after you have a sip. It's delicious and worth your money.
Starbucks Raspberry Caramel Macchiato is prepared similarly with regular Caramel Macchiato. However, it has subs raspberry syrup on the bottom of the drink, instead of vanilla syrup. The raspberry syrup gives its unique flavor.
From top to bottom, it has caramel, followed by espresso, milk, ice, and raspberry syrup at the bottom.
6. Iced Raspberry Latte
If you'd rather have a drink that you can customize with your preferred syrup flavor, Starbucks' Iced Raspberry Latte is a great choice.
This drink is a combination of raspberry syrup, creamy milk, and blonde espresso. It's so delicious, and that explains why it's a favorite drink to most Starbucks customers.
7. Raspberry Chocolate Dream
Nothing combines better than chocolate and raspberry syrup. That's because the sweetness in chocolate compliments the sourness of a raspberry creating tasty drinking worth your money.
The Raspberry Chocolate Dream can help uplift your moods with its great flavor. It's so wonderful that it feels like a party in the mouth.
8. Pink Raspberry Passion
You will definitely love Starbucks' Pink Raspberry Passion because of its appealing look and its sweet taste. It's prepared with passion iced tea, and or you could use black iced tea.
Also, it contains raspberry syrup, and it's blended like Frappucino. After that, it's topped using whipped cream.
9. Chocolate Covered Raspberry Frappuccino
You can't afford to choose another drink during Valentine's Day. With this delicious concoction, you'll surely mark the occasion in style. But it's not limited to valentine's day only.
You can have a Chocolate Covered Raspberry Frappuccino any other day. The presence of chocolate in this drink makes all the difference as it enhances the sweet taste.
10. Raspberry Cheesecake Latte
Having a tasty drink during cold days can be a game-changer. That's where Starbucks' Raspberry Cheesecake Latte comes in.
Its one-of-a-kind flavor is unforgettable. Also, the flan syrup adds a creaminess that increases the sweet taste. Give it a try and thank us later.
Summary
Finally, you can opt for any of these Starbucks raspberry drinks after a long day or during a day out or night out with friends. These drinks are sweet and refreshing. Some are best for cold seasons, while others are great for hot weather.
I've always seen coffee as a way of bringing people together. Everywhere I go people seem to enjoy a fresh cup of coffee and that's what drives my passion. There's always a new brew to master, and there's always a new face to enjoy it with. Hitch a ride with me on a coffee-fueled adventure to find a perfect cup.