Looking for all the red drinks at your favorite coffee shop? We put together a complete list of all the red rinks Starbucks has to offer.
The red appearance of these drinks is mostly due to their ingredients such as strawberries, raspberries, and flavored syrups.
Hopefully, this list entices you to try a new red drink every time you visit Starbucks until you find your new favorite coffee or refresher!
Starbucks Red Drinks
Here is a list of all the Starbucks red drinks. Find out more about each drink below.
Blended Strawberry Lemonade
Santa Claus Frappuccino
Strawberry Acai Refresher
Iced Passion Tango Tea Lemonade
The Red Starburst
Starbucks Firecracker
The Red Drink
Red Velvet Frappuccino
Strawberry Shortcake Latte
Love on the Rocks
Strawberry Creme Frappuccino
Strawberry Funnel Cake Frappuccino
Strawberry Funnel Cake Creme Frappuccino
Strawberry Cheesecake Frappuccino
Blended Strawberry Acai Lemonade
Purple Rain Refresher
Lava Flow Refresher
Red Candy Apple Frappuccino
Berry Hibiscus Passion Tea
Swedish Berry Iced Tea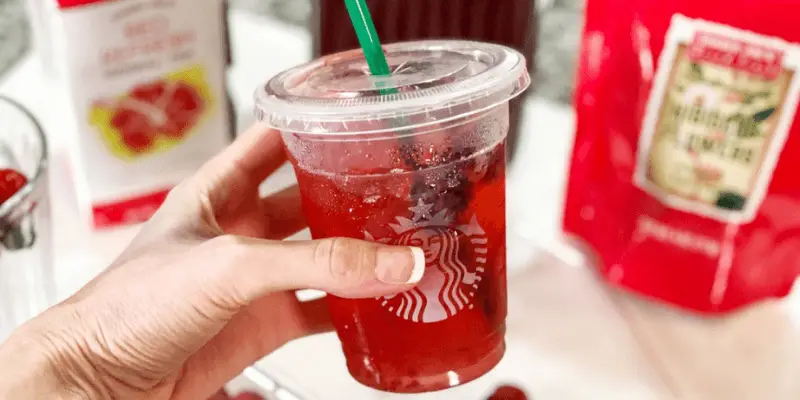 Starbucks Red Drinks
1. Blended Strawberry Lemonade
Are you feeling the heat this summer? It has been a warm one that has been giving us a bit of a thirst.
Well, this sweet but yet slightly tart, refreshing frozen drink is a perfect way to cool you down. Made up of 3 simple ingredients; lemonade, strawberry puree, and ice. All blended together to create the perfect mix of cooling and thirst-quenching drink.
The Blended Strawberry Lemonade is a perfect red slushie to keep both kids and grown-ups, hydrated this summer.
2. Santa Claus Frappuccino
Are you a fan of the festive season? Then this Santa Claus-inspired red drink might just be perfect for you.
A vanilla bean frappucino with a strawberry puree layer at the bottom and then again in the middle. All topped with whipped cream and festive sprinkles – if available.
A perfect drink to help you on your way this holly, jolly Christmas, especially whilst you're shopping.
To feel extra festive, you could politely ask your barista for the festive red cup too, just because it is the holiday season.
3. Strawberry Acai Refresher
Sometimes we're all in need of that little pick-me-up, but don't want to overdo it on the caffeine, especially if you already feel like you have already had one too many cups of coffee that day.
So when you find yourself in need of that pick-me-up, try this Strawberry Acai Refresher. It's a mix of acai juice and strawberry pieces happily hand-shaken over ice by your friendly barista.
Refreshing, red and the perfect little kick to give you that much-needed boost without the caffeine jitters.
4. Iced Passion Tango Tea Lemonade
There are times when a cold drink just hits the spot, especially on days where it is exceptionally warm and sticky. Just like the ones we have had this summer in fact.
This cooling blend of hibiscus, lemongrass, apple, and lemonade, all perfectly hand-shaken over ice will certainly hit that thirst-quenching spot.
A drink that is a stunning shade red and refreshing all at the same time. The Iced Passion Tango Tea Lemonade was made for these sticky warm days, any time of day or night.
5. The Red Starburst
Starburst sweets are a classic you must admit, and everyone has a favourite colour.
So if red is yours, this red drink is perfect you for and, all the red starburst lovers out there.
An easy mix of blended strawberry lemonade; lemonade with strawberry flavouring, some vanilla bean powder, and a little bit of raspberry syrup.
The Red Starburst is a simple and easy drink with a classic sweet flavour that will make your inner child jump for joy whenever you drink it.
6. Starbucks Firecracker
Bring a spark to your taste buds with this Firecracker.
A stunningly red ombre drink made with a mix of mango dragon-fruit lemonade refresher, some raspberry syrup, and passion tea all expertly poured over ice to create the brilliant ombre effect.
Perfectly made by your favourite barista for warm days like this, that will surely put a rocket in your steps.
And if you want to be a rebel you could always give it a gentle shake to make a fully red firecracker iced tea. Either way, it is delicious and refreshing.
7. The Red Drink
Are you in need of a new, fun, fruity but yet milky, drink in your life? Then you need to try The Red Drink.
A passion tea but not made with water, instead it is made with 1/4 coconut milk with strawberry inclusions, 1/4 strawberry puree, and 4 packets of agave. All poured over refreshing ice.
Not quite a smoothie but it sure does taste like one.
8. Red Velvet Frappuccino
Do you fancy something velvety but also want to have that coffee kick? Then you will need to try this mouth-watering Red Velvet Frappuccino.
A half white chocolate, half mocha frappuccino, some raspberry syrup, all expertly blended together and topped off with whipped cream.
Is your mouth watering yet? because ours sure are at this simply satisfying red velvet cake you can drink.
9. Strawberry Shortcake Latte
Have you got a little sweet tooth, but not sure what you want? No problem, we have got you covered with this red drink.
A little twist on the classic strawberry crème frappuccino, just by adding some white mocha sauce and a bit extra strawberry puree that is drizzled carefully over the whipped cream topping.
As we said, the Strawberry Shortcake Latte has your sweet tooth covered.
10. Love on the Rocks
Let us introduce you to the new love in your life. Love on the Rocks.
A passion tea that is unsweetened and no water, with 4 pumps of raspberry syrup, light coconut milk, light strawberry syrup, all topped with cold foam that has strawberry syrup gently blended in.
A red drink that you will fall in love with again and again and again.
11. Strawberry Creme Frappuccino
A Starbucks customer favourite that we all know and love is the Strawberry Creme Frappuccino.
This creamy drink is a blend of strawberry puree, milk or milk alternative; I personally recommend Oat Milk and of course ice.
The cup has a swirl of strawberry puree on its inside walls and then the drink is finished off with whipped cream, or if you are dairy-free skip the whipped cream. It is a delicious drink either way.
A simple classic that satisfies every single time.
12. Strawberry Funnel Cake Frappuccino
Every day needs a taste of the funnel cake. Of course in red drink form.
This blend of the delicious coffee base drink between layers of whipped cream and strawberry puree and then is topped with more whipped cream and finished with powdered sugar funnel cake pieces.
Fun, fruity and leaves you wanting more carnival fun.
13. Strawberry Funnel Cake Creme Frappuccino
What to do when you're not in the mood for coffee but want a funnel cake frappuccino?
Easy! Get this delicious drink crème based instead.
Just ask for the classic strawberry frappuccino and add a simple twist by having powdered sugar funnel cake pieces on top of the whipped cream.
Easy, simple and small carnival twist to a much-loved classic.
14. Strawberry Cheesecake Frappuccino
Here is another fun, red drink twist on the classic strawberry crème frappuccino, but this one is a little bit naughty. I mean very naughty but also very, very, very good.
Instead of milk in your strawberry frappuccino, kindly ask your barista for heavy cream, then add some white mocha sauce, and caramel crunch topping, and voila! A Strawberry Cheesecake you can drink.
Indulge and enjoy the naughtiness of this delicious red drink.
15. Blended Strawberry Acai Lemonade
You love a slushie, we love a slushie, everyone loves a slushie.
So let us introduce you to this red slushie goodness.
Ask your barista for a strawberry acai-based lemonade with extra ice, double blended.
That is it!
That is all you need for an icy, refreshing, thirst-quenching, red tongue turning drink.
16. Purple Rain Refresher
Don't let the name fool you, this drink is most certainly red.
A cool lime refresher and lemonade blended together with raspberry syrup slowly, slowly dripped on top to finish and give this cooling drink its dripping red look.
A sharp and refreshing drink for any red Starbucks drink lover.
17. Lava Flow Refresher
Not quite the exploding science experiment but still tasty red drink all the same.
An iced passion tea made with strawberry juice instead of water, some classic syrup. Then handshake to mix it all up and then orange mango slowly poured to create an orange float on top.
A Lava Flow Refresher is a fruity and fun spin on a refreshing red drink.
18. Red Candy Apple Frappuccino
It is nearly Fall but you're not quite in the mood for pumpkin spice just yet, so what's the next best thing?
Candy Apples of course.
Apple juice, raspberry syrup blended with ice, top with a little whipped cream and caramel drizzle is all you will need to ask your barista to make this delicious Red Candy Apple Frappuccino.
It is also a fun, red drink all of the family can enjoy. Maybe not the dog though.
Or for you to secretly enjoy by yourself, we won't tell.
19. Berry Hibiscus Passion Tea
Do you have a taste for iced tea but not just a normal iced tea? Something different. Well, you should definitely try this red drink.
A passion iced tea with the water substituted for very berry hibiscus and ice.
Try the Berry Hibiscus Passion Tea f0r an easy, simple and fruity change to iced tea.
20. Swedish Berry Iced Tea
Would you like another twist on iced tea? This time one with a childhood sweet flavour? Of course, you do.
For this red drink, you will need to excitedly ask your helpful barista for an iced passion tea with berry hibiscus juice instead of water, some classic syrup, raspberry syrup, a scoop of berries and a little bit of lime. Give it a good handshake and enjoy.
This Swedish Berry Iced Tea is a little bit of childhood sweetness, but grown-up too.
Summary
That's it for all the Starbucks red drinks you can order! Next time you're at your favorite coffee shop, try one of the drinks from this list for a little red excitement in your life.
Make sure you give them all a chance before you choose your new favorite Starbucks red drink!
I've always seen coffee as a way of bringing people together. Everywhere I go people seem to enjoy a fresh cup of coffee and that's what drives my passion. There's always a new brew to master, and there's always a new face to enjoy it with. Hitch a ride with me on a coffee-fueled adventure to find a perfect cup.