Are you lactose intolerant or perhaps you are looking for a plant-based alternative?
Don't skimp out on Starbucks because they are one of the leading companies creating drinks with soy milk without compromising on flavor – in fact, most of their drinks are so versatile, you can practically choose any drink to substitute soy for milk and not even taste the difference.
Of course, you can have their cold Refreshers that have so many delicious fruity flavors to choose from or even their teas but sometimes you just need that coffee kick paired with a lush, creamy finish.
List of Starbucks Soy Milk Drinks
Here is a list of Starbucks drinks that pair perfectly with soy milk! Find out more about each drink further down below.
Brown Sugar Oat Americano
Pumpkin Spice Latte
Cinnamon Dolce Latte
Caramel Macchiato
Apple Crisp Macchiato
Starbucks Reserve Dark Chocolate Mocha
Honey Almond Flat White
Mocha Cookie Crumble Frappuccino
Strawberry Crème Frappuccino
Coffee Frappuccino
Apple Crisp Frappuccino
Matcha Crème Frappuccino
Chai Tea Latte
London Fog Tea Latte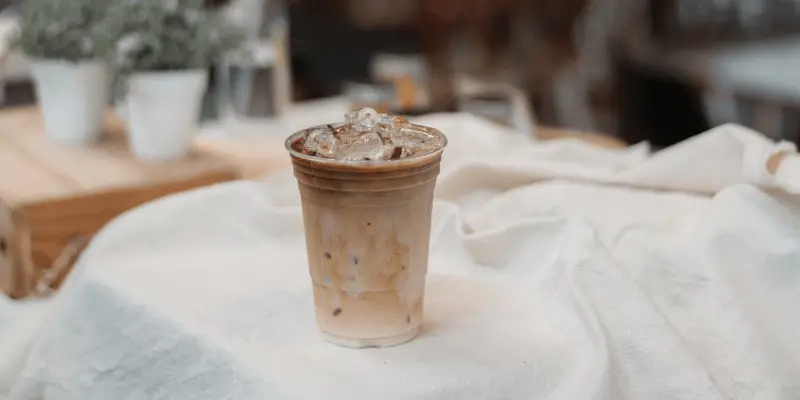 Starbucks Soy Milk Drinks
With the number of drinks Starbucks has on its menu, it can be overwhelming to know which ones will taste best with the soy alternative.
There is nothing worse than thinking you ordered something that will curb your craving only to have it be a disappointment.
Remember to ask your barista for soy milk as an alternative to the traditional, oat, or almond milk instead.
1. Brown Sugar Oat Americano
Yes, the Brown Sugar Oat Americano is made with oat milk but there is nearly no difference if you substitute it with soy!
With a beautiful brown sugar syrup mixed with the Starbucks Blonde espresso, this is a great drink to get your morning started off right!
If you want an added fall touch to it, ask for extra dashes of cinnamon so that you can really get into that fall mood.
2. Pumpkin Spice Latte
Speaking of getting in the fall mood, who could forget about the infamous Pumpkin Spice Latte. A spice mix of pumpkin, cinnamon, nutmeg, and cloves?
These flavors are known for creating the ultimate fall experience. Now, if you replace the regular milk with soy, you will notice no change in the delicious pumpkin spice flavors.
One thing to remember is to opt out of the whipped cream. Unfortunately, Starbucks does not have a soy-based version but the latte will still taste delicious without it.
3. Cinnamon Dolce Latte
Another delicious drink to have that really embraces the idea of warming your body from the inside out is the Cinnamon Dolce Latte. It's remarkable with soy milk!
By flavoring their espresso with cinnamon dolce syrup, this soy latte is a cinnamon flavor bomb on its own even without the sweetened whipped cream.
Remember that this also comes with the option of having a spiced apple drizzle on top to really give it a fruity kick!
4. Caramel Macchiato
One of the most popular drinks at Starbucks is their different flavors of macchiatos, a delicious blend of milk (you can have the option of plant-based or regular milk) with espresso and a sweet drizzle of your choice.
The blend of caramel mixed with the vanilla really gives the Caramel Macchiato a mellow flavor that is sure to bring a smile to anyone who needs a pick me up in the morning.
To make this drink even better, a grande soy Caramel Macchiato is approximately only 250 calories!
5. Apple Crisp Macchiato
If you are looking for something that gives you memories of warm apple pie, this is a fantastic drink to try!
When ordered with soy, the Apple Crisp Macchiato is a beautiful mix of brown sugar with an apple drizzle and is practically the perfect harmony of coffee and pie.
It should be noted that this particular drink is not made for those who have a wheat allergy.
6. Starbucks Reserve Dark Chocolate Mocha
If you are having a little bit of a chocolate craving but yet still want that caffeine kick, this is the perfect drink!
The Starbucks Reserve Dark Chocolate Mocha is made of the Starbucks Reserve espresso, an espresso that not only has more caffeine than traditional espresso beans but also has a beautiful medium-bodied mouthfeel that goes excellently with the cocoa and ground chocolate.
This is a wonderful drink for those who want to have that balance of lush chocolate with the deep flavor of coffee to make their day a little more special.
7. Honey Almond Flat White
While this is originally made with almond milk, this can easily be substituted with soy milk without any chance of compromising the luscious taste of honey.
This flat white is sweetened with honey and uses Starbucks Blonde Espresso Roast, an espresso that is naturally sweeter than other beans so that the flavor of honey is really highlighted without being overpowered.
The Honey Almond Flat White is a fantastic drink for those who are looking for something simple to start off their morning that is a little different from a regular flat white.
8. Mocha Cookie Crumble Frappuccino
If you are torn between wanting that mocha flavor but not wanting a hot drink, the Mocha Cookie Crumble Frappuccino is the perfect drink for you!
Not only is this drink made with mocha sauce, but it is also blended with Frappuccino chips and loaded with cookie crumbs on top. Talk about delicious cookies and cream indulgence!
Do not forget to opt-out of the whipped cream if you are wanting to keep this a plant-based beverage.
9. Strawberry Crème Frappuccino
While you can absolutely have your fair share of coffee-based beverages, you can certainly have some soy-based drinks that are mainly fruit-based.
This particular Frappuccino is made with a delicious strawberry puree that really creates a drink that tastes as if it is purely strawberry and cream, even though the milk can be substituted for soy.
The Strawberry Crème Frappuccino is a fantastic treat for those who want something fruity without worrying about the caffeine content.
10. Vanilla Bean Crème Frappuccino
Who says vanilla is boring? The Vanilla Bean Crème Frappuccino will certainly change their mind.
Made without coffee (so this is great for those who have kids that want a drink from Starbucks), this uses real vanilla bean to crank up the flavor that is blended with soy milk and ice.
11. Coffee Frappuccino
Sometimes people just want something simple. A reliable drink that can get them through the day. Here, the Coffee Frappuccino is the answer.
It can seem rather basic, but there is absolutely nothing wrong with basic! In fact, sometimes it is the simplest things that can bring people the most joy.
This beverage is a mix of coffee, your choice of milk, and ice in a blender. A little coffee smoothie as a pick-me-up that is only 230 calories for a grande!
12. Apple Crisp Frappuccino
If you want something that has a bit of a fruity flavor in the background, this is the perfect drink to try!
With the mix of an apple and brown sugar syrup, this Apple Crisp Frappuccino is great for those who are wanting something a little lighter than a coffee or tea.
Anyone looking for a strictly plant-based diet should remember to have the whipped cream removed from the drink. Luckily that will not affect the overall flavor of the apple crisp.
13. Matcha Crème Frappuccino
Wanting something green but not mean and made of spinach? Give the Matcha Frappuccino a try!
The drink is made of matcha green tea, giving it a kick of caffeine!
This would be a great starting drink for those who are wanting to try matcha for the first time but are unsure of whether or not they will like it – the added blend of soy milk and ice will really mellow down the matcha so that it will be enjoyable to everyone.
14. Chai Tea Latte
Speaking of tea, chai is a delicious mixture of black tea that has prominent flavors of warm spices which include cloves, star anise, and cinnamon.
These flavors pair perfectly with soy milk because it creates a balance of spice and cream that not many other teas are able to replicate.
The Soy Chai Tea Latte is a great choice for those who are looking for something comforting on a rainy day.
15. London Fog Tea Latte
For some people, this can also be called an Earl Grey latte because of the tea that is used to create it – Earl Grey.
If you are wanting something with a subtle floral scent and flavor, the London Fog Tea Latte is the drink for you.
With the signature flavors Earl Grey is known for, lemon, bergamot, and vanilla, this latte is sure to please anyone who has a hankering for a richer version of Earl Grey tea.
Final Words
There is no need to feel as if your choices are limited because of your milk preference! With so many restaurants and companies taking care to cater to everyone, menu options are now much more inclusive than they have been before.
Have fun trying different Starbucks drinks with soy as an alternative! With so many new items coming out every other month, there will never be a shortage of drinks that soy drinkers can choose from.
I've always seen coffee as a way of bringing people together. Everywhere I go people seem to enjoy a fresh cup of coffee and that's what drives my passion. There's always a new brew to master, and there's always a new face to enjoy it with. Hitch a ride with me on a coffee-fueled adventure to find a perfect cup.