Do you want to chill your hectic day with something refreshing? Don't fret; strawberry drinks and Starbucks have the best matches for those who have an eternal love for strawberries, especially in the summer.
Nothing is more reviving than having strawberries mixed in creamy coconut milk or strawberry chunks crushed in cream. Undoubtedly, the previous statement has left you in a mouth-watering condition.
Starbucks has never failed its beloved customers to fill their mood and brighten up their day to make them feel energetic at work.
Keeping your preferences in consideration, we have presented you with a detailed note on the wide variety of strawberry drinks they offer to their customers.
Can't wait to know all of them? Okay, and then let's get started.
List of Starbucks Strawberry Drinks
Explore our list of the best Starbucks strawberry drinks. Learn more about each drink further down below.
Strawberries and Cream Frappuccino
Strawberry Sunset Refresher
Strawberry Acai Refresher Lemonade
Chocolate Covered Strawberry (Cold Brew Version)
Santa Claus Frappuccino
Strawberry Pomegranate Frappuccino
Pink Drink
Blended Strawberry Lemonade
Pink Drink with Sweet Cream Cold Foam
Strawberry Mango Refresher
Strawberry Funnel Cake Frappuccino
Strawberry Shortcake Frappuccino
Strawberry Acai Refresher
Chocolate Covered Strawberry (Pink Drink)
Iced Matcha Latte with Strawberry Sweet Cream
Strawberry Choux Cream
Strawberry Golden Monkey Black Tea Lemonade
Dirty Strawberry Frappuccino
Strawberry Frappuccino with Chocolate Chips
Strawberry Express
Strawberry Lemon Blended
Strawberry Lemonade Tea
The Red Starburst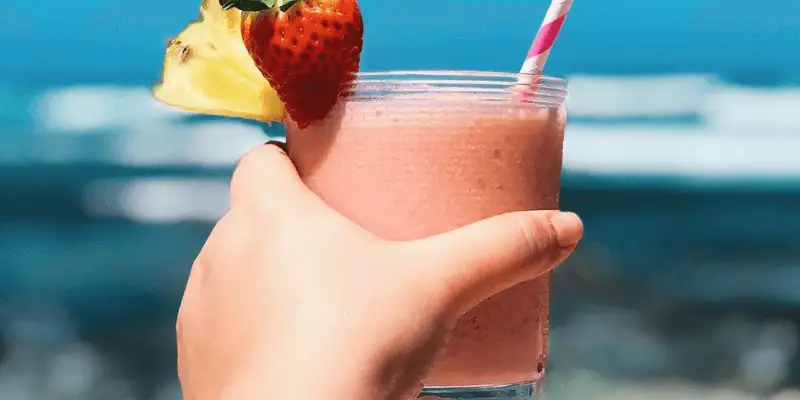 Starbucks Strawberry Drinks
Here is a complete list of Starbucks strawberry drinks, including some yummy drinks, heavy creamy coffee, and refreshing juices.
1. Strawberries and Cream Frappuccino
Strawberries and Cream Frappuccino is made by blending strawberries with rich milk. The chilled ice cubes, when mixed in the milk, knock the doors of your mind.
To make it most eye-catching and full of flavor, a cap of whipped cream is topped. A perfect drink to freshen up your mood.
2. Strawberry Sunset Refresher
This Sunset Refresher is the unique offering of the Starbucks Secret Menu. It is best for all those who want strawberry, mango, and peach at the same time in a single drink.
These three are the main ingredients of this fizzy drink. As the name implies, one of the best fruity beverages to enjoy during a sunset.
3. Strawberry Acai Refresher Lemonade
Strawberry Acai Refresher Lemonade is a unique drink with two different flavors in it. Small bits of strawberries mixed with ice and lemon juice make a relish fruit juice.
Think of it as a strawberry-flavored lemonade drink.
4. Chocolate Covered Strawberry (Cold Brew Version)
Chocolate Covered Strawberry is one of the all-time favorite drinks of Starbucks customers.
Delicious coffee with a heavy layer of melted chocolate and strawberry topping is a fantastic treat during the holidays and long weekends.
5. Santa Claus Frappuccino
Looking for a new way to enjoy your Christmas? Try the Santa Claus Frappuccino. Not just on Christmas, but who isn't fond of Frappuccino on a regular day?
The milky white and the strawberry red layers increase the cravings. To make it richer in taste, there is the addition of sparkling holiday sprinkles. This one is a must-try.
6. Strawberry Pomegranate Frappuccino
Strawberry Pomegranate Frappuccino is a new taste in town. In this drink, you will get a delicious combo of strawberries and pomegranates.
The main ingredients include a thick strawberry sauce blended with coconut milk. Then, pomegranate pearls mixed with coconut milk combine for a dazzling look and a velvety taste.
7. Pink Drink
Pink Drink is a perfect combination of two flavored drinks: strawberry Acai refresher mixed with creamy coconut milk.
This extremely popular drink comes with strawberry chunks which makes the taste soothing to drink on every sip.
8. Blended Strawberry Lemonade
The name Blended Strawberry Lemonade implies that this is a combination of different two drinks.
This blend is made from strawberry puree and Starbucks lemonade, served with ice to cool and refresh. Ideal for hot summer days.
9. Pink Drink with Sweet Cream Cold Foam
Pink Drink with Sweet Cream Cold Foam is a secret menu drink due to its rich ingredients, mainly combined with heavy cream and strawberry acai juice, a pure blend of ultimate taste that will brighten up your day.
10. Strawberry Mango Refresher
Another refresher from Starbucks Secret Menu with a blend of both amazing fruits of mango and strawberry.
The best thing to brighten up your mood during the summer is fresh fruits. You won't find the Strawberry Mango Refresher anywhere else except Starbucks.
11. Strawberry Funnel Cake Frappuccino
The Strawberry Funnel Cake Frappuccino is known for its summertime cravings filled with rich whipped cream mixed with strawberry puree blend.
It is topped up with sugar powder to create an ultimate smoothie.
12. Strawberry Shortcake Frappuccino
The reason for calling it the Strawberry Shortcake Frappuccino is because it has an actual slice of cake poured into the drink to make it authentic to taste.
It is a sweet-filled smoothie and needs no blend or mixture.
13. Strawberry Acai Refresher
If you are a strawberry sweet tooth, you just found the most popular Starbucks drink amongst strawberry enthusiasts.
The Strawberry Acai Refresher is made of acai notes mixed with sweet strawberry to enhance its taste.
14. Chocolate Covered Strawberry(Pink Drink)
Here you will get chocolate-covered strawberry pieces in the Pink Drink. It is a highly well-reputed drink known especially for Valentine's Day with your loved ones.
If you want to express your love to someone, then this heavenly-made smoothie is a perfect example.
15. Iced Matcha Latte with Strawberry Sweet Cream
The Iced Matcha Latte with Strawberry Sweet Cream is a perfect blend made for those who love to drink tea.
It's a combination of a green tea latte topped with pink flavored strawberry cream resulting in a refreshing taste.
16. Strawberry Choux Cream
Strawberry Choux Cream is a perfect blend combined with two special glasses known as strawberry choux and vanilla bean custard mixed resulting in a heavenly taste to every sip you take.
17. Strawberry Golden Monkey Black Tea Lemonade
The Strawberry Golden Monkey Black Tea Lemonade is with the three-mixer recipe combined with golden monkey black tea, lemonade hand-shaken, and strawberry, making it the ultimate drink for a long drive.
18. Dirty Strawberry Frappuccino
The Dirty Strawberry Frappuccino is a one-of-a-kind treat reserved for special occasions.
This chocolaty frappuccino is with a blend of different flavors including strawberry, espresso, and chocolate.
19. Strawberry Frappuccino with Chocolate Chips
This beverage is made with amazing chocolate-dipped strawberries with a sprinkle of chocolate chips for an extra crunch. 
If you love chocolate, you should give the Strawberry Frappuccino with Chocolate Chips a try the next time you're in the mood for a tasteful drink.
20. Strawberry Express
If you want something to prevent you from falling asleep, go with Strawberry Express.
That's because you will get a blend of strawberries, creme Frappuccino, and espresso. An extra strawberry flavor makes it worth trying at least once.
21. Strawberry Lemon Blended
Are you someone with a sweet and sour tooth? Here is an option that won't disappoint. 
The Strawberry Lemon Blend is widely known for its sweet and sour taste, made from strawberry tart blended with real lemons.
22. Strawberry Lemonade Tea
The Strawberry Lemonade Tea is up the same alley as the previous drink.
It is a perfect combo of strawberry lemonade with black iced tea. The blend combines for a truly unique flavor worth experiencing at least once.
23. The Red Starburst
The name of this drink clearly defines its flavor. You can get this drink from the secret menu at Starbucks.
The Red Starburst is a blend of strawberry lemonade, vanilla bean powder, and raspberry syrup.
Absolutely ideal for a sunny day at the park or the zoo. The next time you want to satisfy your sugar or strawberry craving, reach for a Red Starburst.
Summary
Hopefully, our list has presented you with numerous options and adventures on your next trip to your favorite coffee shop.
We trust you will find a new favorite coffee, blend, or lemonade. If you're persistent and try every drink on the list, you'll find they are all deeply satisfying.
I've always seen coffee as a way of bringing people together. Everywhere I go people seem to enjoy a fresh cup of coffee and that's what drives my passion. There's always a new brew to master, and there's always a new face to enjoy it with. Hitch a ride with me on a coffee-fueled adventure to find a perfect cup.