We all love Starbucks because they have such an elaborate menu that has something for everyone.
Starbucks is mainly known for their coffee; however, did you know that they have many juice and milk drinks as well?
There are also several different varieties of drinks that kids and toddlers can enjoy.
Here are 20 drinks for kids and toddlers that can be purchased at Starbucks:
List of Starbucks Toddler Drinks
Here is a list of drinks you can order for your toddler at Starbucks. Find out more about each drink further down below.
Milk
Steamed Milk
Iced Milk
Iced Brown Sugar Oatmilk
Vanilla Bean Frappuccino
Water with Strawberry Pieces
Bottled Juice Blends
Babyccino
Lemonade
Blended Strawberry Lemonade
Double Chocolaty Chip Crème Frappuccino
Strawberry Crème Frappuccino
Caramel Apple Spice
Steamers
Smoothies
Apple Juice Box
Pink Drink
Violet Drink
White Hot Chocolate
Hot Chocolate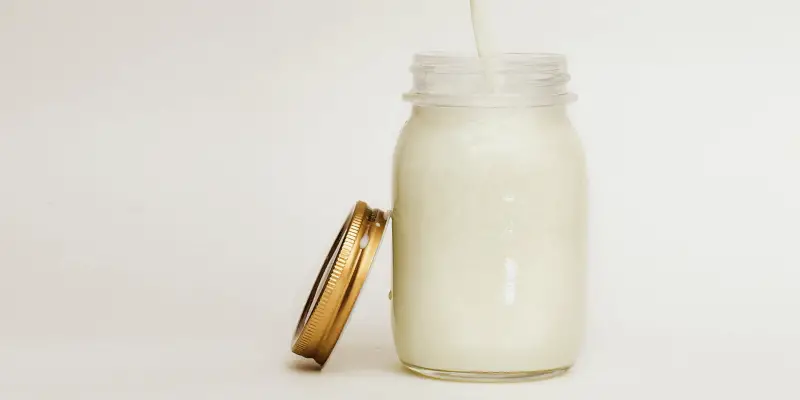 Starbucks Toddler Drinks
1. Milk
Starbucks sells Horizon brand milk boxes in low-fat white, vanilla, and chocolate flavors.
This can be handy for parents if they needed milk for their child to be used later since it comes in a small box with a straw.
The milk is portable and easy to give to a kid or toddler while on the go.
2. Steamed Milk
You can order Steamed Milk and may add a flavor if you'd like. You can choose from vanilla, brown sugar, and cinnamon.
Also, you can ask the barista for a kid's temperature drink which is made at 130 degrees instead of the usual 160 degrees.
3. Iced Milk
Iced Milk is a favorite among kids and toddlers because it's refreshing and can be made with several different flavors.
Strawberry, kiwi, and mango dragonfruit are some of the many flavorings that can be added to an iced milk drink that any child will enjoy.
4. Iced Brown Sugar Oatmilk
For this drink, order oat milk with ice and 1 – 2 pumps of brown sugar syrup.
The Iced Brown Sugar Oatmilk is caffeine-free and kid-friendly.  It's especially appealing to those with a milk or lactose allergy.
5. Vanilla Bean Frappuccino
This is a wonderful option for kids since it contains no caffeine.
The Vanilla Bean Frappuccino can be made with any type of milk that you would like and is the most popular type of Frappuccino for kids and toddlers.
Again, be sure to ask for the kid's temperature to ensure that it's not too hot for your child.
6. Water with Strawberry Pieces
This is a great drink to give kids and toddlers when you don't want them to have anything that's loaded with sugar.
When you order iced water, ask for strawberry inclusions to be added. Strawberry inclusions are just freeze-dried strawberries.
This will give the water a hint of flavor which will make it more fun for your child to drink.
7. Bottled Juice Blends
Starbucks sells several different flavors of bottled juices that are packed with vitamins and minerals while also tasting great.
Something that many people don't know is that you can purchase one of these bottled drinks and ask a barista if they can blend it with ice so that it can turn into a delicious frozen beverage.
This drink is healthy and refreshing for kids and toddlers.
8. Babyccino
This drink is not on the menu, however, it can still be ordered.
A Babyccino is an 8oz glass of steamed milk with extra foam on the top.
You can ask for a caramel drizzle to be added to the top so that it looks more like a frappuccino.
9. Lemonade
This drink is a summertime favorite for many people, especially kids and toddlers.
The Lemonade at Starbucks comes unsweetened, so it can be very sour if a sweetener is not added.
Strawberry and kiwi flavors are also available to give the lemonade a different taste.
10. Blended Strawberry Lemonade
Starbucks baristas make this drink by mixing lemonade, strawberries, and ice blended to create a delicious frozen lemonade.
A Blended Strawberry Lemonade would be a wonderful treat for any child on a hot summer day.
11. Double Chocolaty Chip Crème Frappuccino
The Double Chocolaty Chip Crème Frappuccino is made with mocha sauce and chocolate chips but without coffee.
It contains about 10mg of caffeine due to the mocha cause that is used.
Since it looks like a coffee drink, which could make a kid or toddler feel like they're drinking something just like their parents do.
12. Strawberry Crème Frappuccino
This delicious beverage is made with milk, strawberries, and ice.
The Strawberry Crème Frappuccino is similar to the blended strawberry lemonade, however, this one is made with milk and is a very refreshing beverage that any child would enjoy.
13. Caramel Apple Spice
The Caramel Apple Spice contains apple juice, cinnamon syrup, caramel, and whipped cream.
This is a seasonal drink and will typically make its appearance on the menu in early fall.
14. Steamers
As the name suggests, a Steamer is steamed milk with any flavor of syrup that Starbucks has.
Some of the most popular flavor syrups to be added to steamed milk are vanilla and cinnamon.
15. Smoothies
These are popular treats served at Starbucks that are a very healthy option for kids and toddlers.
Smoothie flavor options are strawberry and mango and they're made with banana.
16. Apple Juice Box
This classic can be ordered at every Starbucks in case you want to avoid milk, lemonade, or hot chocolate.
Apple Juice Boxes always come with a straw that keeps your toddler's hands and clothes clean. 
17. Pink Drink
Pink Drink is made with strawberries and coconut milk and is another terrific option for kids and toddlers because of its fun colors and nutritional value.
Unlike the purple drink, the pink drink is available on the regular menu.
18. Violet Drink
This is another drink similar to the pink and purple drinks except this drink has the very berry mix blended with ice and coconut milk.
The ingredients in the Violet Drink create a vivid purple color, which is where it gets its name.
19. White Hot Chocolate
A caffeine-free version of a traditional hot chocolate because of the white chocolate sauce.
If you're looking for a hot drink for your toddler or child, you can't go wrong with a White Hot Chocolate.
20. Hot Chocolate
Hot Chocolate is a drink that is enjoyed by many people of all ages and is a favorite among young children.
At Starbucks, the hot chocolate consists of steamed milk, chocolate sauce, and whipped cream.
Typically the barista will drizzle chocolate sauce on top of the whipped cream as well. This drink contains roughly 15mg of caffeine due to the chocolate sauce.
Summary
The next time you're at your favorite coffee shop and need to pick something out for your little one, refer back to our list of Starbucks drinks for toddlers.
There is plenty to choose from, starting with the basics like milk or juice. You can consider something sweet like a smoothie or lemonade. Or, you can pick out one of the kid-friendly frappuccinos.
I've always seen coffee as a way of bringing people together. Everywhere I go people seem to enjoy a fresh cup of coffee and that's what drives my passion. There's always a new brew to master, and there's always a new face to enjoy it with. Hitch a ride with me on a coffee-fueled adventure to find a perfect cup.