I'm sure you've heard about Starbucks' largest cup size, Trenta! Did you know it's a whopping 31 ounces? That's a lot of coffee!
For comparison's sake, the average coffee machine pitcher holds 64 ounces of coffee. That's right, Starbucks is serving a coffee half the size of a coffee pot!
Although, you should know not every drink can be ordered in the Trenta cup. In fact, only a select handful can be requested in the big-gulp behemoth.
List of Starbucks Trenta Drinks
Here is a complete list of all the Starbucks Trenta Drinks. These are options available in the 31-ounce Trenat cup. Look further down below for more information about each drink.
Iced Coffee
Iced Espresso
Pumpkin Cream Cold Brew
Salted Caramel Cream Cold Brew
Honey Almondmilk Cold Brew
Starbucks Reserve Cold Brew
Vanilla Sweet Cream Cold Brew
Iced Guava Black Tea/Lemonade
Iced Black Tea/Lemonade
Iced Royal English Breakfast Tea Latte
Iced London Fog Tea Latte
Kiwi Starfruit Lemonade Refresher
Kiwi Starfruit Refresher
Violet Drink
Blueberry Acai Refresher
Very Berry Hibiscus Refresher
Pink Drink
Dragon Drink
Mango Dragonfruit Lemonade Refresher
Strawberry Acai Lemonade Refresher
Very Berry Hibiscus Lemonade Refresher
Mango Dragonfruit Refresher
Star Drink
Strawberry Açaí Refresher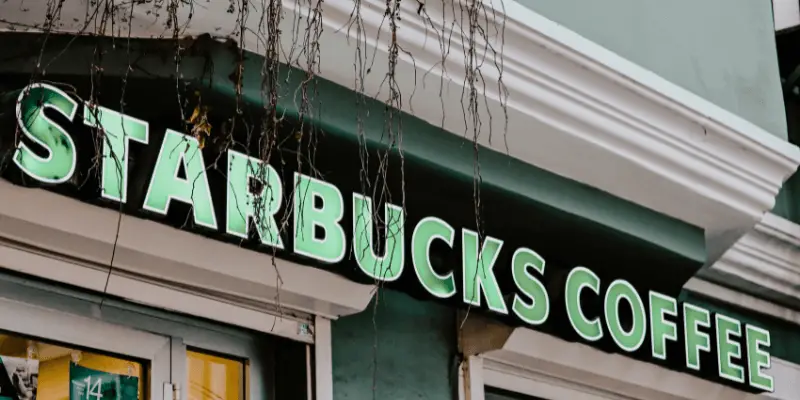 Starbucks Trenta Drinks
1. Iced Coffee
What is that saying? Don't fix what isn't broken? Starbucks, more than anything, is known for the fantastic coffee they have available, especially their Iced Coffee.
You do not have to add your own sugar to this drink – it is sweetened with their classic syrup and it can be adjusted to your taste!
2. Iced Espresso
The Iced Espresso drink is made with Starbucks Espresso Roast, an espresso that has primary notes of molasses and caramelized sugar, making it a fantastic pairing for ice.
Since the espresso is naturally sweet there is not usually sugar added to it but if you want to add it in, try it with vanilla syrup to up the notes of caramel!
For those who like to have a bit of creaminess, add a bit of vanilla sweet cream cold foam to really get the most of this espresso.
3. Pumpkin Cream Cold Brew
Who says pumpkin is only for hot lattes? Starbucks is changing the game with this delicious smooth cold brew topped with pumpkin cream.
To ensure that the taste of pumpkin is not lost within the cold brew, they even finish this drink off with sprinkles of pumpkin spice to really round out the entire drink.
4. Salted Caramel Cream Cold Brew
Similar to their Pumpkin Cream Cold Brew, the base of this is made with their signature cold brew but topped with salted caramel cream cold foam, a wonderful way to sweeten their coffee.
As this is a salted caramel cream, I recommend the drink for those of you who really enjoy that sharp salty flavor. Since this is a salted caramel drink, it is not as sweet as most people would presume.
5. Honey Almondmilk Cold Brew
This particular cold brew was created with those who prefer to drink plant-based milk!
Rather than using their usual syrups to sweeten their beverage, Starbucks uses honey for the Almondmilk Cold Brew, so it contains a little less sugar than the average cold brew.
One thing to note, since almond milk has a tendency to separate from coffee easier than milk, do make sure to have a stir stick so that you can properly mix the milk and the cold brew together to really enjoy the full drink experience.
6. Starbucks Reserve Cold Brew
See the pattern here? A lot of drinks offered in the Trenta cup are cold. This classic is a simple and delicious cup of coffee over ice.
Unlike what some may expect, the Starbucks Reserve Cold Brew is not unusually bitter. In fact, it is rather delicate and veers towards the naturally sweet side of coffee.
Since this is naturally sweet and not as acidic as hot coffee, mixing it with ice creates a perfect, low-calorie option for those who just want a nice cup of iced coffee.
7. Vanilla Sweet Cream Cold Brew
There is nothing hidden in this drink. It is simply as it says it is but oh boy, Starbucks knows how to do simple.
The Vanilla Sweet Cream Cold Brew is a beautiful balance of cool coffee and sweet vanilla cream that accents the natural sweetness of the coffee beans used.
This is the perfect drink for someone who just wants to have a nice cool cup of coffee while overlooking a park while enjoying the sun.
8. Iced Guava Black Tea/Lemonade
Made of a base of Teavana black tea, it is mixed with guava juice and liquid cane sugar to create a beautiful fruity drink that is great for any hot day.
Of course, you can change the amount of liquid cane sugar if you find that you would prefer to have a stronger tea flavor.
Mixing lemonade with the sweetness of guava created a new fruity experience called Iced Guava Black Tea that is sure to keep you going for the whole day.
9. Iced Black Tea/Lemonade
The Iced Black Tea is a fantastic tea that is refreshing and low-calorie for those who are watching their sugar levels!
With fresh black tea from Teavana mixed with ice, there is nothing that can go wrong with this drink. For those who want a little bit of a citrus-like punch, add in some lemonade to give it an edge.
Regardless of which you choose, the quality of black tea will definitely shine through with this drink.
11. Iced Royal English Breakfast Tea Latte
As it is with English Breakfast tea, this latte is made with delicious black teas that are sourced from both India and Sri Lanka and it creates a richness that is paired beautifully with the creamy milk base.
For those that are worried about having milk, do not worry! Starbucks is very versatile and they have plant-based milk available for most of their drinks.
12. Iced London Fog Tea Latte
Many people have fallen in love with London Fogs because of the soft notes of lavender and citrus that are associated with it.
Now, imagine it iced. This version of a London Fog is possibly even stronger with the Earl Grey flavor because it is iced and sweetened with vanilla syrup.
This is a fantastic drink for those who want to try something new but do not want to venture out too far from their comfort zone.
13. Kiwi Starfruit Lemonade Refresher
Kiwi Starfruit Lemonade Refresher is the newest Starbucks refresher and is made with starfruit and kiwi flavored juice, lemonade, and authentic little chopped-up kiwi pieces.
It then is hand-shaken with ice making this refresher the ultimate super summer pick-me-up beverage. The grande size includes only one scoop of kiwi pieces, but you can certainly add more if you want to; it has 140 calories and comes with 45mg of caffeine.
14. Kiwi Starfruit Refresher
This beverage also happens to be the same as the kiwi starfruit lemonade refresher, and the only difference is the lemonade that Starbucks adds to the drink.
The Kiwi Starfruit Refresher has no lemonade making it the perfect drink for you if you want to avoid the tangy taste of lemons.
Both have the same starfruit and kiwi flavored juice and authentic kiwi pieces. The lemonade refreshers come with 140 calories while this one only has 90; both have the same amount of caffeine which is 45mg.
15. Violet Drink
The Violet Drink has sweet blackberries while also having a tart flavor of hibiscus from the very berry hibiscus Starbucks refreshers beverage. Swirled together with coconut milk and a tad bit of ice which creates overall very refreshing sips for you to enjoy.
Ordering a grande-sized cup of this beverage will leave you with 110 calories and giving you 45mg of caffeine.
16. Blueberry Acai Refresher
The Blueberry Acai Refresher comes in a can with only one size of 12fl oz; it is a tangy but sweet blueberry flavored beverage.
This rich berry acai sparkling, which contains natural caffeine, will leave you ready to take on your day. The 12 fl oz can contain 90 calories and 50mgs of caffeine per serving.
17. Very Berry Hibiscus Refresher
Very Berry Hibiscus contains all real fruit juice while having whole blackberries shaken with the green coffee extract.
All of this is mixed together to gain a boost of natural energy, and all being served over ice to make it cold and refreshing.
Ordering the grande-sized cup will have you at 70 calories per cup and give you 45mgs of caffeine per cup. This drink would be perfect after a jog or gym work out having you feeling back up and replenished.
18. Pink Drink
This crisp refresher beverage is made with slight hints of passion fruit while being combined with creamy coconut milk, leaving you with a fruity taste, no matter the time of year.
The Pink Drink has one scoop of real strawberries, but of course, you can always order more scoops if you want extra strawberries; it also comes with ice.
This cold and refreshing drink will be perfect for any hot day, having 140 calories per cup and having 45 mg of caffeine.
19. Dragon Drink
The Violet Drink is inspired to be a tropical pick-me-up drink, made with sweet mango and dragonfruit flavors.
It is a hand-shaken refresher that is shaken with creamy coconut milk, some ice, and a scoop of authentic diced dragonfruit pieces.
The calories for this drink are 130, while there is 45mg of caffeine; this drink will be the perfect thirst quencher and leave you feeling fresh.
20. Mango Dragonfruit Lemonade Refresher
This refresher is also a tropical-inspired beverage, and it is made with vibrant lemonade, lovely mango, and refreshing dragonfruit flavors.
The Mango Dragonfruit Lemonade Refresher is hand-shaken with ice along with a scoop of authentic diced dragonfruit pieces.
Not only is this beverage very refreshing, but it also contains caffeine to ensure you get the boost that you need; one grande-sized cup has about 140 calories.
21. Strawberry Acai Lemonade Refresher
Sweet strawberry flavors make up this refresher, passion fruit, and acai hints balanced with a beautiful splash of lemonade.
The caffeine in the Strawberry Acai Lemonade beverage comes from the green coffee extract. This drink is considered the ultimate pick me up for your afternoon after any hard day.
It comes with one scoop of strawberries while having 140 calories and having caffeine that measures 45mg.
22. Very Berry Hibiscus Lemonade Refresher
Very Berry Hibiscus Lemonade is pretty similar to the hibiscus refresher, and the only difference is the added splash of lemonade.
The fruit juice and whole blackberries are still the same, and the green coffee extract is the same. Both of these refreshers are the perfect thirst quencher for any afternoon.
Both drinks come with 45mg of caffeine. However, the very berry hibiscus lemonade comes with 120 calories, while the regular hibiscus refresher has only 70.
23. Mango Dragonfruit Refresher
The Mango Dragonfruit Refresher is the same as the mongo dragonfruit lemonade refresher, except this beverage does not have lemonade in it.
They have the same flavors and dragonfruit pieces and are shaken with ice. Both drinks are tropical-inspired pick-me-up drinks; while this one has 90 calories, the lemonade mango dragonfruit has 140 calories, both having caffeine of 45mg.
This refresher would be perfect for someone who does not like lemonade but enjoy the tropical flavor of mango!
24. Star Drink
The Star Drink is made with starfruit as well as kiwi flavored juices while having an actual scoop of kiwi fruit pieces scooped inside.
Coconut milk is added to this refresher and then shaken with ice for you to have the best beverage refresher that you deserve!
This drink includes 130 calories as well as 45mg of caffeine while having only one scoop of kiwi pieces in a grande size beverage.
25. Strawberry Açaí Refresher
The Strawberry Açaí Refresher is the most popular and best-selling refresher at Starbucks because of its delicious taste and vivid bright colors. People can't seem to get enough of the strawberry and acai combination.
One serving of your new favorite summertime drinks has 90 calories and 45mg of caffeine.
Summary
Now you know all the Starbucks Trenta drinks available at your favorite coffee shop! If you feel like ordering a giant coffee, tea, or refresher, you know where to start.
The ordinary cup sizes at Starbucks are 8, 12, 16, and 20 ounces. I suggest tackling a Venti before moving onto the jumbo-sized Trenta, but if you're feeling adventurous, dive right into the 31 ounces.
I've always seen coffee as a way of bringing people together. Everywhere I go people seem to enjoy a fresh cup of coffee and that's what drives my passion. There's always a new brew to master, and there's always a new face to enjoy it with. Hitch a ride with me on a coffee-fueled adventure to find a perfect cup.