As an Amazon Associate FreshCoffeeHouse.com earns from qualifying purchases.
Anyone who has tried will tell you there is something special about brewing coffee with your own hands. In an ever more automated world, it's a sincere pleasure to put our minds to something creative and tinker with the ability to make completly personalized coffee.
The pleasure of making your own brand of coffee is right around the corner, or just a few drops away, when you use a pour-over. As you master your own brew, you'll not only make deeply personalized coffee but you'll also be creating something that is unique and can be experimented with for years to come.
People have outgrown the automatic coffee makers, which offer no personality and identity to your cup of joe. Instead, they are turning to this manual brewing method that is becoming hard to ignore.
The Best Pour-Over Coffee Maker


Capacity: 12oz, 17oz, 34oz, 51oz



Permanent, stainless steel mesh filter



Heat-resistant borosilicate glass



Dishwasher safe



Works well with paper filters



Shatterproof option
The Best Pour-Over Coffee Makers
While most coffee makers tend to be generic and dull, the best pour-over coffee makers continue to stand-out in the coffee community.
Everyone needs to try this eye-catching technique at least once to see what all the noise is about. I put together this list of the best pour-over coffee makers I've personally tried or heard good things about.
To get the best experience out of a pour-over you'll want to pair it with a good coffee bean. I personally like to brew my cup with the Verena Street, Nine Mile Sunset. If you need more inspiration take a look at my pour-over coffee bean hit list!
 
Brand
Details
 
 

Bodum
Capacity: 12oz, 17oz, 34oz, 51oz.
Dishwasher safe.
Check Price

CHEMEX
Capacity: 24oz(700ml).
The carafe is also a pitcher.
Check Price

Hario
Capacity: 24oz(700ml).
Comes with a dripper, glass pitcher, scoop, and filters.
Check Price

OXO
Capacity: 12oz(350ml).
Automatic water dripper.
Check Price

COSORI
Capacity: 34oz(1L).
Wooden sleeve.
Check Price

HOKEKI
Capacity: 20oz(600ml).
3 piece set.
Check Price

Melitta
Capacity: 60oz(1775ml).
Portable, durable.
Check Price

Brim
Capacity: 10oz(300ml).
Includes 20 paper filters.
Check Price

HOKEKI
Capacity: 27oz(800ml).
Silicone grip.
Check Price

Gvode
Capacity: 27oz(800ml).
Heat resistant handle.
Check Price


Capacity: 12oz, 17oz, 34oz, 51oz



Permanent, stainless steel mesh filter



Heat-resistant borosilicate glass



Dishwasher safe



Works well with paper filters



Shatterproof option
Bodum is without a doubt one of the most trusted names in the coffee community because of the quality of their coffee makers. They've made another beauty with this pour-over.
From the first time you hold the heat-resistant glass in your hands, you can feel the quality of the design. The coffee you get with this gem is sublime. It's rich, flavorful, and pronounced. Exactly what you would want from a pour-over.
I really like the options for this model. You can order various sizes based on how much coffee you wish to make. There are multiple colors to choose from. They've also created a shatterproof option that is ideal for travel or camping trips.
Once you try this pour-over you'll understand there is no better option on the market and that's why it's number one on my list of the best pour-over coffee makers.


Capacity: 24oz(700ml)



Non-porous, heat-resistant glass



Refrigerable



Can be reheated on stovetop
The iconic Chemex and its hourglass shape have been making the best coffee since around 1941. It's really hard to argue against the quality of the brew once you've tried it. This elegant design made from non-porous borosilicate glass makes smooth and full-flavored coffee every time.
One awesome feature about the Chemex is that it can be placed directly on either a glass stovetop or gas flame at low heat to warm up the brew. The coffee maker, which also acts as a pitcher, can also be closed and stored in the fridge where the non-porous glass won't affect the flavor of your coffee at all.
If the pour-over is an all-time classic, then the Chemex is like an innovative remix that took all the best qualities of the original and upgraded it to more modern needs. A must-try for all coffee enthusiasts.
I personally love everything about this option and I think it's the best pour-over coffee maker, especially for people just getting into brewing coffee manually. It comes with the dripper, the carafe which catches your brew, a plug/lid for the carafe to keep the coffee hot and fresh, a scoop for measuring your coffee, and a pack of 40 paper filters.
Everything about this coffee maker was made with the user in mind. It may not look as stylish as some other pour-overs on this list, but that doesn't mean it make sub-par coffee. In fact, I adore the brew I make with this model, and it never lets me down.
This pour-over only comes in one size which brews up to 20oz(600ml) of coffee which is perfect for 2 full mugs. The reason it's so beginner-friendly is that it's so easy to operate, inspect, and clean.
I had to include this simple and incredibly affordable automatic pour-over coffee gadget. The main thing here is automated water supply from the reservoir to the filter which makes consistent, flavorful cups of pour-over coffee with minimal effort. You just set it and forget it.
I honestly enjoyed the cup of coffee this pour-over made with little supervision. I thought the drink might be missing something but I was wrong. The water distribution settings allow the brew to be personalized similar to hand-made coffee.
Although I tend to like manual coffee brewing methods over automated ones, in this case, I found a perfect mix of both. If you're looking for a flavorful cup of coffee but don't always have the time to brew one with a French press or a pour-over, give this little gem a try.


Capacity: 34oz(1L)



Heat-resistant glass



Dual layer stainless steel filter



Solid wooden sleeve



Works well with paper filters
This is an amazing pour-over for beginners and experts alike. It handles very well, it's easy to clean, and the quality of its brew is fantastic.
Like most pour-overs, it's made from borosilicate glass which means it's heat resistant. This model comes with a wooden sleeve for a very comfortable pour once the brew is finished. Also included is a reusable stainless steel filter in place of a paper one, which will save you money in the long run.
The one downside of these products is the lack of options. It's a one-size-fits-all situation with the Cosori, so you only have the option to get a 34oz container with a wooden sleeve.
This is a little different take on the design of a pour-over but it really makes wonderful coffee. I recommend this model for anyone who likes to host friends and would like to treat them to a little show while making them a drink.
Even though the design is unique and cool, its downside is being very stationary. Most pour-overs can be picked up by the center-sleeve and passed around or moved from table to table. This one has to stay in one place because of the three separate parts.
This pour-over is a beautiful centerpiece on a coffee table. It comes with the ceramic dripper, a 20oz(600ml) carafe, and the bracket that holds both together. It really is the perfect gift for any coffee enthusiast.


Capacity: 60oz(1775ml)



Thermal carafe



Portable, durable



Dishwasher safe



Keeps coffee hot up to 20 hours



Needs paper filters
Right from the get-go, you can see this pour-over is a little different from the rest. Instead of glass, this unit is made from stainless steel and plastic. It's also much larger than any of the models you've seen on this list. The 60oz(1775ml) carafe keeps up to 10 cups of coffee hot for as long as 20 hours.
So this design is not as eye-catchy as the rest but the results of this pour-over cannot be understated. It's perfect for people who like to make large amounts of fresh coffee at home or while traveling. Like with most pour-overs, the dripper needs to be paired with paper filters.


Laser etched permanent filter



Works well with paper filters



Includes 20 paper filters



Capacity: 10oz(300ml)
The Brim is a very traditional pour-over that uses most of the common themes to brew a desirable cup of joe. It comes with a laser-etched stainless steel filter, a measuring scoop for your coffee, 20 paper filters, and of course the glass carafe.
This design is a little smaller than most pour-overs on the list at 10oz(300ml). In reality that makes this a single-serve coffee maker. Ideal for people who don't drink a lot of coffee or people who live alone.


Capacity: 27oz(800ml)



Heat resistant glass



Black removable rubber handle



No stainless steel filter
This heat and cold resistant pour-over is large and stylish. The carafe holds up to 27oz(800ml) of coffee, which is perfect for people who need to make more than 1 mug at a time. The removable leather strap around the neck of the coffee maker protects you from heat burns and frostbite.
The good things about this pour-over are the size, the durability, and the price of the unit. It's really inexpensive when compared to some other models. The shortcoming of this unit is the requirement of a paper filter as the steel mesh isn't a real filter at all.


Capacity: 27oz(800ml)



Reusable stainless steel filter



Works well with paper filters



Not entirely heat-resistant
Simplicity at its finest. No fancy gimmicks here, just a plain pour-over coffee maker that delivers fantastic coffee. It's made from sturdy borosilicate which is heat-resistant but I still suggest washing this carafe with caution. 
The carafe is 27oz(800ml) which is a pretty big size for a pour-over. You can make enough coffee for a small family or gathering with a single cycle. You can trust the coffee to be rich in natural flavors and satisfactory for any true coffee lover. Even though the steel filter works fine, I still suggest using a paper filter for a smoother cup of coffee.
Pour-Over for Beginners
Even though the idea of brewing coffee manually might seem a little intimidating at first, it's really quite simple. With the right equipment, the right step-by-step guide, and a little patience you'll be making completely personalized coffee in no time.
I recently put together an entire article about making the perfect-pour-over coffee. It's really a beginner-friendly guide but might also teach something new to any long-term coffee lover.
Helpful Equipment
A digital scale
It's a good idea to use a scale when brewing coffee with a pour-over. If you ever see a barista in action they always weigh the coffee beans and water to achieve the ideal brew every time.
Burr coffee grinder
Burr grinders tend to provide a more uniform coffee grind. In case you need a refresher on the differences between burr and blade coffee grinders, you can find it here.
A Timer
We will be timing a few parts of the brewing process to make the perfect pour-over coffee so a timer will come in handy. If you don't have a timer in your kitchen you can use your phone or just count in your head.
Pour-Over Paper vs. Metal Filter
Using a paper filter results in a smoother, cleaner tasting brew. That's because paper filters capture more of the oils your coffee beans release during the brewing process. When you use only a stainless steel filter your coffee will be more robust. These filters tend to let a few fine coffee grounds into your final brew.
Why Get a Pour-Over?
Any coffee lover needs to have a pour-over handy for moments where the bland taste of a coffee machine just won't do. A huge advantage of this coffee maker is the fine-tasting brew it produces each and every time. The best pour-over coffee maker will brew coffee that's vibrant and smooth.
What to Expect From Your Brew?
People who love manual coffee brewing methods will tell you the best results always come from fresh coffee beans ground moment before brewing instead of the pre-groud stuff. Grinding the beans before brewing makes all the difference.
Once you get used to brewing java with a pour-over you should expect the coffee to have a rich and pronounced flavor. The reason some choose a pour-over instead of a French press is the paper filter. It stops some of the bitter coffee oils and elements from reaching your brew. This results in a delightfully smooth coffee.
Things to Know When Making Coffee With a Pour-Over
A number of factors will impact the quality of your final brew. Make sure you get familiar with these variables when making coffee with a pour-over.
Water
Filtered or natural spring water will provide the best-tasting coffee.
Grind Size
For best results when using a pour-over you need to use coffee ground medium-fine.
Best Coffee to Water Ratio for a Pour-Over
I recommend using 1.5 tablespoons of coffee beans for every 1 cup of coffee you want to brew.
How to Store Your Coffee Beans
Since using fresh coffee beans can make all the difference I recommend a good strategy for keeping your beans fresh.
Quick Notes
I put together a whole article on making the perfect pour-over coffee ideal for beginners and experts alike. Here are some of the main steps.
Boil water. Preferably filtered.
Let the water sit for 30 seconds after boiling.
Grind your coffee beans to a medium-fine grind.
Set and wet your filter into the pour-over
Add the coffee grounds.
Pour enough water into the filter to saturate the coffee.
Allow the coffee to bloom.
Slowly pour the rest of the water on the coffee allowing for the grounds to brew.
Serve hot and fresh!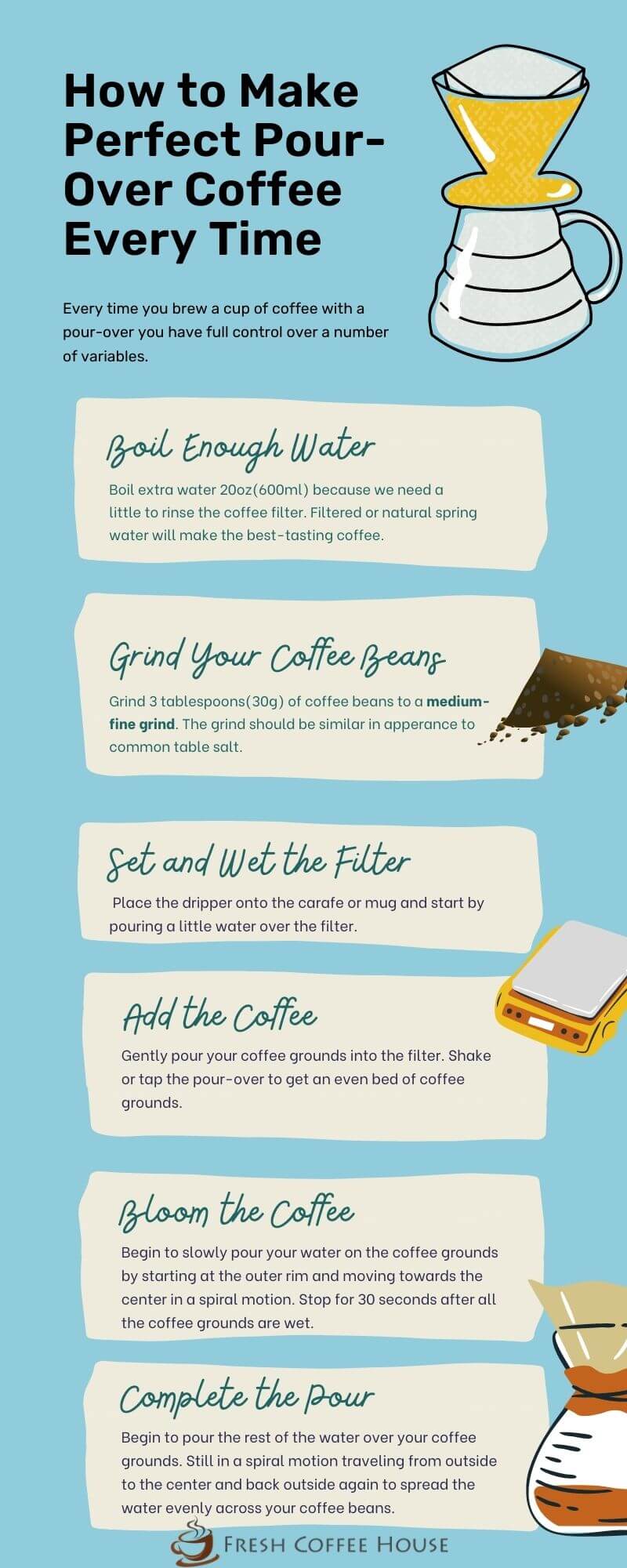 Related Questions
Is Using a Pour-Over Hard?
Even though it might seem intimidating at first, using a pour-over coffee maker is as simple as pouring water into a dripper. The only thing to keep in mind is the pace of your pour. The coffee grounds need time to bloom and brew.
Since this is a manual brewing technique, it takes more effort than just pressing a button on a coffee machine. Once you try it once or twice you'll see that a pour-over is not hard to use.
What is the Best Type of Coffee for a Pour-Over?
If you're looking for a great bean to try in your pour-over give Verena Street: Nine Mile Sunset Dark Roast a try. It's definitely the best coffee I've ever had in a pour-over and it tops the list of my Best Coffee Beans Ideal for a Pour Over.
Can You Use Any Coffee in a Pour-Over?
Yes, technically you can use any coffee beans in a pour-over. For best results you want the coffee beans to be recently roasted and freshly ground. Avoid using the preground stuff for manual coffee brewing techniques.
I've always seen coffee as a way of bringing people together. Everywhere I go people seem to enjoy a fresh cup of coffee and that's what drives my passion. There's always a new brew to master, and there's always a new face to enjoy it with. Hitch a ride with me on a coffee-fueled adventure to find a perfect cup.