Have you just come from the gym or a jog around the park and need a quick way to be back feeling refreshed?
These Refreshers from Starbucks will do just the thing you need by allowing you to feel replenished! In addition, this list will enable you to see the many other refreshers at Starbucks and provide you information on the drink itself. The perfect pick me up to any situation or event going on in your life!
Now let's get into the list, so you will be able to know more about the refreshers the next time you go to Starbucks and want to order something new!
List of Starbucks Refreshers
Here is a list of all the Starbucks refreshers. Find out more about each drink below.
Kiwi Starfruit Lemonade Refresher
Kiwi Starfruit Refresher
Violet Drink
Blueberry Acai Refresher
Very Berry Hibiscus Refresher
Pink Drink
Dragon Drink
Mango Dragonfruit Lemonade Refresher
Strawberry Acai Lemonade Refresher
Very Berry Hibiscus Lemonade Refresher
Mango Dragonfruit Refresher
Star Drink
Strawberry Açaí Refresher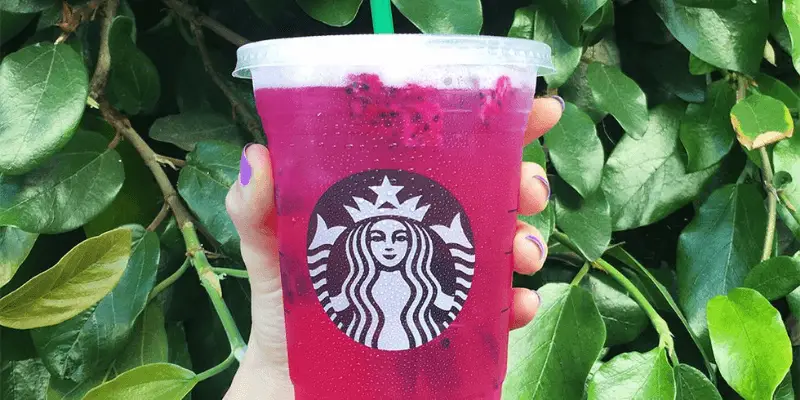 Starbucks Refreshers
1. Kiwi Starfruit Lemonade Refresher
Kiwi Starfruit Lemonade Refresher is the newest Starbucks refresher and is made with starfruit and kiwi flavored juice, lemonade, and authentic little chopped-up kiwi pieces.
It then is hand-shaken with ice making this refresher the ultimate super summer pick-me-up beverage. The grande size includes only one scoop of kiwi pieces, but you can certainly add more if you want to; it has 140 calories and comes with 45mg of caffeine.
2. Kiwi Starfruit Refresher
This beverage also happens to be the same as the kiwi starfruit lemonade refresher, and the only difference is the lemonade that Starbucks adds to the drink.
The Kiwi Starfruit Refresher has no lemonade making it the perfect drink for you if you want to avoid the tangy taste of lemons.
Both have the same starfruit and kiwi flavored juice and authentic kiwi pieces. The lemonade refreshers come with 140 calories while this one only has 90; both have the same amount of caffeine which is 45mg.
3. Violet Drink
The Violet Drink has sweet blackberries while also having a tart flavor of hibiscus from the very berry hibiscus Starbucks refreshers beverage. Swirled together with coconut milk and a tad bit of ice which creates overall very refreshing sips for you to enjoy.
Ordering a grande-sized cup of this beverage will leave you with 110 calories and giving you 45mg of caffeine.
4. Blueberry Acai Refresher 
The Blueberry Acai Refresher comes in a can with only one size of 12fl oz; it is a tangy but sweet blueberry flavored beverage.
This rich berry acai sparkling, which contains natural caffeine, will leave you ready to take on your day. The 12 fl oz can contain 90 calories and 50mgs of caffeine per serving.
5. Very Berry Hibiscus Refresher
Very Berry Hibiscus contains all real fruit juice while having whole blackberries shaken with the green coffee extract.
All of this is mixed together to gain a boost of natural energy, and all being served over ice to make it cold and refreshing.
Ordering the grande-sized cup will have you at 70 calories per cup and give you 45mgs of caffeine per cup. This drink would be perfect after a jog or gym work out having you feeling back up and replenished.
6. Pink Drink
This crisp refresher beverage is made with slight hints of passion fruit while being combined with creamy coconut milk, leaving you with a fruity taste, no matter the time of year.
The Pink Drink has one scoop of real strawberries, but of course, you can always order more scoops if you want extra strawberries; it also comes with ice.
This cold and refreshing drink will be perfect for any hot day, having 140 calories per cup and having 45 mg of caffeine.
7. Dragon Drink
The Violet Drink is inspired to be a tropical pick-me-up drink, made with sweet mango and dragonfruit flavors.
It is a hand-shaken refresher that is shaken with creamy coconut milk, some ice, and a scoop of authentic diced dragonfruit pieces.
The calories for this drink are 130, while there is 45mg of caffeine; this drink will be the perfect thirst quencher and leave you feeling fresh.
8. Mango Dragonfruit Lemonade Refresher
This refresher is also a tropical-inspired beverage, and it is made with vibrant lemonade, lovely mango, and refreshing dragonfruit flavors.
The Mango Dragonfruit Lemonade Refresher is hand-shaken with ice along with a scoop of authentic diced dragonfruit pieces.
Not only is this beverage very refreshing, but it also contains caffeine to ensure you get the boost that you need; one grande-sized cup has about 140 calories.
9. Strawberry Acai Lemonade Refresher
Sweet strawberry flavors make up this refresher, passion fruit, and acai hints balanced with a beautiful splash of lemonade.
The caffeine in the Strawberry Acai Lemonade beverage comes from the green coffee extract. This drink is considered the ultimate pick me up for your afternoon after any hard day.
It comes with one scoop of strawberries while having 140 calories and having caffeine that measures 45mg.
10. Very Berry Hibiscus Lemonade Refresher
Very Berry Hibiscus Lemonade is pretty similar to the hibiscus refresher, and the only difference is the added splash of lemonade.
The fruit juice and whole blackberries are still the same, and the green coffee extract is the same. Both of these refreshers are the perfect thirst quencher for any afternoon.
Both drinks come with 45mg of caffeine. However, the very berry hibiscus lemonade comes with 120 calories, while the regular hibiscus refresher has only 70.
11. Mango Dragonfruit Refresher
The Mango Dragonfruit Refresher is the same as the mongo dragonfruit lemonade refresher, except this beverage does not have lemonade in it.
They have the same flavors and dragonfruit pieces and are shaken with ice. Both drinks are tropical-inspired pick-me-up drinks; while this one has 90 calories, the lemonade mango dragonfruit has 140 calories, both having caffeine of 45mg.
This refresher would be perfect for someone who does not like lemonade but enjoy the tropical flavor of mango!
12. Star Drink
The Star Drink is made with starfruit as well as kiwi flavored juices while having an actual scoop of kiwi fruit pieces scooped inside.
Coconut milk is added to this refresher and then shaken with ice for you to have the best beverage refresher that you deserve!
This drink includes 130 calories as well as 45mg of caffeine while having only one scoop of kiwi pieces in a grande size beverage.
13. Strawberry Açaí Refresher
The Strawberry Açaí Refresher is the most popular and best-selling refresher at Starbucks because of its delicious taste and vivid bright colors. People can't seem to get enough of the strawberry and acai combination.
One serving of your new favorite summertime drinks has 90 calories and 45mg of caffeine.
Summary
I hope you found your new Starbucks refresher, or at least have an idea of what is available. The next time you visit your corner coffee shop, pick one of these energy-jolting refreshers and see what the buzz is about.
The real fruit pieces mixed with lemonade or coconut milk are a mouth-watering suggestion. In fact, I think I will go pick one up right now.
I've always seen coffee as a way of bringing people together. Everywhere I go people seem to enjoy a fresh cup of coffee and that's what drives my passion. There's always a new brew to master, and there's always a new face to enjoy it with. Hitch a ride with me on a coffee-fueled adventure to find a perfect cup.