It may seem odd that a place such as Starbucks would have any option, let alone several, for those who are experiencing a sore throat.
Next time you're at your favorite coffee shop, consider one of these soothing options. Explore our list of the best Starbucks drinks for a sore throat to find your remedy.
List of the Starbucks Drinks for a Sore Throat
Here is a list of the best options Starbucks has to offer for a sore throat. Read more about each drink below!
Honey Citrus Mint Tea
Mint Majesty
Jade Citrus Mint Brewed Tea
Peach Tranquility
Chai Tea
Emperor's Clouds & Mist
Steamed Apple Juice
Royal English Breakfast Tea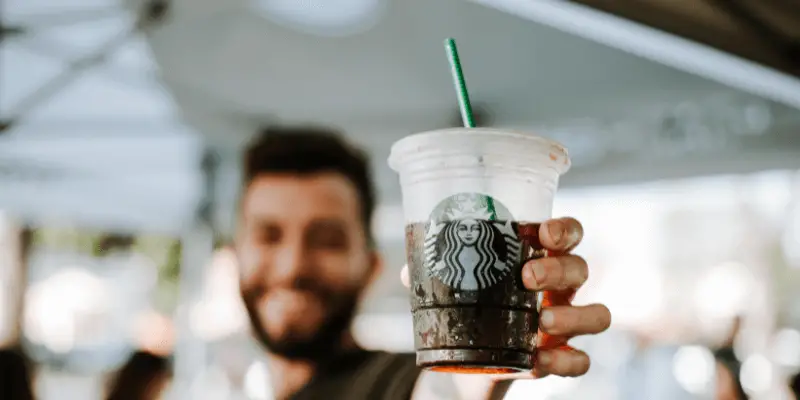 Starbucks Drinks for a Sore Throat
Anyone suffering from a sore throat should try to avoid drinks with added sugar in them! Not only will it delay the course of healing, but it may also make the soreness worsen, and no one wants to prolong a sore throat.
The list below is made of some items that are immediately on the Starbucks menu while others will consist of menu items with a bit of added zest that most, if not all, baristas will be able to accommodate.
1. Honey Citrus Mint Tea
Of course, first up is something that has honey in it! As nature's natural throat soother, it is no surprise that many people will deviate towards this delicious mixture of honey and not one, but two bags of tea (Jade Citrus Mint and Peach Tranquility) along with warm lemonade and hot water.
The Honey Citrus Mint Tea is a fantastic drink for those who are looking for something comforting in the mornings and need a little caffeine to get started.
2. Mint Majesty
Do not scoff at this drink before you give it a taste. This is not just purely a mint tea.
In addition to the warmth that comes with mint, there is also a little bit of lemon verbena added to the leaves to keep this cuppa from tasting as if you are drinking bland mint tea.
What's more, the Mint Majesty is a herbal tea, meaning those who are sensitive to caffeine can have this at night without fear of having a hard time sleeping.
3. Jade Citrus Mint Brewed Tea
If you are not a fan of warm lemonade with your tea but you like the sound of Jade Citrus, this may be the choice for you.
Already naturally scented with lemon verbena, this green tea is mixed with spearmint and lemongrass to create a very herbal and cozy cup of tea that is sure to soothe even the harshest of sore throats.
If you want something to add to the tea, ask the barista for a tiny spoon of honey to stir through the tea for added sweetness.
4. Peach Tranquility
Mint is a bit of a love or hate ingredient but because it is always popular with sore throats, it is really difficult for those who hate it to find an alternative.
Starbucks kept those people in mind when they introduced the Peach Tranquility tea! Made of chamomile blossoms, rose hips, peach, and candied pineapple, this fruity herbal tea is fantastic for those wanting something different from min tea for their throat.
Some have found that asking the barista to add in a pump of honey and some lemon juice into the tea not only upped the natural fruit flavors, but it also aided with keeping their voice from cracking throughout the day.
5. Chai Tea
This is not the first tea that comes to most people's minds when considering a remedy for a sore throat, but in the east, this is one of the first drinks that people deviate to when they are feeling unwell.
A black tea flavored with warm spices such as cloves, cinnamon, ginger, and cardamom, many people really love the hominess Chai Tea brings them.
Some like the natural spiciness that comes with the tea but if it is feeling too much, feel free to ask the barista to add in a bit of honey to keep the spice level from becoming too irritating.
6. Emperor's Clouds & Mist
The simplest of drinks on the menu, this green tea is exactly as it sounds – a simple green tea.
The Emperor's Clouds & Mist tea is naturally a little smoky and because it is such a toned note in the tea, it pairs beautifully with so many different add-ins.
If you find that you want just green tea and honey, this is the tea for you. If you simply want some tea and lemon, this green tea will not overpower and rather star as a partner alongside the tart and sweet citrus juice.
However, you choose to mix and match the combinations with the tea, the barista will be able to make your dream drink come to life!
7. Steamed Apple Juice
This particular drink stirs a bit of controversy! Some people swear by it, claiming that it has soothed some of their worst days but others say that it has made their days worse.
If you are willing to give this a shot, this is simply Steamed Apple Juice – nothing more, nothing less.
If you feel as if this is too sweet or feel as if you are unsure about the amount of sugar, ask the barista to add in half a cup of hot water to it to mellow out the sweetness!
8. Royal English Breakfast Tea
A very traditional black tea that is loved all around the world, this is not a surprising addition to the list.
The Royal English Breakfast Tea has elegance written in its name and the finish it gives to its drinker is no different.
For those who are experiencing a sore throat, this is a great tea that is simple and does the job without any fuss.
Some people enjoy adding honey in for an added depth of sweetness, but most enjoy it black while sick because the complexity of the tea is enough for their liking.
Final Words
No matter which drinks you choose to enjoy while sick, always remember that it is your comfort that matters most!
If none of these options fit your taste buds, go up to your barista and ask what they recommend – they are the best people to ask for the cure to a sore throat because they are around these ingredients all the time!
They may even have a secret menu item that many people ask for but is not technically an official drink.
Whichever drink you choose to sip, enjoy the warmth that encompasses you and power through the day!
I've always seen coffee as a way of bringing people together. Everywhere I go people seem to enjoy a fresh cup of coffee and that's what drives my passion. There's always a new brew to master, and there's always a new face to enjoy it with. Hitch a ride with me on a coffee-fueled adventure to find a perfect cup.