There is nothing like a delicious warm latte or tea to help soothe your stomach during your period—or a cold drink when you have a hot flash.
Starbucks offers the perfect comfort drinks for various trying times, including those sickening PMS feelings and mood swings. With teas for feeling relaxed, refreshed, and skinny, can you get a more perfect beverage to sip on at work or school for your period cramps?
You can add all of your choice flavors to give each drink your signature style since most Starbucks locations use syrup pump flavors.
Complete List of Starbucks Drinks for Period Cramps
Here you can find all the best drinks Starbucks has to offer that help with cramps. Continue reading to learn more about each option.
Mint Majesty
Honey Citrus Mint Tea
Jade Citrus Mint Brewed Tea
Emperor's Clouds & Mist
London Fog Tea Latte
Earl Grey Tea
Chai Tea
Peach Tranquility
Skinny Mint
Mojito Refresher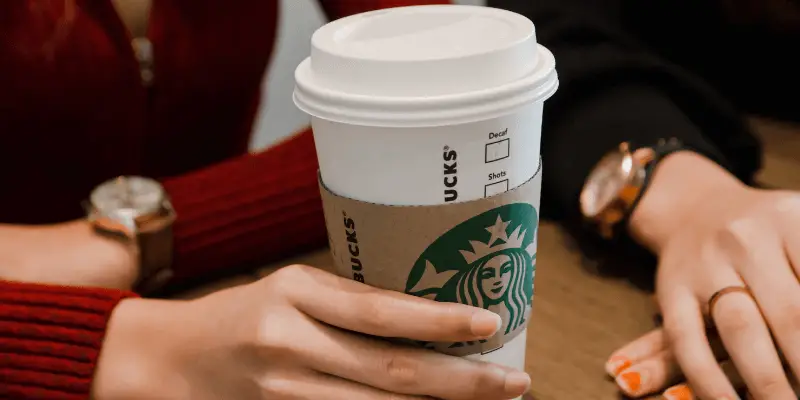 Starbucks Drinks for Period Cramps
1. Mint Majesty
Mint Majestic is the perfect zero-calorie Starbucks tea with the ultimate stomach-soothing properties. It is served hot with two tea bags. The tea is infused with spearmint leaves and peppermint leaves.
Not only is mint is proven to help with all kinds of nausea, but it is also refreshing.
2. Honey Citrus Mint Tea
Starbuck's Honey Citrus Mint Tea is perfect for when you're looking for a healthy option infused with mint and fruit flavors.
This delightfully smooth tea contains two pumps of honey syrup in lemonade and two tea bags that infuse Green Tea, Organic Spearmint, Organic Lemon Verbena, and Organic Lemongrass.
It also has a refreshing blend of natural fruit infusions from apples and peaches to pineapple to add flavor.
3. Jade Citrus Mint Brewed Tea
The Jade Citrus Mint Brewed Tea from Starbucks is anything but Jade. It is rocking a bold red color in a zero-calorie flare.
It is hard to believe that this refreshing drink doesn't break down your daily calorie count.
It's made with Starbuck's delightful lemonade and two tea bags that give your drink an infusion of flavor Organic Green Tea, Organic Spearmint, Organic Lemon Verbena, and Organic Lemongrass.
The Jade Citrus Mint Brewed tea is served hot at Starbucks.
4. Emperor's Clouds & Mist
The Emperor's Clouds and Mist is Starbuck's traditional green tea blend with lemonade.
If you are looking for a classic, you have found your match in this mouthwatering drink with a toasted flavor.
5. London Fog Tea Latte
Part Latte, part tea, all flavor, describes the London Fog Tea Latte from Starbucks perfectly.
This tasty drink starts with steamed hot 2% milk, four pumps of vanilla syrup, and a little milk foam.
It contains two tea bags that infuse your drink with Black Tea, Bergamot Essence, Lavender Flowers.
Then you have your choice of espresso shot options and sweeteners. Unlike its foggy name, this drink tastes bright with a strong vanilla flavor and a burst of citrus.
6. Earl Grey Tea
The Earl Grey Tea is a Starbucks traditional black tea blend, which offers a nipping flavor to wake you up in the morning after a night of rough period sleep.
This tea contains a significant amount of caffeine, Starbucks satisfying lemonade, and two teabags to infuse the black tea into your drink.
7. Chai Tea
Chai Tea is a twist on Starbucks traditional black tea or Earl Grey Tea. You'll find this blend to be a nice smooth texture, with lemonade as its base drink.
The two tea bags give the hot tea an infusion of multiple flavors, including Black Tea, Ginger, Cinnamon, Black Pepper, Cardamom, Star Anise, Cloves, and Cardamom Essence.
Chai tea is a must-have blend if you need a comfort drink, as it tastes like you're drinking snickerdoodles. You can also get the Chai Tea Latte form of this drink.
8. Peach Tranquility
Are you ready for tea to help you relax after a hard day? Look no further than Starbucks Peach Tranquility.
This zero-calorie beverage has lemonade and two teabags that give you an infusion of fruity goodness like Apple, Pineapple, Rose, Peach, Chamomile Flowers, and Lemon Verbena.
This tea is a rich golden color and has a chamomile vibe to help you relax and feel a little sleepy.
9. Skinny Mint
Do you want to know a secret? Well, on Starbuck's secret menu, you'll find the Skinny Mint Tea.
The name alone makes you feel a little less bloated at that time of the month. The Skinny Mint Tea is a Green Tea Frappuccino made with soy milk.
You can choose the Splenda sweetener to get rid of unwanted calories. Then add 1.5 pumps of peppermint syrup to make it extra good.
10. Mojito Refresher
Your second Starbucks secret menu item of the day is the Mojito Refresher, which is the perfect drink to sip during a hot flash.
This cold tea starts with Starbucks Cool Lime Refresher as the base drink. Then add 1.5 pumps of Starbucks classic syrup, 1 pump of peppermint syrup, and Ice.
Have your barista blend this up for you, and you can feel like you are having a night at the bar with the girls while you are at work.
The Mojito Refresher tastes like a non-alcoholic Mojito with a strong mint flavor. 
Summary
Starbucks is an excellent destination for when you are experiencing period cramps because it has lots of refreshing tea options.
You can have the barista customize your tea just the way you like it with the 13 flavor add-ins.
Flavorful tea can be served hot or cold and are a great low-calorie way to help you with some of your most common period symptoms:
Cramps

Nausea

Tiredness

Insomnia
If you find yourself a little extra tired, you can even add a few espresso shots to your drink. If you have a hard time relaxing, hot tea with chamomile will be your perfect companion.
It doesn't matter what mood you are in. Starbucks has a tea that's perfect for you.
Next time you are looking for a bit of a pick-me-up, relaxer, or refresher, be sure to check out the Starbucks menu of hot or iced teas. It is sure to be a taste bud tantalizing, soothing stomach experience.
I've always seen coffee as a way of bringing people together. Everywhere I go people seem to enjoy a fresh cup of coffee and that's what drives my passion. There's always a new brew to master, and there's always a new face to enjoy it with. Hitch a ride with me on a coffee-fueled adventure to find a perfect cup.