Starbucks hot chocolates are some of the most mouth-watering hand-warming drinks in the world. Head over to any college campus in winter, and you are bound to see someone rocking a Starbucks cup filled with the hot soothing quencher.
It is delicious, and it comes in a variety of flavors. The drinks include coffee, cocoa, whip creams, mocha drizzle, syrups, and more.
The Starbucks menu has some great hot chocolate combinations, but did you know there are a few hot chocolates on the Starbucks secrete menu too?
You can even make some recipes at home to enjoy the chocolatey goodness after hours.
Complete List of Starbucks Hot Chocolate Drinks
Here are all the hot chocolate drinks you can order at Starbucks or make at home. Read more about each option below.
Hot Chocolate
Peppermint Hot Chocolate
White Hot Chocolate
Peppermint White Hot Chocolate
Toasted White Hot Chocolate
S'mores Hot Chocolate
Pumpkin Hot Chocolate
Mexican Hot Chocolate
Swirl Pow Hot Chocolate
Cold Hot Chocolate Frappuccino
Double Chocolate Hot Cocoa
Salted Caramel Hot Cocoa
Marshmallow Hot Cocoa
Peppermint Cocoa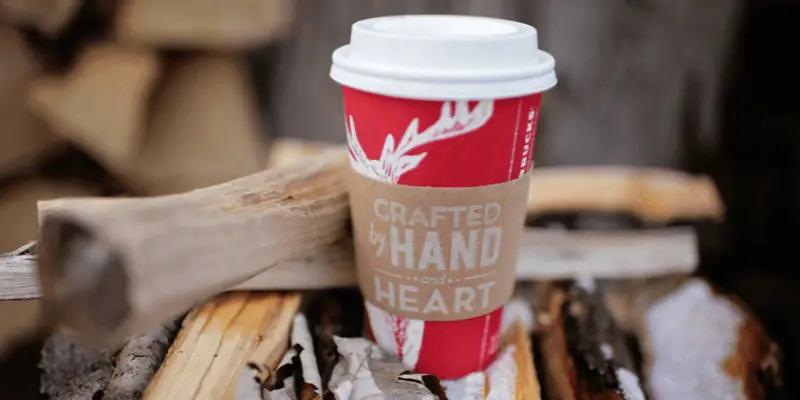 Starbucks Hot Chocolate Drink
There are five hot chocolate drinks you can get off of the regular menu at Starbucks.
1. Hot Chocolate
Hot Chocolate is Starbucks' classic hot cocoa drink and comes with milk, mocha sauce, and whipped cream topping.
You can add a variety of customizations to the warm beverage, such as milk foam and mocha drizzle on top. Of course, you can feel free to spice things up with the flavor of choice add-ons.
This beverage is served warm and is great on a snowy day.
2. Peppermint Hot Chocolate
Peppermint Hot Chocolate gives Starbucks' traditional hot cocoa line a crisp minty flavor.
This hot drink traditionally comes with four pumps of peppermint syrup, four pumps of mocha sauce. It is topped with chocolate curls and whipped cream.
Like many Starbucks drinks, you can add your choice of flavor add-ons to the mix.
Finally, to keep the calorie count low but preserve the creamy consistency, peppermint hot chocolate is made with 2% milk.
3. White Hot Chocolate
You may have to look twice at your glass of Starbucks after ordering a White Hot Chocolate to realize it is hot cocoa.
Unlike traditional cocoa, it is made with four white chocolate mocha sauce pumps that give it a snowy look.
White Hot chocolate is also made with 2% milk to keep calories lower, milk foam, and topped with whipped cream.
4. Peppermint White Hot Chocolate
Peppermint White Hot chocolate is made like Starbucks white hot chocolate, but with the addition of 4 pumps of peppermint syrup.
You can top it with dark chocolate curls and a swirling pile of whipped cream. If you want to add little extra sweeteners to your beverage, you can add any of them to the Starbucks menu.
5. Toasted White Hot Chocolate
The last Hot Cocoa on the Starbucks menu is the Toasted White Hot Chocolate. It reminds you of a toasted marshmallow with its lightly browned appearance.
This delightful drink comes with 2% milk steamed hot and four toasted white chocolate mocha sauce pumps. It is topped with holiday sugar sprinkles and whipped topping.
Starbucks Secret Menu Hot Chocolates
The Starbucks secret menu has another five delightful hot chocolates for you to choose from.
1. S'mores Hot Chocolate
The S'mores Hot Chocolate is the perfect to-go item when headed to the big game or a bonfire.
It is the perfect blend of chocolate and marshmallow flavors.
Ask Barista For:
A double chocolaty chip crème frappuccino with three pumps of vanilla syrup, blended in whipped cream and topped with mocha drizzle and whipped cream
You can even add some peppermint syrup.
2. Pumpkin Hot Chocolate
Pumpkin Hot Chocolate pulls that authentic fall vibe as the weather begins to cool and you start seeing more and more pumpkin decorations.
Ask Barista For:
A traditional hot chocolate with two pumps of pumpkin spice sauce.
3. Mexican Hot Chocolate
The Mexican Hot Chocolate is a cinnamon spice lovers delight.
To get this Starbucks secrete menu item, you order a traditional hot chocolate with soy milk and no water. You can have some cinnamon powder added to the soy milk while it is steamed. Then you ask for a few additions:
1.5 pumps of mocha syrup

1.5 pumps of white mocha syrup

3 pumps cinnamon dolce syrup
4. Swirl Pow Hot Chocolate
Swirl Pow Hot Chocolate is almost too beautiful to consume. It is a swirling mix of hot vanilla and mocha flavors.
To achieve this concoction, you start ordering a traditional Starbucks hot chocolate. Have them add:
1.5 pumps of vanilla syrup

1.5 pumps Mocha Syrup

Top with whipped cream, mocha, or caramel drizzle
5. Cold Hot Chocolate Frappuccino
The last hot chocolate on the secret Starbucks menu isn't hot—it is the Cold Hot Chocolate Frappuccino.
It is the slushy version of your favorite hot drinks and is perfect for warmer winter days. Start with a Double Chocolaty Chip Crème Frappuccino and have some add-ons:
Three pumps of vanilla syrup

Blend in whipped cream

Top with whipped cream and mocha drizzle
You can even add a couple of pumps of peppermint syrup to make the cold peppermint variations of your favorite hot drinks.
Make Starbucks Hot Chocolate at Home
If you get an after-hours thirst for Starbucks, fear not. There are several delightful recipes you can make with Starbucks at-home kits.
1. Double Chocolate Hot Cocoa
Mix the Double Chocolate Hot Cocoa in your favorite mug with milk. It is a quick and easy drink you can make right at home and has a rich dark chocolate flavor.
2. Salted Caramel Hot Cocoa
Stir up the Salted Caramel Hot Cocoa with steamed milk, and be sure you add a festive swirl of whipped cream and some sea salt on the top.
3. Marshmallow Hot Cocoa
The Marshmallow Hot Cocoa is a classic and easy hot drink to make at home. You can add whipped cream on top or leave it plain and enjoy the marshmallow goodness both ways.
4. Peppermint Cocoa
Finally, you can grab a pack of Peppermint Cocoa mix to make in your kitchen this winter as a little pick me up. It works great as a gift too. This hot cocoa has a dark chocolate and minty flavor.
Summary
Starbucks offers so many hot drinks, and more specifically, so many delightful hot chocolates. They come in white chocolate, dark chocolate, peppermint, and marshmallow flavors. All of the delicious recipes features are for the grande size drink.
The best thing about these hot chocolates is that you can customize them with flavors and toppings, so they taste just like you like.
Next time you are looking for a drink to warm your belly and your hands, check out Starbucks' wide range of hot chocolates.
I've always seen coffee as a way of bringing people together. Everywhere I go people seem to enjoy a fresh cup of coffee and that's what drives my passion. There's always a new brew to master, and there's always a new face to enjoy it with. Hitch a ride with me on a coffee-fueled adventure to find a perfect cup.