Trust Starbucks to experiment with mangos to keep fruit lovers coming for more. If you are an avid fruit drinks lover, you must have had a few Starbucks fantastic juice blends.
Did you know they made creamy mango drinks there too? I made a list of some delicious fruit blends that will get you addicted.
Starbucks baristas are passionate about their work, and their range of inclusivity is why millions of people flock to their stores.
Starbucks mango drinks include non-dairy, vegan as well as dairy drinks options. Therefore, you have a broad pallet from which you could choose.
Before I break down some of the mango drinks, let's review a few facts about Starbucks mango drinks.
List of Starbucks Mango Drinks
Here is a list of all the Starbucks mango drinks. Find out more about each drink below.
The Mango Dragonfruit Refresher
Dragon Drink
Mango Frappuccino
Mango Dragonfruit Lemonade Refresher.
Organic Defense Up (Evolution Fresh)
Organic Super Fruit Greens (Evolution Fresh)
Mango Black Tea
Pineapple Bliss drink
Frozen Mango Smoothie
Blended Juice Drink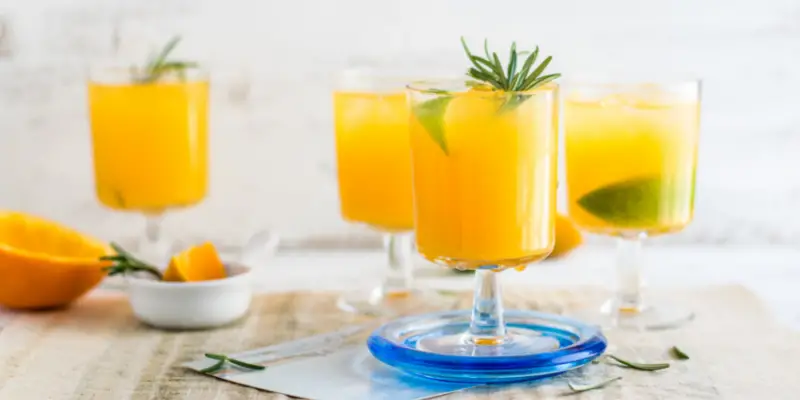 Facts About Starbucks Mango Drinks
All Starbucks mango drinks are made from natural fruit extract apart from the Mango Dragonfruit Starbucks refreshers beverage. The unique glass would be an excellent choice for people allergic to mangos.
Mango fruit drinks mostly come with coconut milk. Coconut milk is relatively light, and the taste diffuses perfectly with fruit flavors for a balanced, delicious, refreshing treat.
Starbucks also offers non-sweetened options for customers upon request, especially if you intend to cut down on sugar intake.
Starbucks mango drinks are either made with water and juices only, with some lemonade and finally some coconut milk. The options are all tasty, depending on how flavorful you wish them to be.
Starbucks Mango Fruit Drinks
1. The Mango Dragonfruit Refresher
The Mango Dragonfruit Refresher is among Starbucks' popular orders, trending on every social media platform. The drink is a burst of flavors and has most people squealing in delight with every sip. The glass is also gorgeous and could make such a beautiful Instagram and Snapchat story.
It is a beautiful deep pink, a combination of red dragon fruit and sweet mango shaken with ice. Perfect for quenching thirst at any particular time.
2. Dragon Drink
Do you just love a pretty drink that tastes smooth and creamy? Dragon Drink is a tasty blend of delicious mango blend with Dragonfruit flavors, added with real Dragonfruit.
The fruit juice is shaken with some ice and coconut milk to make any gloomy day happy. It contains a bit of caffeine to get some energy and is only 130 calories.
3. Mango Frappuccino
Any huge mango fan will love Starbucks Mango Frappuccino, which is a delicious treat for the soul. The delightful cup of sunshine consists of vanilla and flavorful mango, which is the right amount of home and summer fun in a glass.
It is a lovely drink and will brighten your mood despite the level of stress or anger.
4. Mango Dragonfruit Lemonade Refresher
If you want a little tangy switch from the mango dragon fruit refresher lemonade, the drink mentioned above is your best bet. I love the lemonade version as it is the perfect thirst quencher for a hot afternoon summer road trip.
It also gives you an energy kick as it contains some caffeine, lifting your spirits for a lyrical performance inside your car.
5. Organic Defense Up (Evolution Fresh)
The smoothie lovers also have some bit of mango in the Starbucks Evolution Fresh blends. The particular organic Defense Up is an excellent detoxifying smoothie with some mango, oranges, cherries, apples, and even pineapples, 100% fruit.
The smoothie lacks any sweeteners or flavors, so that is a value for money right there. I would recommend the smoothie for morning runs.
6. Organic Super Fruit Greens (Evolution Fresh)
If you have the challenge to get your greens in the morning, especially after you vowed to yourself, here's a great solution. Starbucks made-to-go smoothie is a 100% blend of pure mango puree, spinach, and Vitamin C cooled for your pleasure.
The smoothie is a satisfying fruit and vegetable blend bound to keep you full for hours. It also lacks caffeine, hence the perfect detoxifying juice you could ever ask for.
7. Mango Black Tea
Iced tea lovers also have a delight from the Teavana Starbucks range. The Mango Black Tea is a delightful crisp drink with notes of mango and some lime. The particular blend kick-starts your energy with a refreshing drink while quenching some thirst in the summer.
It is a huge serving that only contains 100 calories.
8. Pineapple Bliss Drink
The drink is a concoction of quite a few delicious components. It is listed as the Starbucks secret menu option, which only appears once in a while at physical stores.
You could enjoy the yummy combination of mango Dragonfruit, ginger, pineapple syrup, ice, and some turmeric, covered in Vanilla sweet cold foam. The Pineapple Bliss Drink is a must-try the next time you take a trip to Starbucks.
Starbucks Mango Drinks for Kids
9. Frozen Mango Smoothie
The delicious treat is an excellent healthy drink that could make your little one less hungry during a shopping spree.
The Frozen Mango Smoothie consists of mango, some ice, and a little milk, which is satisfying yet refreshing. It is also caffeine-free, so you don't have to worry about an energetic kid doing splits at the mall.
10. Blended Juice Drink
Starbucks also makes some evolve juice drinks in baby sizes, which are also 100% free from artificial sweeteners or preservatives.
The organic evolve fresh press juice is available in a kid bottle, which they could finish so fast and stay full for a long time.
Summary
Starbucks mango drinks are readily available in every store, apart from the limited-edition recipes. It is also essential to note you could order anything from the Starbucks secret menu, which is online.
Moreover, these drinks are low on calories as you could expect from standard fruit blends, hence giving you so much quality. Starbucks mango drinks are also very refreshing and are perfect for any outdoor events and picnics.
I've always seen coffee as a way of bringing people together. Everywhere I go people seem to enjoy a fresh cup of coffee and that's what drives my passion. There's always a new brew to master, and there's always a new face to enjoy it with. Hitch a ride with me on a coffee-fueled adventure to find a perfect cup.