Starbucks is famous for its rich and strong coffee, but that's not all they serve. On average, about one of every four drinks you order at Starbucks is no longer a coffee drink.
From tea to smoothies, and juice to frappuccinos, each Starbucks customer seems to have a noncoffee preference.
Starbucks, an international coffee and tea house, has many other kinds of drink selections, such as juice, smoothies, and milk teas. These beverages are not made with Starbucks coffee grounds but fresh fruit and other ingredients.
The beverage menu at Starbucks features the usual lineup of caffeinated drinks popular with the coffeehouse crowd, along with a wide variety of fruit smoothies, shakes, iced teas, lemonades, and bottled refreshers.
I put together a list for those who are avoiding caffeine but still want a drink from their favorite coffee shop. Check out our list of the best noncoffee drinks Starbucks has to offer.
Complete List of Starbucks Non-Coffee Drinks
Here are all the non-coffee drinks you can order from Starbucks. Each category has several options. Read more about them further down below.
Hot Teas
Iced Teas
Fruit Smoothies
Hot Chocolate
Sparkling Juice
Steamers
Refreshers
Steamed Apple Juice
Creme Frappuccino
Juice
Milk
Sparkling Water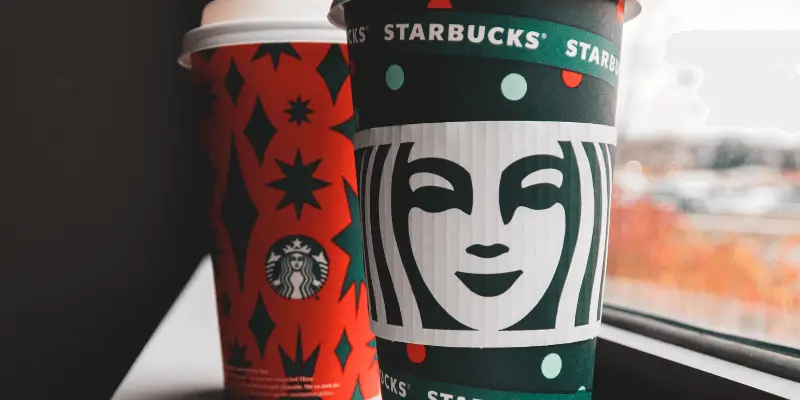 Starbucks Non-Coffee Drinks
1. Hot Tea
If you're looking for something other than your regular coffee, a Hot Tea might be a great place to start.
There are a variety of hot teas Starbucks has to offer, including traditional black teas, such as English Breakfast and Earl Grey, along with herbal and green teas.
The most popular specialty tea drinks at Starbucks are the Honey Citrus Mint Tea, Mint Majesty, and Peach Tranquility.
That's not all, Starbucks also offers Jade Citrus Mint Tea, Chai Tea, and Emperor's Clouds & Mist Tea.
2. Iced Tea
Starbucks offers a selection of Iced Tea in addition to its hot drinks.
The cool tea drinks come filled with ice and can be made with fruity tea, green tea, raspberry tea, and passion tea.
These iced teas include classic black and green teas and a line of herbal iced teas, which are caffeine-free.
3. Fruit Smoothies
Fruit Smoothies are blended with your choice of whole fruit or juice, they are a great way to enjoy the goodness of fruit.
You can also try them as a lighter alternative to Frappuccino's blended beverages.
For lighter options, choose "light" yogurt. Other popular fillings currently used in its fruit smoothies are strawberries, raspberries, peaches, blackberries, coconut milk, bananas, oranges, and blueberries.
4. Hot Chocolate
Hot Chocolate comes in two varieties, one that is richly flavored with chocolate and another that is made with milk.
The chocolate-flavored hot cocoa is available plain or topped off with whipped cream and dark chocolate shavings.
Your choices include Hot Chocolate, White Hot Chocolate, Peppermint Hot Chocolate, Toasted White Hot Chocolate, and Peppermint White Hot Chocolate.
5. Sparkling Juice
Sparkling Juice is a combination of fruit juice and sparkling water. Flavors include Evolution Fresh flavors: Pomegranate Acai, Blackberry Mojito, Green Tea Cucumber.
6. Steamers
Steamers are hot milk "steamed" with a choice of flavorings, such as vanilla and mocha, and served either hot or over ice.
There are varieties of flavored steamers, including vanilla, caramel, cinnamon dolce, and peppermint.
7. Refreshers
Refreshers are some of the most popular noncoffee drinks Starbucks has to offer.
Refreshers also include a line of fruit juices, such as strawberry-banana and orange-peach, which are chilled until cold and served over ice or blended with ice in an iced version.
Starbucks also offers low-calorie green coffee bean extract energy drinks.
Here is a list of all Refreshers you can get from Starbucks.
8. Steamed Apple Juice
Steamed Apple Juice is available at Starbucks along with its other fruit juices.
If you want to add flavors such as raspberries, peaches, or strawberries, just ask for it because Starbucks baristas can blend in almost any fresh fruit.
9. Crème Frappuccino
Frappuccinos are one of the most delicious non-coffee drinks at Starbucks.
A Crème Frappuccino is made with a creamy base and comes in various flavors, including Strawberry Crème, Caramel Ribbon Crunch, Sugar Cookie Almondmilk, and so many more.
Remember you can choose from the regular or light version of the drink.
10. Juice
Traditional Juice is also available at Starbucks. Ideal for people who want something healthy.
Starbucks also offers low-calorie green coffee bean extract energy drinks in the form of an instant iced or hot latte. These drinks are a source of caffeine but are not coffee.
11. Milk
Starbucks baristas serve the steamed Milk plain with flavors such as vanilla and peppermint or blended with flavor shots such as caramel.
In addition, Starbucks offers soy milk and almond milk as non-dairy options for all its beverages.
12. Sparkling Water
Sparkling Water at Starbucks comes with various fruit flavors, such as grapefruit, raspberry, and lime.
It's a perfectly refreshing, lightly carbonated sip of water without caffeine. It's also great to mix with fruit juice for a delicious, sparkly smoothie alternative.
Summary
Starbucks offers a variety of noncoffee drinks to suit its customers' many preferences.
From tea and juice to frappuccinos and lattes, Starbucks noncoffee beverages come in a range of different flavors and variations for any coffee shop regular.
In addition, if you have a taste for coffee but want the benefits of a non-coffee drink, Starbucks offers a variety of green coffee bean extract drinks.
These drinks are a source of caffeine but do not contain any coffee.
I've always seen coffee as a way of bringing people together. Everywhere I go people seem to enjoy a fresh cup of coffee and that's what drives my passion. There's always a new brew to master, and there's always a new face to enjoy it with. Hitch a ride with me on a coffee-fueled adventure to find a perfect cup.