Starbucks smoothies are famous the world over. Not only are they healthy containing a blend of fruit, fiber, and whey powder but are also quite scrumptious.
There is no added sugar, or any other kind of artificial flavoring or additives and the blend is packed with tons of nutrients. The best thing about these smoothie drinks is that you can customize them just the way you like.
Whether you want to make them a little sweeter or use soy milk or vanilla almond milk instead of regular milk, there are several options to try. You can even have more fruit puree added to your drink to make it healthier and more delicious.
Thinking of trying out a Starbucks smoothie? Here is a guide to get you started.
List of Starbucks Smoothies
Here is a list of all the Starbucks smoothies. Find out more about each drink below.
Orange Mango Smoothie
Strawberry Smoothie
Chocolate Smoothie
Berry Vanilla Smoothie
Cinnamon Dolce Smoothie
Pumpkin Smoothie
Berry Forest Smoothie
Very Berry-Licious Smoothie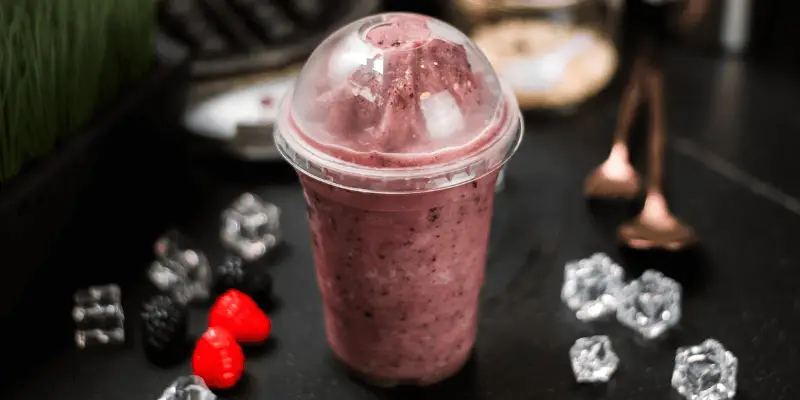 Starbucks Smoothie Drinks
There is only one size of smoothies you can order at Starbucks, and it is known as "grande".
So, without further ado let's look at the different smoothie drinks you can find on the Starbucks' menu.
1. Orange Mango Smoothie
Made with unsweetened orange mango puree, 2% milk, one banana, 2 scoops of protein powder, and ice this smoothie does not need added sugar to be delicious.
It comes with a touch of natural sweetness that you won't find in other smoothie options. Some people add Splenda for an extra dash of sweetness to their drink.
If you want to experiment, you can give this smoothie a slightly different taste by adding a little Greek yogurt and use vanilla almond milk instead of regular milk. The Orange Mango Smoothie at Starbucks is a rich source of vitamin C and iron.
2. Strawberry Smoothie
If you have tried the Strawberry and Crème Frappuccino at Starbucks and love it, you will be delighted to find out that their Strawberry Smoothie is made with the same puree.
Just like the orange mango drink, this smoothie will also contain 2 scoops of protein powder and one whole banana.
You can have soy milk or any other kind of milk added to your drink according to your preference along with added sugar or Splenda.
It's also possible to have some extra fruit puree added to your drink and cut down on milk. Some people even have matcha powder added to the mix, which makes the drink sweeter.
3. Chocolate Smoothie
The Chocolate Smoothie is probably the most popular of Starbucks smoothies due to its rich taste and texture. However, it may not be the healthiest drink on their menu.
This smoothie is made from mocha syrup instead of fruit puree but the other ingredients are exactly the same. Just a dash of milk, one whole banana, and two scoops of protein powder.
To add a touch of sweetness to the drink, you can have soy milk added to it instead of regular milk. Some people add shots of espresso to their drink to give it a unique flavor and because of the fact that espresso and mocha get along very well.
4. Berry Vanilla Smoothie
A hybrid between a Frappuccino and a smoothie, this drink uses coconut milk instead of regular milk and a blend of berry and vanilla.
In addition to the Creme base and ice, this smoothie also contains one whole banana and just a little milk.
The Berry Vanilla Smoothie is perfect for breakfast or even a mid-afternoon snack since it's packed with nutrients!
5. Cinnamon Dolce Smoothie
If you don't want to be limited to the classic flavors of smoothies discussed above, try this amazing and extremely fulfilling smoothie at Starbucks.
It's perfect for people who are looking for a healthier option than a Frappuccino and want to try something new.
The Cinnamon Dolce Smoothie can be ordered by first asking for a chocolate smoothie and then adding cinnamon dolce syrup to it instead of mocha syrup. Add three scoops of vanilla bean to it and your smoothie is ready!
6. Pumpkin Smoothie
If you love the exotic flavor of pumpkin in hot chocolate and Frappuccino, here's a chance to enjoy a twist.
This Pumpkin Smoothie is also prepared with a whole banana and 1 scoop of protein powder in addition to whole milk and 6 pumps of Pumpkin Spice sauce.
It's something you will remember for a long to come owing to its bright flavor, extra nutritional value, and exotic tinge.
7. Berry Forest Smoothie
If you are all for berries, this smoothie is for you. Its strong flavor is what makes the Berry Forest Smoothie different from the classic strawberry smoothie.
All you have to do is order a regular strawberry smoothie and add 2 pumps of Raspberry Syrup to it and some extra berries if you would like more berry flavor.
8. Very Berry-Licious Smoothie
And now the most-awaited smoothie from the list of Starbucks secret menu, the Very Berry-Licious Smoothie that contains a splash of strawberry juice along with 3 scoops of berries, 5 slices of orange, and topped with whipped cream.
Now, that's something we all can take pleasure in especially if we are looking for a healthy replacement for the typical Frappuccino.  
Final Words
So, which one of these smoothies are you going to try next?
Starbucks yogurt and juice-based smoothies are not just advertised as healthy, they are a fantastic source of vitamins and nutrition.
Packed with bright and refreshing flavors, these drinks also contain about 20 grams of protein and eight grams of fiber. Pretty impressive, right?
Starbucks smoothies also offer about 20% of the daily recommended dose of calcium as well as some percentage of vitamin C and iron.
Try out the beverages we listed down in this article the next time you want something different than a coffee and you won't be disappointed!
However, you must be aware that the grande size Starbucks smoothie drink, which is 16 oz., has a fairly high sugar content even if you don't opt for added sugar.
I've always seen coffee as a way of bringing people together. Everywhere I go people seem to enjoy a fresh cup of coffee and that's what drives my passion. There's always a new brew to master, and there's always a new face to enjoy it with. Hitch a ride with me on a coffee-fueled adventure to find a perfect cup.